Chemical engineers in Australia and N...
Chemical engineers in Australia and New Zealand recognised with awards at Chemeca 2019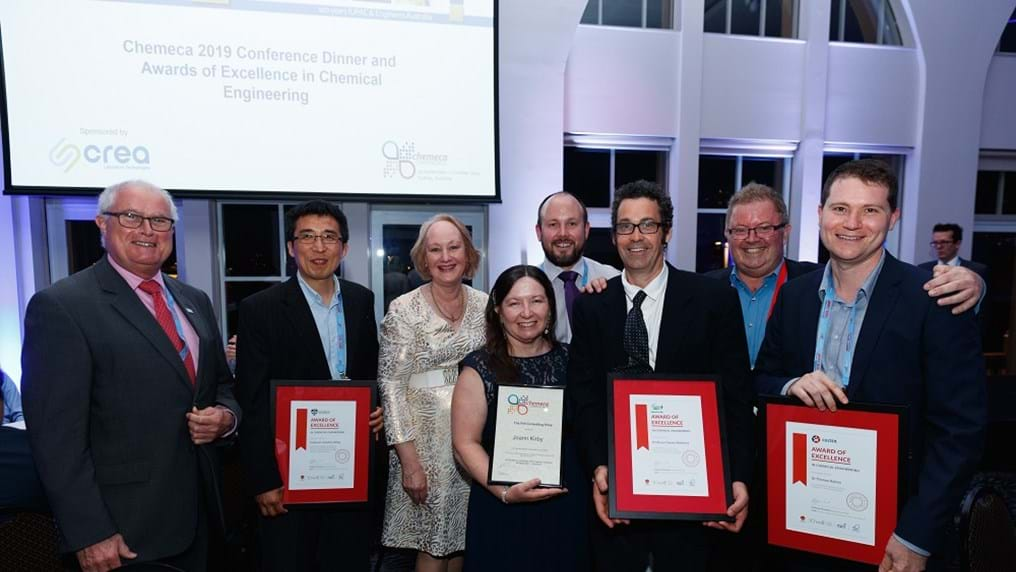 3rd October 2019
Members of the Institution of Chemical Engineers (IChemE) and other leading chemical engineers have been recognised with Awards of Excellence for outstanding achievements to the profession in Australia and New Zealand at Chemeca 2019.
The highest honour, The Chemeca Medal, was presented to Dr Marlene Kanga AM, who is the first chemical engineer to be President of the World Federation of Engineering Organisations – which represents nearly 100 national and regional engineering institutions with more than 30 million engineer members.
Kanga, an Honorary Fellow of IChemE, has made a sustained and significant contribution to process safety in Australia and across the world. She developed safety criteria adopted in Australia, New Zealand and Singapore, and led the development of a patented Australian video analytic technology, which is being implemented internationally.
She is a passionate advocate of engineering for the wellbeing of society and of innovation in Australia and was listed in the country's 2019 Top 10 Women Engineers. She also recently led the proposal to declare 4 March as World Engineering Day for Sustainable Development, which, once approved, will celebrate the profession's contribution to industry and society.
IChemE member and Chartered Chemical Engineer, Dr Thomas Rainey from Queensland University of Technology, was presented with the Caltex Award for his outstanding achievements in chemical engineering education. He was commended for being a diligent, thoughtful and innovative educator whose focus is always on creating opportunities for graduate success in chemical engineering.  
A team at Esso Australia was awarded the IChemE Safety Centre Prize for its project Data Insights Drive Improved Process Safety.
This was a focussed campaign to improve process safety literacy across the organisation, especially the value of reporting all potential process safety hazards, near misses and incidents. This has enabled a deeper understanding of risk in all phases of production operations, and has led to insights and actions that have resulted in improved process safety performance, integrity and reliability. 
The University of Sydney Chemical Engineering Research Excellence Award was awarded to Professor Lianzhou Wang at the University of Queensland for his research breakthrough into new generation chemically synthesized quantum dots for world-record efficiency in low-cost quantum dot solar cells, which has led to a significant application potential in solar energy conversion and flexible electronics.
Professor Damien Batstone at the University of Queensland was presented with the Fonterra Award. Batstone and his team at the university have developed a combined wastewater treatment and resource recovery technology, utilising purple phototrophic bacteria, which has gone from a small laboratory concept to industrial commercialisation in less than 10 years.
Their technology has enabled complete recovery of organics and nutrients to microbial biomass, while reducing energy input and allowing a profit to be gained from waste resources, rather than a loss.
IChemE member Dr Gang (Kevin) Li at the University of Melbourne was recognised with the ExxonMobil Award for his major contribution to the chemical engineering research community in the gas industry through his innovations in advancing gas separation technologies. He has had three patented inventions that have been commercialised.
The Fell Consulting Prize went to University of Queensland student Joann Kirby for the best paper, The Future of Risk Identification in a Rapidly Changing Sociotechnical Work Environment.
The Australian Design Prize was awarded to Rachael Xu, Krystal Kennedy, Mai Quynh Tran, Sandra Ha, Sam Sherherdson, Siyuan Gao, and their supervisor Lynton Willcocks at the University of Adelaide for their Final Year Design Project Carbon Capture and Sequestration Facilities for a Gas Processing Plant.
Gordon Weiss, Chair of the Awards of Excellence judging panel, said:
"These chemical engineers are at the forefront of programmes that are addressing some of society's major challenges in Australia and New Zealand. The Awards of Excellence are peer-reviewed and celebrate these achievements and ongoing dedication to the profession. Congratulations to all the award winners."
The Awards of Excellence were presented on 1 October at the Chemeca 2019 conference dinner, held in Sydney Australia.
Contact
For more information please contact:
Rachael Fraser, Communications Executive, IChemE
t: +44 (0) 1788 534435
e: rfraser@icheme.org
Ketna Mistry, Communications Executive, IChemE
t: +44 (0) 1788 534484
e: kmistry@icheme.org
Natalie Graser, Marketing & Events Executive, IChemE
t: +61 (0)3 9642 4494
e: ngraser@icheme.org
What is chemical engineering?
Chemical, biochemical and process engineering is the application of science, maths and economics in the process of turning raw materials into everyday, and more specialist, products. Professional chemical engineers design, construct and manage process operations all over the world. Oil and gas, pharmaceuticals, food and drink, synthetic fibres and clean drinking water are just some of the products where chemical engineering plays a central role.
IChemE
The Institution of Chemical Engineers (IChemE) advances chemical engineering's contribution worldwide for the benefit of society. We support the development of chemical engineering professionals and provide connections to a powerful network of around 37,000 members in 100 countries.
We support our members in applying their expertise and experience to make an influential contribution to solving major global challenges, and are the only organisation to award Chartered Chemical Engineer status and Professional Process Safety Engineer registration.
More information: www.icheme.org
Chemeca
Chemeca is the annual conference for chemical engineers from Australia and New Zealand to share their insights and innovations relevant to the profession across the wide range of industries they work in. It provides an opportunity for presentations to be made by from academia, industry and the regulators, and is the place for those in the professional chemical and process engineering community place to share ideas, knowledge and best practice. It also provides a forum for plenary and other pre-eminent speakers to present cutting edge research, innovations, technology, government regulation and industrial developments.
More: www.chemeca.org
ANZFChE Awards of Excellence
The Australian and New Zealand Federation of Chemical Engineers (ANZFChE) Awards of Excellence in Chemical Engineering provide a showcase for outstanding achievement in the field of Chemical Engineering. The Engineers Australia Chemical College, IChemE in Australia, IChemE in New Zealand, Engineering New Zealand and RACI, in partnership with corporate sponsors, have instituted these awards to encourage and recognise excellence and to highlight the contribution made by Australian and New Zealand Chemical Engineers to the community.