IChemE pays tribute to Royal Patron H...
IChemE pays tribute to Royal Patron HRH Prince Philip, Duke of Edinburgh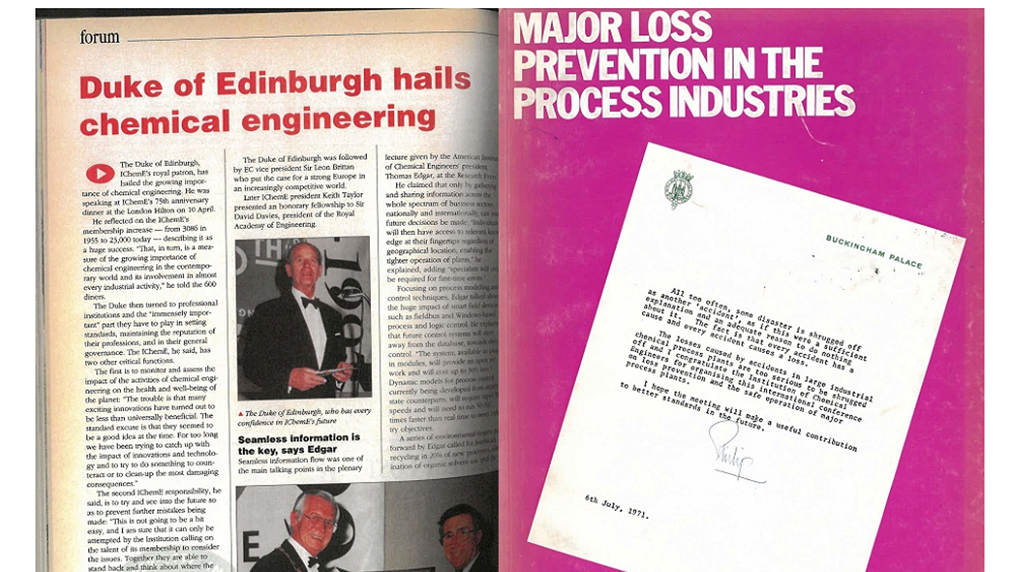 13th April 2021
The Institution of Chemical Engineers (IChemE) has, on the occasion of his passing, paid tribute to HRH Prince Philip, Duke of Edinburgh and his time as Royal Patron of IChemE.
HRH Prince Philip became IChemE's first Royal Patron in 1957 on the granting of the Institution's Royal Charter. This was announced by then President John Oriel at the Annual Dinner at the May Fair Hotel, London, UK on 30 April 1957, adding that the Duke of Edinburgh was "pleased to be the Patron of the Institution".
The Royal Patron advocated the importance of engineering throughout his lifetime, stating in a UK BBC Radio 4 programme in December 2015 that "in an increasingly crowded world, engineering is the only thing that can maintain the balance between nature and human ambition".
During his speech at the IChemE's 75th anniversary dinner on 10 April 1997 at the Hilton Hotel, London, UK, HRH Prince Philip hailed the growing importance of chemical engineering - as reported by The Chemical Engineer (pictured left).
In this speech, he recognised the success of IChemE's increased membership and the "immensely important" role of institutions and their members in setting standards and maintaining the reputation of their professions.
He also drew attention to the pressure on natural resources owing to population growth and rising living standards. He suggested IChemE should shoulder two additional responsibilities to help in sustainable development, noting that the profession has talented individuals to tackle these responsibilities. The first being to monitor and assess the impact of the activities of chemical engineering on the health and well-being of the planet as a whole; and the second, to try and see into the future to prevent further mistakes being made.
Over the years, His Royal Highness celebrated milestones of the Institution and supported the Institution's work to share knowledge to help improve process safety in industry. This includes sending a message on the opening of IChemE's Major Loss Prevention in the Process Industries symposium (pictured right) in Newcastle-upon-Tyne, UK on 6 July 1971, and attending the Annual Dinner in 1972 to celebrate the Golden Jubilee of the Institution.
To mark the Institution's Diamond Jubilee in 1982, as well as the 25th anniversary of IChemE's Royal Charter HRH Prince Philip was presented with the first in a set of limited editions of a jubilee plate and goblet commissioned by the Institution presented in a special ceremony at Buckingham Palace on 14 December 1982 by then President Tony Lee. Also, some IChemE members and staff attended HM The Queen's Garden Parties and met HRH Prince Philip.
IChemE President Stephen Richardson said:
"We are deeply saddened to learn of the death of HRH Prince Philip, Duke of Edinburgh. His Royal Highness promoted the importance of engineering throughout his life and was a Patron of our Institution for more than 63 years.
"I have written to Her Majesty The Queen to offer my personal condolences and those of IChemE members. Our thoughts are with the Royal Family at this time."
Images
L-R: An extract from The Chemical Engineer issued on 24 April 1997, and a letter from HRH Prince Philip on the front cover of IChemE's Major Loss Prevention in the Process Industries symposium brochure on 8 July 1971
Contact
For more information please contact: 
Lucy Cook, Communications Manager, IChemE 
t: +44 (0) 1788 534454 
e: lcook@icheme.org  
Rachael Fraser, Communications Executive, IChemE 
t: +44 (0) 1788 534435 
e: rfraser@icheme.org  
Ketna Mistry, Communications Executive, IChemE 
t: +44 (0) 1788 534484 
e: kmistry@icheme.org  
What is chemical engineering?
Chemical, biochemical and process engineering is the application of science, maths and economics in the process of turning raw materials into everyday, and more specialist, products. Professional chemical engineers design, construct and manage process operations all over the world. Oil and gas, pharmaceuticals, food and drink, synthetic fibres and clean drinking water are just some of the products where chemical engineering plays a central role. 
IChemE
The Institution of Chemical Engineers (IChemE) advances chemical engineering's contribution worldwide for the benefit of society. We support the development of chemical engineering professionals and provide connections to a powerful network of over 33,000 members in more than 100 countries. 
We support our members in applying their expertise and experience to make an influential contribution to solving major global challenges, and are the only organisation permitted to award Chartered Chemical Engineer status and Professional Process Safety Engineer registration.