New IChemE President focuses on leade...
New IChemE President focuses on leadership and learning at AGM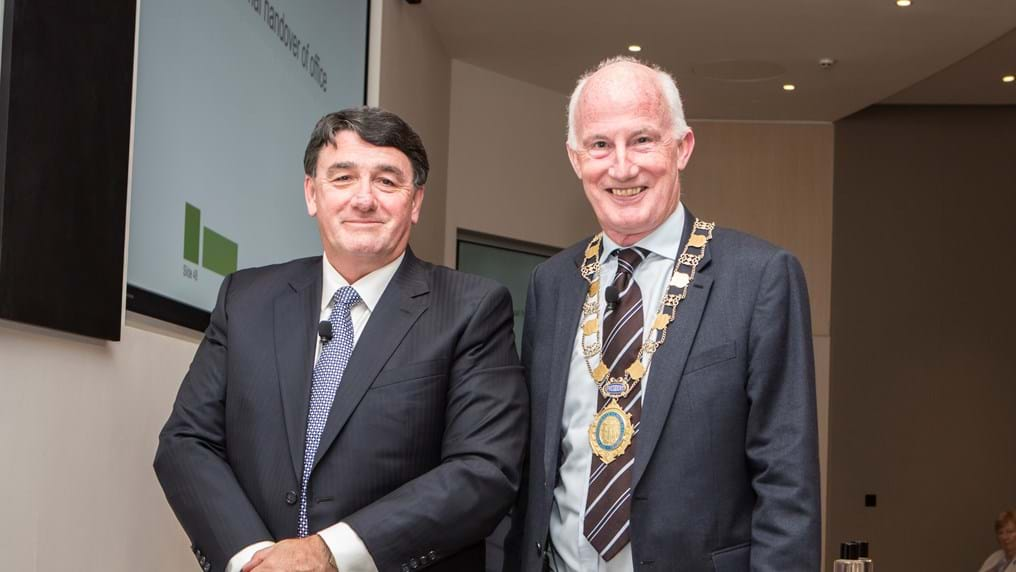 22nd May 2018
Ken Rivers, former CEO of Refining NZ and Chair of the UK's COMAH Strategic Forum, has succeeded to the Presidency of the Institution of Chemical Engineers (IChemE).

He was presented with the ceremonial Chain of Office by outgoing President John McGagh, at IChemE's Annual General Meeting (AGM) held yesterday in London, UK.

Rivers spent more than thirty years with Shell in the UK – working on various aspects of refinery operations. During this time, he became an expert on process safety, and Chair of the Buncefield Standards Task Group (an industry/regulatory body set up to improve safety following the Buncefield explosion in 2005).

Rivers moved to New Zealand in 2007 and joined Refining NZ as its Chief Executive Officer. Since returning to the UK in 2012 he has been the Chair of the Midstream Oil Sector Government Task Force, and Chair of the Control and Major Accident Hazards (COMAH) Strategic Forum.

His Presidential Address, entitled Chemical Engineering and Leadership, focused on the challenges faced by the profession – as well as recent challenges faced by IChemE.

Highlighting his affiliation with New Zealand, Rivers drew on inspiration from the renowned 'All Blacks' Rugby team, and said:

"The All Blacks and Richie McCaw play with an intensity and commitment that others find difficult to match. It's all about the team, it's all about delivery and it's never about the self.

"That it is one of the distinctions between managers and leaders. Competent managers are highly skilled at moving from 'A-to-B'. Leaders decide what 'B' is and sets the level of ambition, they create a compelling vision, they excite, energise and empower.

"What I have learned – through failures and challenges, as often as through successes - might apply to the challenges we face as IChemE and as an engineering profession today. IChemE's role as a learned body – helping to harness insight and influence as an educational and qualifying body to ensure competence and standards – has never been more important.

"As the world changes, so too does our profession."

The Address was live-streamed via IChemE's YouTube channel. A recording will be made available shortly. 
New Trustees
Several new Trustee appointments were formally announced at the AGM.

Rivers will serve as IChemE President until May 2019, when Andrew Thompson will succeed to the role. Thompson was elected with 56.8% of the vote in IChemE's Trustee elections last month. He will serve as Deputy President in the year ahead.

The Institution also welcomes Thomas White as its new Vice President (International). White received 63.4% of the vote.
Three new Ordinary Members of Council were confirmed. Wendy Wilson received 52.4% of the votes cast, Eur Ing Keith Plumb received 30.9% and Macsene Isles-Ahite received 27.3%.
The following co-options were also announced. Ainslie Just joins as Vice President (Qualifications) and Jarka Glassey moves from Ordinary Member to Vice President (Technical). Iain Martin was appointed Honorary Treasurer.

After three consecutive years serving as an IChemE Trustee, Professor Lynn Gladden stepped down following her appointment as Executive Chair of the Engineering and Physical Sciences Research Council (EPSRC). Council has agreed the co-option of Mr Mark Sutton in her place. Sutton was fourth in the Trustee ballot, receiving 20.8% of the votes cast. 

Rivers said:

"It will be my huge honour to lead and work with the new team of Trustees. We have a great responsibility to demonstrate that IChemE's democracy can bring broad legitimacy and greater effectiveness."

IChemE's Annual General Meeting was held at the IET Savoy Place, in London UK on 21 May 2018 at 18:00 (BST). IChemE members can access papers relating to the meeting via the Institution's member-only forum Interface.
Image
L-R: IChemE Past President John McGagh and IChemE President Ken Rivers at the Annual General Meeting