New IChemE President focusses on syst...
New IChemE President focusses on systems thinking and the big picture for process safety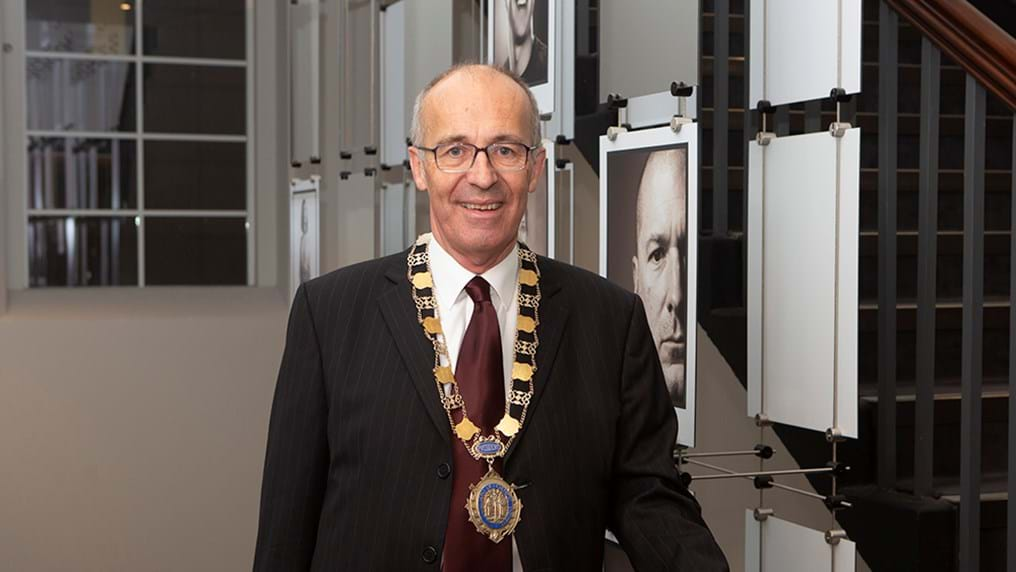 13th November 2019
Stephen Richardson, Emeritus Professor of Chemical Engineering at Imperial College London, has been appointed as the 79th President of the Institution of Chemical Engineers (IChemE).
Richardson's Presidential Address was delivered yesterday (12 November) at the IET head office in London, UK. He was presented with the ceremonial Chain of Office by outgoing President Ken Rivers.
Entitled Process safety: the big picture and the systems approach, the Address focussed on the need to look at the whole system – instead of units in isolation - to ensure plants, programmes and processes are working efficiently and safely.
Richardson explored the causes of the Piper Alpha oil rig explosion in July 1988 and the lessons learned from the public inquiry, during which he spent a significant amount of time as an expert witness. He used this example to explain how the systems thinking approach should be used across all chemical engineering activities, as well as volunteering activities at IChemE.
He said:
"I worry that the lessons learned so painfully from accidents are gradually lost by succeeding generations. Corporate memory is short and, regrettably, it is getting shorter.
"From a safety perspective, Piper was not an island: the system was not just Piper. Getting the system right is key when considering safety.
"Safety is nothing without a systems approach and it is key, not just to safety, but to all of chemical engineering."
For more than 30 years, Richardson has worked at Imperial College London teaching chemical engineering and researching depressurisation of high-pressure hydrocarbon systems. During this time, he became an expert in process safety and investigated many major process accidents in the oil and gas industry.
He also jointly developed a computer programme, BLOWDOWN, which has been used on over 300 installations worldwide.
Commenting on his plans for IChemE during his 18-month tenure as President, Richardson made it clear that making IChemE a leading voice in process safety would be a focus, highlighting the need to join up activities to make them more impactful. He also made the case for giving more support to chemical engineering departments, to ensure that they, and their graduates, are fit for the future. 
He also noted that the recognition of IChemE volunteers would be top of his priorities, as well as ensuring IChemE goes on to deliver a successful centenary celebration in 2022.
The 2019 Presidential Address was live-streamed via IChemE's YouTube channel. Watch a recording of it at www.youtube.com/icheme
Links
2019 Presidential Address - photo gallery
2019 Presidential Address - video recording
Contact
For more information please contact:
Tara Wilson, Head of Communications, IChemE
t: +44 (0) 1788 534454
e: twilson@icheme.org 
Rachael Fraser, Communications Executive, IChemE
t: +44 (0) 1788 534435
e: rfraser@icheme.org
Ketna Mistry, Communications Executive, IChemE
t: +44 (0) 1788 534484
e: kmistry@icheme.org
What is chemical engineering?
Chemical, biochemical and process engineering is the application of science, maths and economics in the process of turning raw materials into everyday, and more specialist, products. Professional chemical engineers design, construct and manage process operations all over the world. Oil and gas, pharmaceuticals, food and drink, synthetic fibres and clean drinking water are just some of the products where chemical engineering plays a central role.
IChemE
The Institution of Chemical Engineers (IChemE) advances chemical engineering's contribution worldwide for the benefit of society. We support the development of chemical engineering professionals and provide connections to a powerful network of around 37,000 members in 100 countries.
We support our members in applying their expertise and experience to make an influential contribution to solving major global challenges, and are the only organisation to award Chartered Chemical Engineer status and Professional Process Safety Engineer registration.
More information: www.icheme.org