Safety Centre Director presented with...
Safety Centre Director presented with Trevor Kletz Merit Award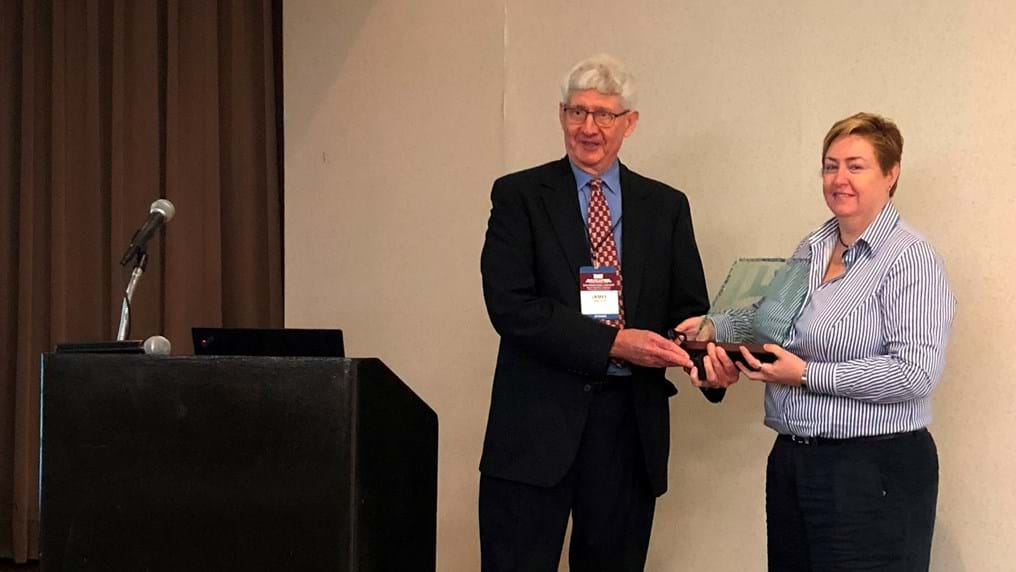 25th October 2018
Director of the Institution of Chemical Engineers (IChemE) Safety Centre, Trish Kerin, has been presented with the Trevor Kletz Merit Award by the Mary Kay O'Connor Process Safety Center (MKOPSC) in Texas, USA.
The Award recognises Kerin's outstanding contribution to improving process safety internationally, mainly through her activities with the IChemE Safety Centre (ISC).
She was presented with the Award at the Mary Kay O'Connor Process Safety Center International Symposium, by Acting Director Dr Jim Holste. Kerin spoke at the Symposium on Tuesday (23 October), giving her view on how to improve interactions between students and industry during work placements to achieve better process safety outcomes.
Kerin said:
"I am humbled to be recognised by an organisation like Mary Kay O'Connor Process Safety Center for my work especially receiving an award in honour of Trevor Kletz.
"As Trevor said, Safety doesn't happen by accident, and we all need to continually work at safety. This award recognises the activities of the IChemE Safety Centre and all its members."
Established in 1998, the Trevor Kletz Merit Award recognises an individual who has made significant contributions to the advancement of education, research, or service activities related to process safety concepts and/or technologies.
Links
Contact
For more information please contact:
Tara Wilson, Head of Communications, IChemE
t: +44 (0) 1788 534454
e: twilson@icheme.org  
Rachael Fraser, PR and Communications Executive, IChemE
t: +44 (0) 1788 534435
e: rfraser@icheme.org
What is chemical engineering?
Chemical, biochemical and process engineering is the application of science, maths and economics in the process of turning raw materials into everyday, and more specialist, products. Professional chemical engineers design, construct and manage process operations all over the world. Oil and gas, pharmaceuticals, food and drink, synthetic fibres and clean drinking water are just some of the products where chemical engineering plays a central role.
With an international membership exceeding 40,000 in around 100 countries, the Institution of Chemical Engineers (IChemE) aims to be the organisation of choice for chemical engineers. It promotes competence and a commitment to best practice, advances the discipline for the benefit of society and supports the professional development of its members.
IChemE is the only organisation to award Chartered Chemical Engineer and Professional Process Safety Engineer status.
The ISC is a not-for-profit multi-company, subscription based, industry consortium, focused on improving process safety. It shares, analyses and applies safety-related thinking.