Singapore safety initiative secures g...
Singapore safety initiative secures global award from IChemE
8th December 2017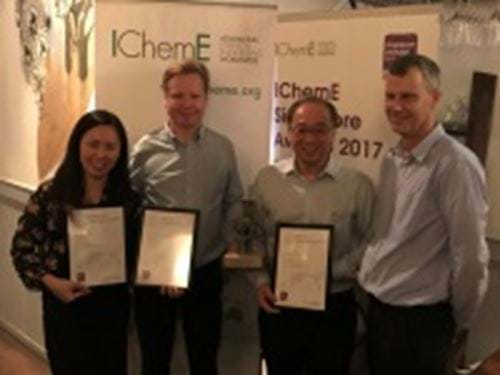 IChemE's vibrant community in Singapore has congratulated Singapore's Ministry of Manpower (MOM), National Environment Agency (NEA) and Civil Defence Force (SCDF) for their work in implementing new safety and health regulations for major hazard installations.
The government departments from the island city state, located in the heart of South East Asia, became the first Singapore entry in history to win an IChemE Global Award. The award was announced in Birmingham, UK in November. The certificates were presented at a local ceremony at the start of December.
MOM/NEA/SCDF came out winners in the Process Safety Category for their successful roll out of a safety case approach to major hazard installations.
In a further development, chemical engineers in Singapore are also celebrating the success of A*Star's, Dr Ong Wee Jun, who was highly commended Young Researcher Category.
IChemE's Singapore Board Chair, Joe Eades, said:
"We started a local awards scheme here in Singapore back in 2012. Interest in the programme has grown significantly over the last six years. Now it's great to see a Singapore entry reach the top of the pile and receive international recognition for their work in process safety – a key issue, given the importance of the chemical industry to the local economy.
At the same time, we also saw one of our leading young researchers recognised on a world stage. Clear proof of Singapore's position as a world leading research hub."
Er Go Heng Huat, Director of Singapore's Major Hazards Department, Ministry of Manpower, said:
"We are honoured to receive this award today from the IChemE who have been very supportive of our initiatives over the years."
IChemE continues to promote the work of professional chemical engineers in Singapore as part of its international ambition to advance chemical engineering world-wide.