University accreditation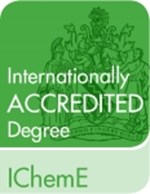 We are active in developing and raising standards in education, accrediting courses at some 60 higher education institutions, more than half of which are outside the UK. We also encourage our members to develop further knowledge and skills after qualification through programmes of continuing professional development. 
Through its programme of accreditation, IChemE aims to recognise and share best practice in the University education of Chemical Engineers. At the same time it seeks to promote development of the profession, by encouraging innovation in chemical engineering programme design and delivery. 
Accredited degrees and diplomas help provide graduates with a pathway to qualification as a Chartered Chemical Engineer (MIChemE) and registration as a Chartered Engineer (CEng) or Incorporated Engineer (IEng) with the Engineering Council and/or as a Chartered Scientist (CSci) with the Science Council.
Joint accreditation visits
IChemE undertakes joint accreditation visits with the following organisations:
Engineering Accreditation Board (EAB)
Engineering New Zealand
Engineers Australia (EA)
Please contact IChemE if you are interested in having a joint accreditation visit.
IChemE Accreditation contact details: accreditation@icheme.org
---
Back to accreditations