Hull & Humber Members' Group at Huntc...
Hull and Humber (UK)
Hull and Humber Members Group at Huntcliff School Careers Day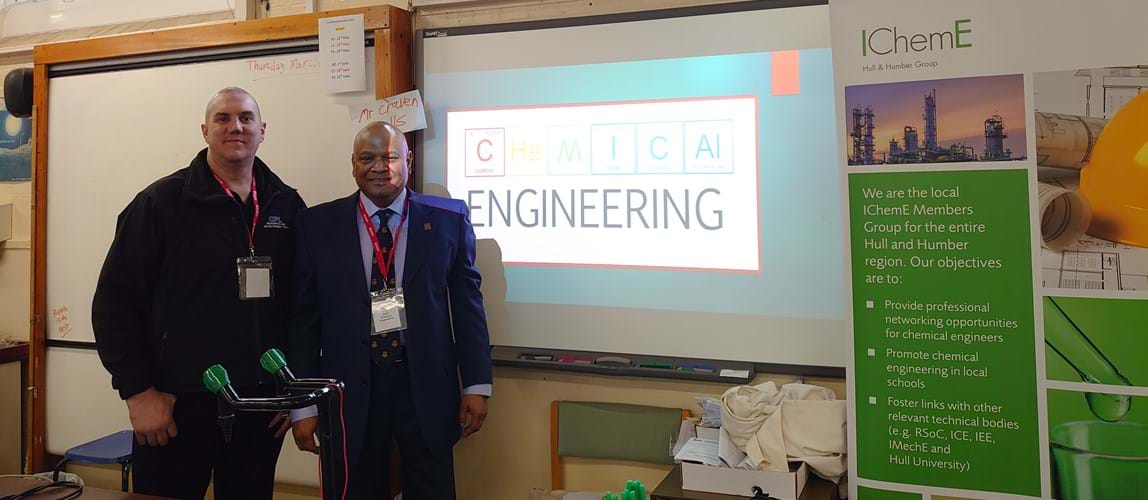 13th May 2020
The IChemE Hull and Humber Members Group was present at the Annual Careers Day, Huntcliff School, Kirton-in-Lindsey, on 5 March 2020.
Adam Johnson and Mohammad Ali represented the group. Their presentation consisted of the following:
Role of chemical engineers in various industries.
Examples of a chemical processes. This included a visual presentation of a crude oil distillation unit and what it takes to convert crude oil into various petroleum products. The role of chemical engineers in the design and the operation of such a unit were also highlighted.
A few pieces of actual process equipment were shown. These included small valves, orifice plates, thermocouples, etc.
Students were also asked to take part in a hands-on process safety exercise. Based on a P&ID of an overhead accumulator of a distillation column, the students were taken through the hazard identification process based on HAZOP guide words (i.e. no flow, more flow, reverse flow, etc).
Presentations were made at 2 sessions with about 25 students attending.
Afterwards, Phillipa Hartley, Deputy Head Teacher and Career Leader at Huntcliff School, sent an email appreciating the contribution of the group. She also informed that the feedback from the students were very complimentary.
---
Back to group news