29-09-22 Reduced Order Modelling of F...
Fluid Mixing Processes
Webinar: Reduced Order Modelling of Flow Inside Stirred Vessels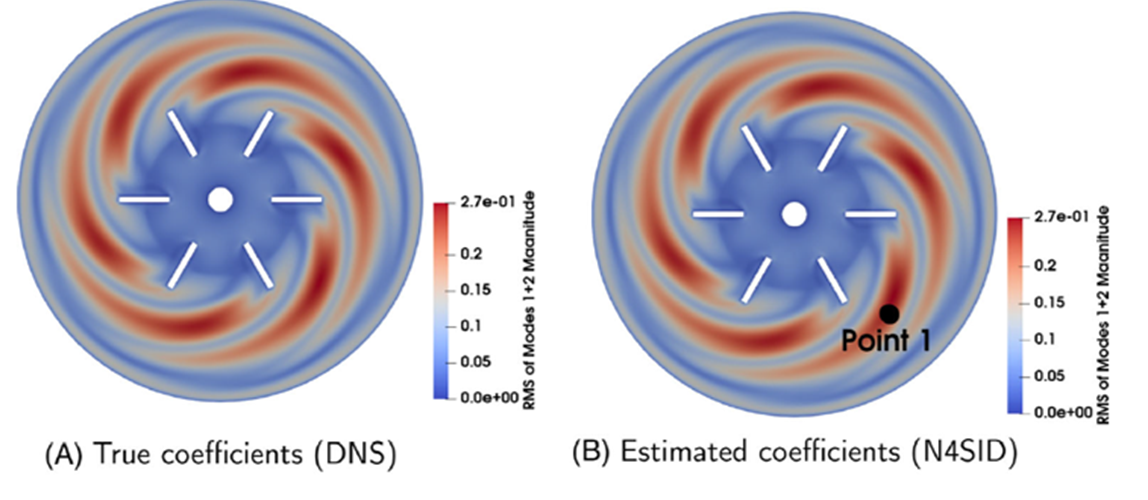 Date From

29th September 2022

Date To

29th September 2022

Price

Free of charge, open to all.

Location

Online: 12:00 BST. Duration: 1 hour.
Overview
The instantaneous flow inside stirred vessels is highly three-dimensional and contains structures with a wide variety of temporal and spatial scales.
In this webinar, we will demonstrate that reduced order models (ROMs) allow us to derive a very compact description of the flow with a small number of degrees of freedom. Furthermore, combination of reduced order models with system identification techniques and optimal estimation theory allow us to reconstruct the largest structures of the flow from very sparse measurements (in some cases even from measurements taken at a single sensor point).
We will provide examples of flow reconstruction using velocity measurements within the flow and non-invasive pressure measurements on the impeller surface. The availability of the 3D instantaneous flow from sparse measurements opens new opportunities for mixing optimisation.
Speaker
Professor George Papadakis, Professor of Aerodynamics, Imperial College London
George Papadakis obtained a degree in Mechanical Engineering from the National Technical University of Athens (NTUA) in 1990. Following doctoral studies (also at NTUA), he joined King's College London as Lecturer in 1999. In 2011 he moved to the Dept. of Aeronautics of Imperial College London.
He is currently Professor of Aerodynamics and his work spans direct numerical simulations (DNS) of transitional and turbulent flows, linearly and non-linearly optimal flow control, reduced order modelling and data-driven flow reconstruction from limited measurements, as well as novel algorithmic developments for sensitivity analysis of chaotic systems and multi-physics problems.
The material presented in this webinar has not been peer-reviewed. Any opinions are the presenter's own and do not necessarily represent those of IChemE or the Fluid Mixing Processes Special Interest Group. The information is given in good faith but without any liability on the part of IChemE.
Time
12:00–13:00 BST.
Software
The presentation will be delivered via GoToWebinar®. Check system requirements.
You are advised to join the webinar at least ten minutes before the scheduled start time, to allow for your computer to connect.
Webinar archive
This webinar is free of charge and open to all to attend, but if you wish to access the slides and a recording to replay on demand then you'll need to be a member of the Fluid Mixing Processes Special Interest Group.
---
Back to events