Celebrating Excellences at 2022 POPSI...
Palm Oil Processing
Celebrating Excellences at 2022 POPSIG Research & Design Showcase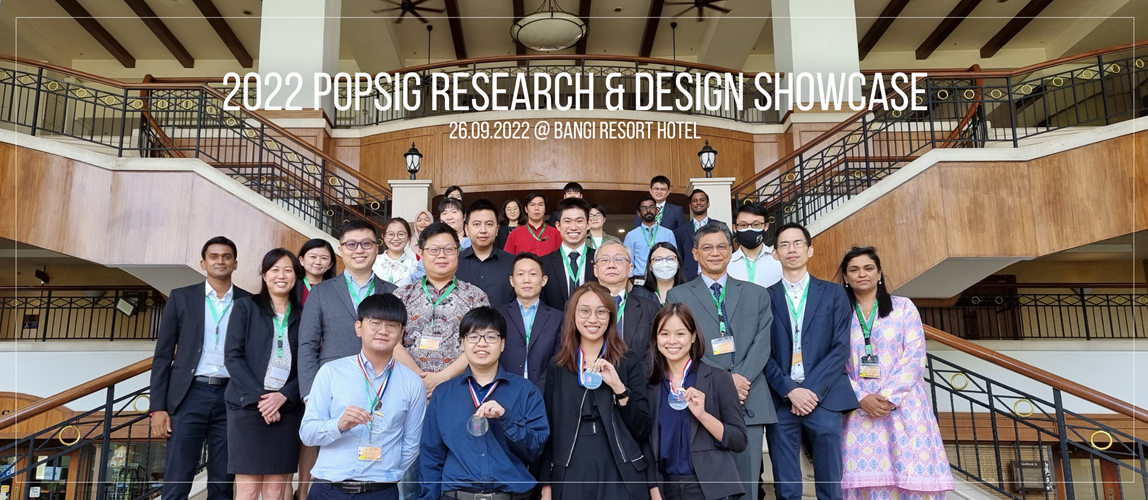 26th September 2022
Overview
POPSIG organised 2022 POPSIG Research and Design Showcase, a.k.a. 2022 POPSIG Award Ceremony at Matahari I Hall, Bangi Resort Hotel, Bandar Baru Bangi, Selangor Darul Ehsan, Malaysia on Monday 26 September 2022, from 9:00 am to 4:00 pm MYT. Complimentary meals and beverages were provided to the 30 exclusively invited guests at the world-class hotel.
Opening remark
The Chair of POPSIG Professor Ir Dr Chong Mei Fong congratulated the four recipients of 2021 POPSIG Student Research Project Bursary, six recipients of 2022 POPSIG Best Final Year Design Award and three recipients of 2022 POPSIG Student Research Project Bursary.
Professor Chong underlined that the final goal of the research-based process design is to allow the novel, sustainable and cost-efficient technologies from the research laboratory to be adapted in the industry for the scale-up, mass productions.
Special remarks
POPSIG gratefully appreciated the kind sponsorship provided by Desmet Ballestra (Malaysia) Sdn Bhd to POPSIG activities since 2015.
Malaysian Oleochemical Manufacturers Group (MOMG) has also earned the appreciations from POPSIG on their sponsorship to support the development of the palm oil sector among younger generations.
POPSIG appreciated Malaysian Palm Oil Council (MPOC) for the collaboration on student activities and delivering bursaries to top performed students on palm oil research.
Keynote speech
The Director of Science, Environment and Sustainability Division (SESD) at MPOC YBrs Dr Ruslan Abdullah shared that Malaysia produces a lot of small materials in the form of commodities like rubber and oil palm. The young scientists and engineers play important roles in transforming these materials into high-value products. He said creative and innovative minds with all-side ambitions can convert this basic building blocks into numerous products that can benefit us today. Perseverance, teamwork, willingness to think outside the box are the key ingredients for success.
The palm oil industry is the source of income to more than two million people in Malaysia. In 2021, the industry contributed to more than RM 103 billion, mainly in the form of crude palm oil (CPO), while only a small portion came from finished products. If the finished products comprised the majority, then it could fetch four to 10 times more the value from the field. It was expected to be able to generate a revenue of RM 500 billion.
Dr Ruslan then underlined that young scientists and engineers are needed to carry out the national agenda in exploring palm oil. The most pressing problem is labour shortage. The nation is losing RM 4 billion every year due to the inability to collect the fruits.
Mechanisation has been introduced for over five decades. The level of mechanisation practice in the industry hardly reached 50%. Biodiesel, which was developed in Malaysia in 1990s, was discovered by a group of scientists at MPOB. 30 years on, we are still struggling at B10 or B20. Across the Strait of Malacca, Indonesia who adopted our technologies, is progressively moving towards B100.
Today, teamwork can be achieved with people from different background. This helps the individuals to compete with the world's best. The scientists and engineers need multi-faceted inputs from different experts.
Special address
Managing Director of Desmet Ballestra (Malaysia) Sdn Bhd, Mr Khoo Kiak Kern expressed his enormous gratitude for being invited to the 2022 POPSIG Research and Design Showcase. It encouraged the young engineers to take part in these competitions, which focused on palm oil and technological advancement for the industry.
Mr Khoo shared that, traditionally, the processing of palm oil can be very mechanical. The downstream processes are mainly derived from other vegetable oil processes. With the importance of palm oil globally and as the main revenue for Malaysia, it is time to add sciences behind these technologies.
The upcoming chemical engineers can carry out these challenges to bring this to another high level. He added that POPSIG was formed to create awareness of chemical engineers, and he has seen was the accumulated efforts of POPSIG, in which they have remarkably attracted many interests of young candidate in palm oil industry.
Mr Khoo hoped these efforts of continuing to develop not only on the edible application, but also on non-edible ones. For example, renewable energy and biodiesel – an important topic of sustainability today. Moving forward, hydrotreated vegetable oil (HVO) is important to produce SAF on the sustainable aviation fuel.
Palm oil is very versatile and unique oil – both for edible and industrial usages. The efforts to explore these valuable products should continue. Being renewable and with high yield per hectare, the palm oil industry will contribute positively to the net zero commitment. Mr Khoo hoped that the young engineers will continue their resourceful imagination to bring palm oil industry to another height with innovative ideas.
Today, the research work has moved away from the main products to the waste and raw materials and by-products. This was a step forward looking into the development of palm oil.
Mr Khoo congratulated the winning team from Swinburne University of Technology Sarawak Campus for their process design about the sustainable production of palm oil-derived biodiesel. To other applicants, their works were equally good.
He also congratulated POPSIG team on the momentum in making palm oil an attractive and important subject for the young engineers to explore innovative ideas.
Research seminar (2021 recipients)
Paper 1: Synthesis of Carbon Nanoparticles from Oil Palm Empty Fruit Bunch as Electro-catalyst for Energy Storage
Brenda Lim Ai-Lian presented that the synthesis of low-cost electro-catalyst material with comparable efficiency from OPEFB was successful. Her research showed a decrease in waste accumulation and an increase in the usage of other oil palm components.
Paper 2: Palm Oil Mill Effluent Waste Treatment using TiO2/Ti3C2Tx MXene Composite Aerogel via Photocatalytic Degradation Process
Jocelyn Lim Jean Yi provided new insights on the fabrication of TiO2/Ti3C2Tx composite aerogel. Her work pioneered the application of MXene-based photocatalysts in POME waste treatment.
Paper 3: Thermogravimetric Analysis and Combined Kinetic Study on the Pyrolysis of Empty Fruit Bunches Lignin Extracted using Sucrose-malic Acid-water Low Transition Temperature Mixture
Jonathan Cheng Lin Yang has successfully extracted lignin from EFB using sucrose-malic acid-water LTTM. He also explored the thermal degradation behaviour of pyrolysis of extracted lignin. He also discovered the potential of EFB lignin in the thermochemical application.
Paper 4: The Potentials of Co-pyrolysis of Empty Fruit Bunch and Disposable Face Mask Wastes
Melvin Wee Xin Jie's research addressed bio-oil quality (SDG 7), cost-effective alternative to pre-treatment of waste (SDG 12) and microplastic pollution (SDG 13). In his co-pyrolysis study, the heating rate increased heating rate and degradation rate. Ni catalyst increased the biogas yield, while ZSM-5 increased the bio-oil yield.
Design showcase (2022 recipients)
Paper 5: Sustainable Production of Palm Oil-derived Biodiesel
The team showed that the award-winning design diversified its downstream products.  The glycerol produced was recycled as raw materials to the esterification reactor as a catalyst, while the remaining is sold as a by-product. P-HENS identified possible HEN designs, while multiple HENs provided qualitative advantages. Pinch analysis demonstrated the minimum energy utilities required.
Research introductory presentation (2022 recipients)
Paper 6: Valorisation of Blended Palm Oil Mill Effluent (POME) Sediment and Oil Palm Frond (OPF) as the Substrate for Black Soldier Fly Larvae (BSFL)
Yeow Teck Ann presented that his research would create an extra source of income for the palm oil sector. It would encourage proper waste management at the mills and reduce GHG emissions. His work would promote circular bio-economy.
Paper 7: CO2 Adsorption Study of Concurrent Activated and Modified Palm Kernel Shell Derived Activated Carbon
Lai Jia Yen demonstrated that her research would develop alternative process in producing activated carbon (AC). On economics, the research would reuse and repurpose oil palm waste. It would also reduce environmental pollution.
Paper 8: Potential of Glycerin Pitch in Mixed Culture Polyhydroxyalkanoate Production: Component Characterizations and Organic Loading Rate Optimization
Ng Wai Lun showed that his research would promote circular economy and reduce dependency of conventional GP management method (incineration and landfilling). It would reduce the risk of soil pollution, waste management cost and the release of acrolein and CO2 released into the environment. He was confident that his breakthrough study would be the first bioconversion of GP to PHA using mixed culture.
2021 Student Bursary
The 2021 Student Bursary (for Conference) was awarded to Husna Hamizah Binti Nor Haslan. It was presented by Professor Chong to Husna Hamizah. The prize was sponsored by Desmet Ballestra (Malaysia) Sdn Bhd.
Closing remark
The Chair of POPSIG Professor Ir Dr Chong Mei Fong congratulated to all the winners of the awards and bursaries. Tokens of appreciation were presented to the sponsors and moderator:
Desmet Ballestra (Malaysia) Sdn Bhd - represented by Mr Khoo Kiak Kern (Managing Director)

Malaysian Palm Oil Council - represented by YBrs Dr Ruslan Abdullah (Director of SESD)

Malaysian Oleochemical Manufacturers Group - represented by Mr Leong Tat Loong (representative of the Chairman of MOMG & General Manager of Process and Production Control at KLK Industrial Holdings Sdn Bhd)

Moderator - Professor Lam Hon Loong, Professor at University of Nottingham Malaysia
Before the event concluded, Professor Chong introduced the theme of 2023 – Beyond Palm Oil: Connecting Life.
Acknowledgement
POPSIG gratefully acknowledges the support provided by Desmet Ballestra (Malaysia) Sdn Bhd, MOMG and MPOC.
POPSIG also appreciates the assistance provided by Darren Lim Ming Qian, Patrick Tan Yee Siang, Loi Xuen Ler and Charlene Ho Yan Weng (Master of Engineering in Chemical Engineering students at Heriot-Watt University Malaysia).
---
Back to group news