New membership application system and...
New membership application system
Overview
IChemE is revising its professional qualification processes and is introducing a new membership application system.
This page provides updates on the status of the new membership application system for each process. It also provides links to the new guidance documents, FAQs, invitations to informational webinars and recorded content to assist those preparing their application.
Key updates
Updated 3 September 2021. The following application types have been added:
Stage 1 - Individual Case Procedure at CEng and IEng level
Stage 2 - Initial Professional Development (IPD): Accredited Company Training Scheme (ACTS) and IPD Self Managed at CEng, IEng and EngTech levels
For enquiries on any other application types, please contact applications@icheme.org.
What has changed
The professional qualification process is now articulated across three stages:
The Technical Report route has been replaced with a more equitable and flexible Individual Case Procedure.
A check of Initial Professional Development (IPD) has been introduced for those who have not been through an IChemE Accredited Company Training Scheme (ACTS).
Changes have been made to the Professional Review process to progress applicants through in a more timely fashion. However, the fundamental standards and assessment criteria of the Professional Review are unchanged.
The new qualification processes are being introduced via a new online membership application system. This new system is not only the means for introducing the new processes but is required for the new membership database and replaces the old application system which is now obsolete.
Why the changes have been made
The changes were made to:
remove barriers to the assessment of the knowledge and understanding for those without IChemE accredited qualifications
provide feedback on the professional development, and hence preparedness for Professional Review, of those who have not been through an IChemE Accredited Company Training Scheme (ACTS)
improve the processing of applications
ensure our processes comply, where appropriate, with the requirements of the Engineering Council.
The three qualification stages
Each candidate for professionally qualified membership will need to satisfy the requirements of each of the three stages. Whilst many will complete Stages 1 and 2 sequentially, they can be completed in parallel. An apprenticeship is one example of this. However, both Stages 1 and 2 must be completed before a candidate can complete Stage 3.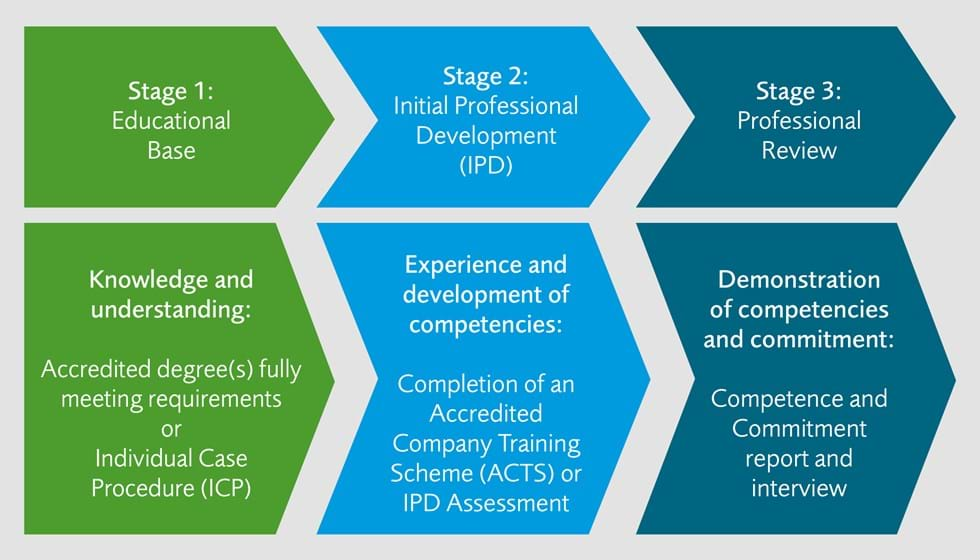 Stage 1: Educational Base
Applicants with IChemE accredited qualifications appropriate for the grade of membership sought satisfy the requirements for Stage 1. Those without are required to undergo an individual academic assessment via a new Individual Case Procedure (ICP). Please refer to the Engineering Council's Accredited Course Search guidance video.
ICP replaces the Technical Report and is a more transparent and accessible route for those without an accredited chemical engineering degree. Following an initial assessment of academic qualifications and experiential learning, applicants will be advised if and where shortfalls in knowledge and understanding have been identified.
If applicable, the applicant will be required to make a further submission addressing just these specific shortfalls.
Stage 2: Initial Professional Development
Initial Professional Development (IPD) is the period when an individual develops the knowledge, understanding and skill, and professional attitude required for professional qualification. It may take place through structured graduate schemes, eg, IChemE's ACTS, or it may be self-managed.
However, it is undertaken, IPD should offer new chemical engineers and engineering technicians' opportunities to put their underpinning knowledge into practice in the workplace, and to gain experience in a variety of settings.
IChemE accredits employer training schemes that meet the requirements for IPD. Those who have successfully completed such a scheme will have met the requirements of Stage 2. The IPD assessment not only satisfies the UK's Engineering Council's (EngC) requirements for professional registration but identifies any gaps in experience so that these can be rectified before applying for Stage 3, the Professional Review.
Feedback from an IPD assessment can be invaluable in helping prepare for the Professional Review.
Stage 3: Professional Review
The Professional Review is the third and final stage in becoming professionally qualified. Applicants for the Professional Review must have met the requirements of Stages 1 and 2 before making their application. At Professional Review a candidate for professionally qualified membership demonstrates their competence and commitment to the profession. The Professional Review comprises two components:
a review of documentary evidence
an interview.
The requirements for the Professional Review are largely unaltered. The application process now runs to a timetable so that candidates will be advised of periods in which the interviews will be planned.
Guidance for Chartered applicants
Informational webinars and recorded content
Refer here for webinar recordings, presentation slides and question and answers from previous events.
July 2021:
March 2021:
The Chemical Engineer articles
Comments or queries
If you have any questions then please do not hesitate to contact members@icheme.org.