AIChE past president awarded IChemE H...
AIChE past president awarded IChemE Honorary Fellowship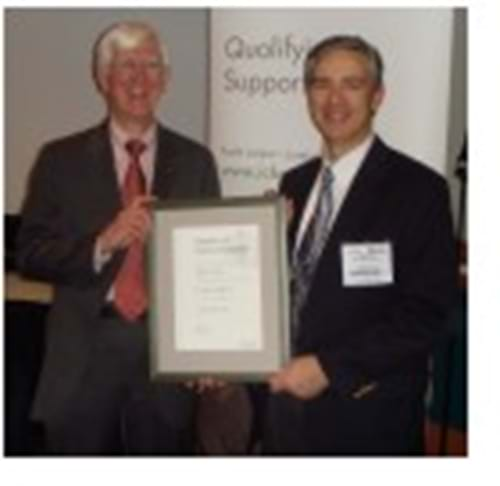 Dale Keairns, past president of the American Institute of Chemical Engineers (AIChE) was awarded a certificate of IChemE Honorary Fellowship last night in recognition of his contributions to chemical engineering.

The presentation took place at the annual AIChE Fall meeting in Utah, US and Keairns was presented his Honorary Fellowship certificate by IChemE president Desmond King.

King paid tribute to Keairns at the presentation and said that chemical engineers like Keairns had been instrumental in strengthening the relationship between IChemE and the AIChE: "There are well established links between many, many people in our two organisations. Your past president, Dale Keairns is an excellent example. I have known Dale for over 30 years and he is well known throughout the international chemical engineering community."

Keairns is executive advisor at Booz Allen Hamilton and has nearly 40 years experience in chemical engineering. He has considerable experience in both academia and industry and has written over 150 technical papers.

As a technical fellow with SAIC (Science Applications International Corporation) from 1999, Keairns provided support to the US Department of Energy's fossil fuel program initiative. This included the development of plans for the next generation of coal based energy systems, analysis of advanced technology research and demonstration projects and systems analysis of new fuel processing concepts. Prior to this post, he led the development and commercialisation of energy, environmental and chemical processing technology at the Westinghouse Science and Technology Center.

Keairns was honoured to receive the award and said: 'I feel very proud to be recognised in this way by IChemE. Over the last 30 years I have enjoyed excellent working relationships with people like Richard Darton at Oxford, Roland Clift in Surrey and Alvin Nienow in Birmingham. It is important that we build on these collaborations and strengthen the relationship between IChemE and AIChE.'

Past recipients of the Honorary Fellowship – the highest honour awarded by IChemE – include vice president of scientific development at international oil and gas company Total, Philippe Tanguy, former UK science minister Lord David Sainsbury, the billionaire chairman of India's Reliance Industries Mukesh Ambani, and Chinese Academy of Science VP, Professor Jinghai Li.