Chartered Member
Chartered Member
Becoming a Chartered Member demonstrates your professional competence and commitment to employers, policy makers, regulators and society.
Those elected to Chartered Member (MIChemE) are also awarded the title Chartered Chemical Engineer – the gold standard in chemical, biochemical and process engineering, which can only be gained through IChemE.
Chartered Members get access to all membership resources plus:
peer-reviewed proof of their expertise
external validation of their expertise via professional registrations such as Chartered Engineer (CEng), Chartered Scientist (CSci) and Chartered Environmentalist (CEnv)
MIChemE post-nominals and Chartered Chemical Engineer title
career development opportunities – independently-assessed Chartered Chemical Engineers are often given more responsibility.
Application process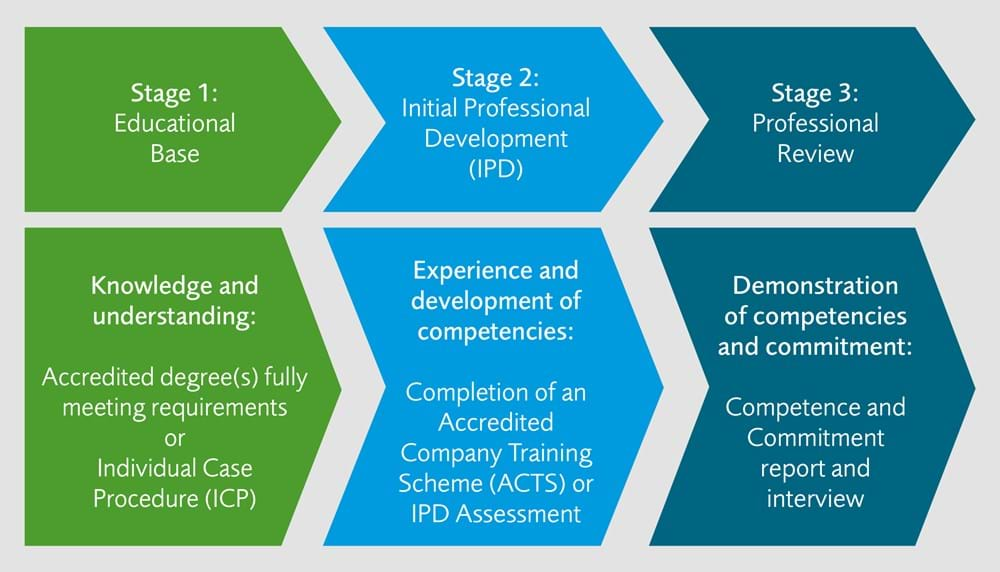 To apply you must already be in membership, those applying for Chartered Member need to demonstrate the required levels of:
Stage 1 - Educational Base
Stage 1 is the required underpinning knowledge and understanding. The requirement is either the necessary accredited qualifications or the successful completion of an Individual Case Procedure (ICP).
Accredited qualifications provide exemption from a full assessment of your knowledge and understanding, in recognition of your qualifications having already been assessed by IChemE, or an accreditation body we recognise as being at the level required for Chartered Member.
For those who do not have accredited qualifications at the level required for Chartered Member, the ICP route is required. A Technical Biography (TB) will be required as evidence for how you have achieved the required level of knowledge and understanding through your studies and work experience. If you have accredited qualifications below the level required for Chartered Member, you will be able to submit them here and receive partial exemption. 
On reviewing a TB we may request further information to complete the assessment. If this is the case, you will be asked to complete a Technical Report Questionnaire (TRQ), which will ask for further evidence against specific gaps identified in the TB. The TRQ addressing these gaps will enable the candidate to progress their application.
Stage 2 - Initial Professional Development
Stage 2 assesses experience and the development. The requirement is either the successful completion of an IChemE Accredited Company Training Scheme (ACTS) or a self-managed Initial Professional Development (IPD) assessment.
Candidates who have successfully completed an ACTS will automatically satisfy the IPD requirement, and can proceed directly to the Professional Review stage. They will only have to submit an ACTS Completion Form signed by their ACTS Manager and Mentor.
Where candidates are responsible for managing their own training, they will be required to map their work experience and activities against the IPD framework. 
Stages 1 and 2 are commonly undertaken sequentially. However, there is no reason why you cannot undertake these in parallel or in stages over the course of your career. You must, however, have completed and satisfied the requirements for Stages 1 and 2 before applying for Stage 3.
Stage 3 - Professional Review
Stage 3 assesses competence and commitment. The requirement is successful completion of IChemE's professional review, which includes a written submission and an interview.
The written submission includes a verified Competence and Commitment (C&C) Report, a CV and references. Those reviewing these documents will also conduct the professional review interview.
Registrations
Chartered Members also qualify for additional professional registrations. When making your application, you can opt for one (or more) of the following:
Once you have become a Chartered Member you can also apply for: