Chartered Member
Chartered Member
Becoming a Chartered Member demonstrates your professional competence and commitment to employers, policy makers, regulators and society.
Those elected to Chartered Member (MIChemE) are also awarded the title Chartered Chemical Engineer – the gold standard in chemical, biochemical and process engineering, which can only be gained through IChemE.
Chartered Members get access to all membership resources plus:
peer-reviewed proof of their expertise
external validation of their expertise via professional registrations such as Chartered Engineer (CEng), Chartered Scientist (CSci) and Chartered Environmentalist (CEnv)
MIChemE post-nominals and Chartered Chemical Engineer title
career development opportunities – independently-assessed Chartered Chemical Engineers are often given more responsibility.
Application process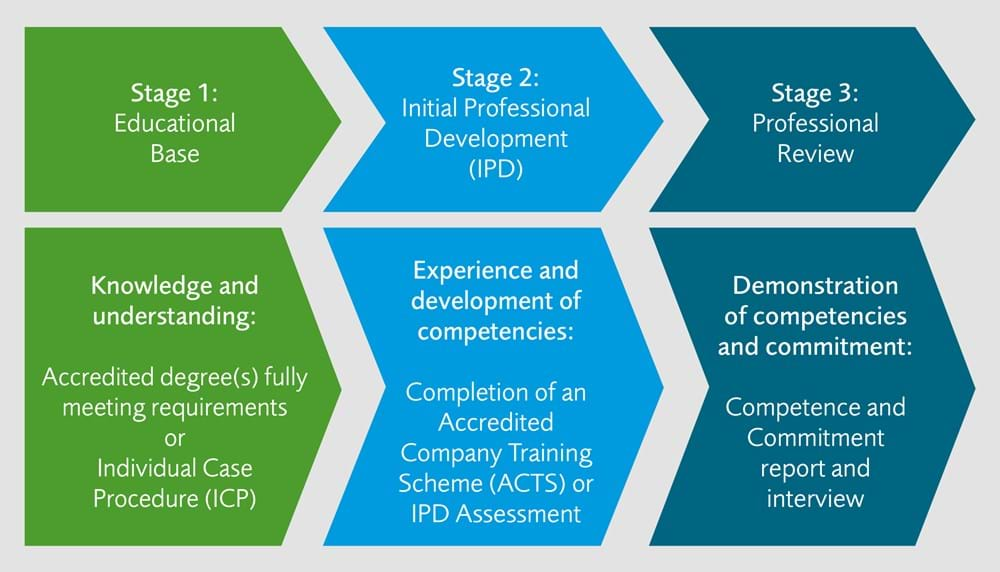 To apply you must already be in membership, those applying for Chartered Member need to demonstrate the required levels of:
Stage 1 - Educational Base
Stage 1 represents the required underpinning knowledge and understanding. The requirement is either the necessary accredited qualifications or the successful completion of an Individual Case Procedure (ICP).
Accredited qualifications provide exemption from a full assessment of your knowledge and understanding, in recognition of your qualifications having already been assessed by IChemE, or an accreditation body we recognise as being at the level required for Chartered Member.
ICP is the pathway for you if you have a degree:
in a 'cognate' subject (such as mechanical engineering, maths, chemistry etc)
accredited by IChemE at Bachelors level
recognised by Engineers Europe or Washington Accord
that is not accredited
ICP is appropriate to everyone whose qualifications fall within the above categories, and regardless of sector, geography and career stage.
The first step of ICP is the Technical Biography (TB) which provides evidence of how you have achieved the required level of knowledge and understanding through your studies and work experience. The TB assessors may request further information to complete the ICP assessment. If this is the case, you will be asked to complete a second stage, the Technical Report Questionnaire (TRQ).
An ICP assessment can help identify any further learning needs, to enable you to plan your professional learning and development. Upon successful completion of the ICP assessment, you will receive a letter confirming that you meet the educational base requirements for CEng; this may be useful for employers, or for you to quote on your CV.
The membership team is here to help – if you are unsure whether your qualification is accredited, or whether ICP is for you, please contact us via our qualification checker.
Stage 2 - Initial Professional Development
Initial Professional Development (IPD) refers to workplace development where you learn to apply your knowledge and understanding and attain the required experience to help you become professionally qualified.
You can gain your IPD via an IChemE Accredited Company Training Scheme (ACTS) or you can self-manage your IPD, which we recommend completing with the help of a mentor.
If you have successfully completed an ACTS you will automatically satisfy the IPD requirement, and, if you have also fulfilled the requirements for Stage 1 - Educational Base, you can proceed directly to Stage 3 - Professional Review stage.
If you are managing your own IPD, you will be required to map your work experience and activities against the IPD framework. Where your IPD is assessed as satisfactory you will have completed Stage 2, and, if you have also fulfilled the requirements for Stage 1 Educational Base, you can proceed directly to Stage 3 - Professional Review stage. If further IPD is required we will provide feedback to support you. This feedback may help with early preparation for the professional review.
Stages 1 and 2 are commonly undertaken sequentially. However, there is no reason why you cannot undertake these in parallel or in stages over the course of your career. You must, however, have completed and satisfied the requirements for Stages 1 and 2 before applying for Stage 3.
Note that the Stage 2 - IPD assessment considers your experience, whereas Stage 3 - Professional Review assesses competence and commitment; Stage 2 is a preparatory step towards the Professional Review.
Stage 3 - Professional Review
Stage 3 assesses competence and commitment. The requirement is the successful completion of IChemE's professional review, which includes a written submission and an interview. The written submission includes a verified Competence and Commitment (C&C) Report, a CV and references. 
Registrations
Chartered Members also qualify for additional professional registrations. When making your application, you can opt for one (or more) of the following:
Once you have become a Chartered Member you can also apply for: