Australian and New Zealand chemical e...
Australian and New Zealand chemical engineers recognised with awards at Chemeca 2018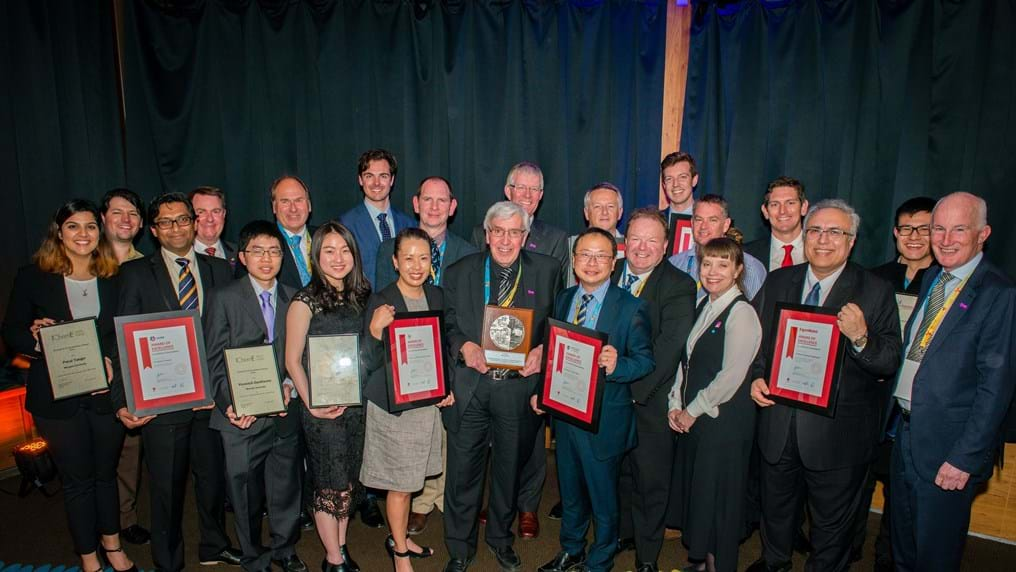 4th October 2018
Members of the Institution of Chemical Engineers (IChemE) and others have been presented with Awards of Excellence at Chemeca 2018. The Awards recognise contributions made by chemical engineers in Australia and New Zealand, which this year included the inventor of a catalyst unloading robot and a researcher who has developed new, safe mining technologies.
David Platts was presented with The Chemeca Medal - the highest honour from the Australian and New Zealand Federation of Chemical Engineers (ANZFChE). Formerly an IChemE Trustee, Platts has more than 30 years of experience in process engineering. Notably, Platt's worked for the country's largest dairy business, New Zealand Co-Operative Dairy Company, setting up quality control systems.
He is currently the Managing Director of his own business, PDV Consultants, which provides specialist design consultancy services to the food, dairy and bioscience industries across the world.
The IChemE Safety Centre Process Safety Award went to Woodside Energy's project Watson for HSEQ; a tool to assist with data-driven decision-making. The platform has improved the company's accuracy of risk assessment and hazard identification, as it allows users to trawl through more than 500,000 historical data records within hours rather than days.
The Thyssenkrupp Industrial Solutions Prize was awarded to Christopher Jansen, the inventor of WorleyParsons' Catalyst Removal Amphirol (CAROL) - the industry's first commercial robot for catalyst unloading from refinery and petrochemical vessels. Jansen is a Chartered Chemical Engineer and IChemE member. He was commended for inventing a machine to carry out this work, helping to reduce the risk of illness or fatality by people breathing in the nitrogen-rich air in the vessels.
Behdad Moghtaderi's work developing new technologies that safely mitigate fugitive methane emissions in the Australian mining industry earned him the ExxonMobil Award. In 2013, Moghtaderi, from the University of Newcastle, Australia, was awarded an AUS$31m grant to lead a national research programme to establish and roll out safe technologies across the sector.
The Fonterra Award went to Professor Sally Gras, Director of the ARC Dairy Innovation Hub, for her work in a five-year AUS$12m programme that is helping dairy manufacturers address the scientific and technical challenges that constrain productivity and growth.
The Caltex Award was presented to Dr Akshat Tankale, from Monash University, for exceptional course development and teaching of chemical engineering both within and external to the university.
Professor Cyrille Boyer, from the University of New South Wales, was awarded the Chemical Engineering Research Excellence Award for major contributions to the discipline by creating specialised polymers through a novel exploitation of their response to visible light.
The Australasian Design Prize was awarded to Monash University, Australia, for its project Darwin MEG Plant. The winners for commended for a well-researched project, especially in environmental impact and risk assessment. They were also recognised for their teamwork in maintaining good records and datasheets, which is important in industry.
The Fell Consulting Prize went to PhD student Anthony Antic from Deakin University, Australia, for his paper, Exploring the 3D Printing Binder Jetting Process for Pharmaceutical Applications.
Peter Slane, IChemE Director, Regions said:
"Congratulations to all the Award winners for your fantastic contributions to chemical engineering, which are helping to advance the profession and provide benefit to society. Thank you for your continued dedication and passion."
The Awards were presented at the Chemeca 2018 dinner on 2 October at Skyline in Queenstown, New Zealand.
Notes to media
For more information please contact: 

Tara Wilson, Head of Communications, IChemE 
t: +44 (0) 1788 534454 
e: twilson@icheme.org

Rachael Fraser, PR and Communications Executive, IChemE 
t: +44 (0) 1788 534435 
e: rfraser@icheme.org

Natalie Graser, Marketing & Events Executive, IChemE 
t: +61 (0)3 9642 4494 
e: NGraser@icheme.org  
What is chemical engineering?
Chemical, biochemical and process engineering is the application of science, maths and economics in the process of turning raw materials into everyday, and more specialist, products. Professional chemical engineers design, construct and manage process operations all over the world. Oil and gas, pharmaceuticals, food and drink, synthetic fibres and clean drinking water are just some of the products where chemical engineering plays a central role.
With an international membership exceeding 40,000 in around 100 countries, the Institution of Chemical Engineers (IChemE) aims to be the organisation of choice for chemical engineers. It promotes competence and a commitment to best practice, advances the discipline for the benefit of society and supports the professional development of its members. 

IChemE is the only organisation to award Chartered Chemical Engineer and Professional Process Safety Engineer status.
Chemeca 2018
Chemeca is the annual conference for chemical engineers from Australia and New Zealand to share their insights and innovations relevant to the profession across the wide range of industries they work in. It provides an opportunity for presentations to be made by from academia, industry and the regulators, and is the place for those in the professional chemical and process engineering community place to share ideas, knowledge and best practice. It also provides a forum for plenary and other pre-eminent speakers to present cutting edge research, innovations, technology, government regulation and industrial developments.
The Australian and New Zealand Federation of Chemical Engineers (ANZFChE) Awards of Excellence in Chemical Engineering provide a showcase for outstanding achievement in the field of Chemical Engineering. The Engineers Australia Chemical College, IChemE in Australia, SCENZ (now SCENZ – IChemE in New Zealand) and RACI, in partnership with corporate sponsors, have instituted these awards to encourage and recognise excellence and to highlight the contribution made by Australian and New Zealand Chemical Engineers to the community.