Big night for PETRONAS at first ever...
Big night for PETRONAS at first ever virtual IChemE Malaysia Awards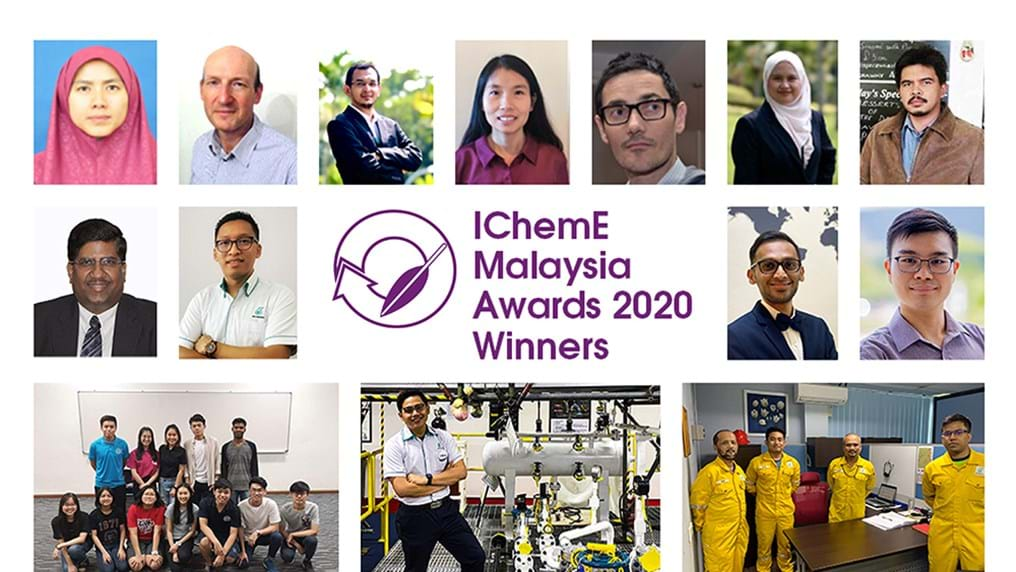 19th October 2020
PETRONAS were victorious in four of eight categories at the Institution of Chemical Engineers (IChemE) Malaysia Awards 2020 tonight (19 October). During the organisation's first ever virtual Malaysia Awards ceremony, the oil and gas giant also secured four highly commended entries.
PETRONAS Research, Deakin University and University of Adelaide, Australia scooped the Oil and Gas Award for their project Metal Organic Framework as Self-healing Catalyst. They developed a novel self-healing epoxy that delivers a highly robust and reliable performance when added to the interior of steel pipes in oil field operations. It ensures the integrity of the materials during operation, which enhances the life of the system and could reduce total maintenance costs by up to 80%.
For its project Smart Ratchet for Preventing Sample Spills, PETRONAS Penapisan (Terengganu) won the Process Safety Award. To reduce a high sampling time and a high number of damaged metal cylinder sample bombs used in daily chemical collection due to needle valves becoming loose, the company created the Smart Ratchet. This special spanner, which locks onto and tightens the needle valves, has resulted in RM7.3m worth of savings in terms of needle valve replacements and employee hours in fixing the issue and decreased the sampling time by 62%. Ultimately, the product enables employees a safer means to handle the product, while reducing waste.
PETRONAS Penapisan (Terengganu) also picked up the Training and Development Award for their interactive educational centre that is positively contributing to the United Nations' Sustainable Development Goal, Quality Education. The interactive auditorium includes the Tunnel of Lessons Learnt reflecting on past incidents, its confined space simulator and mini plant sharing good practice in health, safety, security and environment to improve competency for employees, contractors and university students, and awareness within the local community.
In addition, the company won the Sustainability Award for a new model that significantly optimises plant steam usage, saving 58,256 GJ of fuel, equivalent to saving RM1.94m, and producing less carbon emissions.
Sumwin Solutions triumphed in the Palm Oil category for their new patented technology and process to reduce the levels of a potentially harmful chemical compound from palm oil to fully meet European standards, enabling edible products to be marketed successfully in European countries.
Xiamen University Malaysia's impressive programme of student-led outreach activities saw it scoop the Student Chapter Award. The programme enhances chemical engineering students' technical knowledge and build their leadership and teamworking skills; all of which goes towards the students' Xiamen Continuing Professional Development (CPD) records, allowing them to experience the practice of CPD early in their career in preparation for becoming Chartered in future.
Activities included experiencing food and palm oil processing in action at industrial site visits, and promoting sustainability through presenting solutions to plastic pollution to chemical engineering students at the 'IChemE Assemble – Think Sustainable' event for Student Chapters.
Xiamen University Malaysia saw further success at the Malaysia Awards with lecturer Chew Kit Wayne winning the Young Researcher Award for his leading research in bioprocess engineering design and renewable energy. Within four years of his academic career, he has published more than 50 journal papers, three book chapters and presented at several conferences. He has also collaborated with local and international institutions, such as in China, Taiwan, Japan and New Zealand.
Passionate about sustainability, his current focus is investigating the potential development of a biorefinery for microalgae, designing a multi-phase system that will produce bioproducts and bioenergy, while utilising its waste sources for a more efficient cultivation system.
Muhammad Faiz Bin Omar a Distillation Technologist at the Malaysian Refining Company won the Young Industrialist Award for his commitment and problem-solving skills that are helping to optimise energy and crude oil production in a sustainable and economical way.
He has spearheaded and contributed to various award-winning and successful projects. During the coronavirus pandemic he has increased the Malaysian Refining Company's crude oil processing capability by utilising the jet fuel kerosene (a lower demand product), producing a profit of US$3m per month. In a previous role at PETRONAS Group Technical Solutions, by upgrading and optimising its energy systems he saved the organisation RM20.9m per year.
A message from the Royal Patron of IChemE Malaysia, Her Royal Highness Queen of Perak Darul Ridzuan, Tuanku Zara Salim, was shown to finalists during the online ceremony. It stated:
"The 2020 IChemE Malaysia Awards ceremony takes place in the most unusual of circumstances. This year is proving to be one of the most trying times the world has faced in recent history. In spite of this, the ceremony carries on and I express my sincere thanks to the organising committee for their dedication and hard work to make it happen. It will indeed be an occasion to remember.
"To the finalist and winners of this prestigious IChemE Malaysia Awards, the stars of tonight - my congratulations! You bring credit to the profession. Continue your show of strength in times of adversity and keep up the good work."
Law Chung Lim, Chair of IChemE's Malaysian Board, said:
"Congratulations to all of our winners tonight. This is recognition by your peers of the work you are doing day in, day out that demonstrates how you are helping to solve worldwide issues to advance chemical engineering's contribution for the benefit of society.
"Since its inception in July 2006, we have seen a growing participation from various industries in the IChemE Malaysia Awards. We hope to see that trend continue in the coming years to showcase and encourage more joined up thinking and collaboration between STEM professionals so that chemical engineers and the profession remain at the forefront of innovation as the world evolves."
Winners of the IChemE Malaysia Awards will automatically be entered into corresponding categories at the IChemE Global Awards, which will be delivered virtually through a series of webinars in November. Winners of the Global Awards are eligible for the overall award for Outstanding Achievement in Chemical and Process Engineering.
For more information on the IChemE Malaysia Awards visit www.icheme.org/malaysiaawards
Official winners of the IChemE Malaysia Awards 2020
Oil and Gas Award
Winner: PETRONAS Research, Deakin University and University of Adelaide, Australia - Metal Organic Framework as Self-healing Catalyst
Highly commended: PETRONAS Penapisan (Terengganu) - Steam System Closed Loop Realtime Optimiser (RTO)
Summary of winning entry:
Petronas with Deakin University and the University of Adelaide have successfully developed a novel technology that is able to self-heal epoxy systems with a highly robust and reliable performance. It provides the assurance of materials integrity through autonomously healing the damage, in-situ during the system operation. These could lead to a longer service life of the materials, and cost avoidance for maintenance and inspection.  
Most importantly, this technology offers a better performing and sustainable alternative by replacing the precious rare-earth-based catalyst, hence preserving Earth's resources. With an economically viable option, this technology has auspiciously addressed the main challenge of current microencapsulated self-healing technology, scaling-up. 
Palm Oil Award
Winner: Sumwin Solutions Malaysia - Patented 3MCPDE and Glycidyl Esters (GE) Mitigation Technology
Highly commended: Universiti Kebangsaan Malaysia, Sime Darby Research and Yayasan Sime Darby - Zero Waste Technology
Summary of winning entry:
European regulatory body European Food Safety Authority (EFSA) has already set the standard for the level of 3 monochloropropane 1-2 diol esters (3MCPDE) and glycidyl esters (GE) in vegetable oils, including palm oil. These components have been proven to be carcinogenic and are harmful for human consumption. Not meeting the EFSA guideline makes marketing of palm oil for edible applications extremely difficult. All alternate technologies have huge capital expenditure (CAPEX), operational expenditure (OPEX), maintenance cost and are not environment friendly. Sumwin's patented breakthrough technology overcomes all these problems by offering low CAPEX, low OPEX and avoiding emulsification virtually eliminates oil loss in wash water thereby making it an environmentally friendly process. The global vegetable oil industry would benefit greatly from this innovation. 
Process Safety Award
Winner: PETRONAS Penapisan (Terengganu) - Smart Ratchet for Preventing Sample Spills
Highly commended: PETRONAS Research - CO2 Blowdown Methodology
Summary of winning entry:
The collection of chemical samples is one of the routine tasks to verify the compositions of chemicals. It is carried out every day and night, and in whatever weather.   
A problem PETRONAS Penapisan (Terengganu) frequently face is needle valves of sample bombs becoming loose which causes loss of chemical containment.  
To solve this, PETRONAS Penapisan (Terengganu) successfully created and tested the Smart Ratchet in 2019. 
The Smart Ratchet is a special spanner that locks onto the needle valves of sample bombs and is turned to tighten the valves during chemical collection. Significant savings and increased safe manhours in 2019 have been realised from this device. 
Student Chapter Award
Winner: Xiamen University Malaysia
Highly commended: Swinburne University of Technology
Summary of winning entry:
The IChemE Student Chapter at Xiamen University Malaysia has been established with the aim to train and display leadership skills in a multicultural working environment. At the same time, it provides students a better understanding of the role of a chemical engineer in the real world and important skills that need to be mastered. The programme also aims to pursue a continued life-long learning for the development of new technology but not just for cumulative grade point average. The ability to transfer the knowledge and fundamental skills that are learned in lectures to real-life application is essential to create a better world. The series of activities include talks, camp, plant visits and competitions.
Sustainability Award
Winner: PETRONAS Penapisan (Terengganu) - Steam System Closed Loop Realtime Optimiser (RTO)
Highly commended: PETRONAS Chemicals Fertiliser – Cleaner Air through Process Control Advancement (CAPCA)
Summary of winning entry:
Steam System Closed Loop Realtime Optimiser (RTO) implementation is a crucial initiative in supporting PETRONAS Penapisan (Terengganu)'s Strategic Direction to achieve world class operational performance. To capture overall energy reduction, RTO covered a wider optimisation boundary and integrated existing optimisation initiatives into the steam system. It was designed to regulate boiler steam production in a closed loop with advanced process control and to provide recommendations for turbine-motor switching in open loop supervisory.  
With RTO, PETRONAS Penapisan (Terengganu) has recorded a reduction of 58,256 GJ of fuel gas consumption, which is equivalent to cost savings of RM1.94m. 
Training and Development Award
Winner: PETRONAS Penapisan (Terengganu) – Redefining Health, Safety, Security and Environment (HSSE) Education through the Centre of Health Safety and Environment Excellence (CoHEx)
Highly commended: PETRONAS Penapisan (Terengganu) - Operator Training Simulator (OTS)
Summary of winning entry:
Organisations are more focussed on how they can contribute to society now than ever before, especially with the emerging importance of addressing the UN Sustainable Development Goals. Understanding this, PETRONAS Penapisan (Terengganu) capitalises on the Centre of Health Safety and Environment Excellence (CoHEx) as an educational hub for its staff, contractors and the community to learn about health, safety, security and environment (HSSE) and process safety elements in an impactful, immersive and interactive manner. Equipped with a state-of-the-art auditorium and a gallery brimmed with HSSE-related showcases, programmes organised in CoHEx include best practice sharing between contractors, incident lessons learnt sharing and programmes with students from nearby universities. 
Young Industrialist Award
Winner: Malaysian Refining Company - Muhammad Faiz Bin Omar
Highly commended: Universiti Teknologi PETRONAS - Serene Lock Sow Mun
Summary of winning entry:
Faiz graduated with a Bachelor's (Hons) degree in Chemical Engineering from The University of Melbourne, Australia and is currently a Distillation Technologist at PETRONAS Malaysian Refining Company. Throughout his career with PETRONAS he has contributed significantly to PETRONAS' research and development, capital projects, refinery optimisation and innovative solutions in the field of distillation, which realised cost savings and value creation, enhanced process safety, and improved sustainability. Faiz's passion resonates with his belief, Quam bene vivas refert non quam diu (it is how well you live that matters, not how long), and is evident through his many achievements and contribution. Change is what he wanted and change is what he has become. 
Young Researcher Award
Winner: Xiamen University Malaysia - Chew Kit Wayne
Highly commended: Monash University Malaysia – Ng Boon Junn
Summary of winning entry:
Kit Wayne is a lecturer at Xiamen University Malaysia and holds a PhD in Chemical Engineering. His research focus is on renewable energy and sustainability, which involves the cultivation of microalgae for biomolecules extraction through biorefinery. 
Links
Contact
For more information please contact:
Rachael Fraser, Communications Executive, IChemE
t: +44 (0) 1788 534435
e: rfraser@icheme.org
Ketna Mistry, Communications Executive, IChemE
t: +44 (0) 1788 534484
e: kmistry@icheme.org
What is chemical engineering?
Chemical, biochemical and process engineering is the application of science, maths and economics in the process of turning raw materials into everyday, and more specialist, products. Professional chemical engineers design, construct and manage process operations all over the world. Oil and gas, pharmaceuticals, food and drink, synthetic fibres and clean drinking water are just some of the products where chemical engineering plays a central role.
IChemE
The Institution of Chemical Engineers (IChemE) advances chemical engineering's contribution worldwide for the benefit of society. We support the development of chemical engineering professionals and provide connections to a powerful network of around 35,000 members in 100 countries.
We support our members in applying their expertise and experience to make an influential contribution to solving major global challenges, and are the only organisation to award Chartered Chemical Engineer status and Professional Process Safety Engineer registration.