Big night for Sime Darby Plantation a...
Big night for Sime Darby Plantation and PETRONAS at Malaysia chemical engineering awards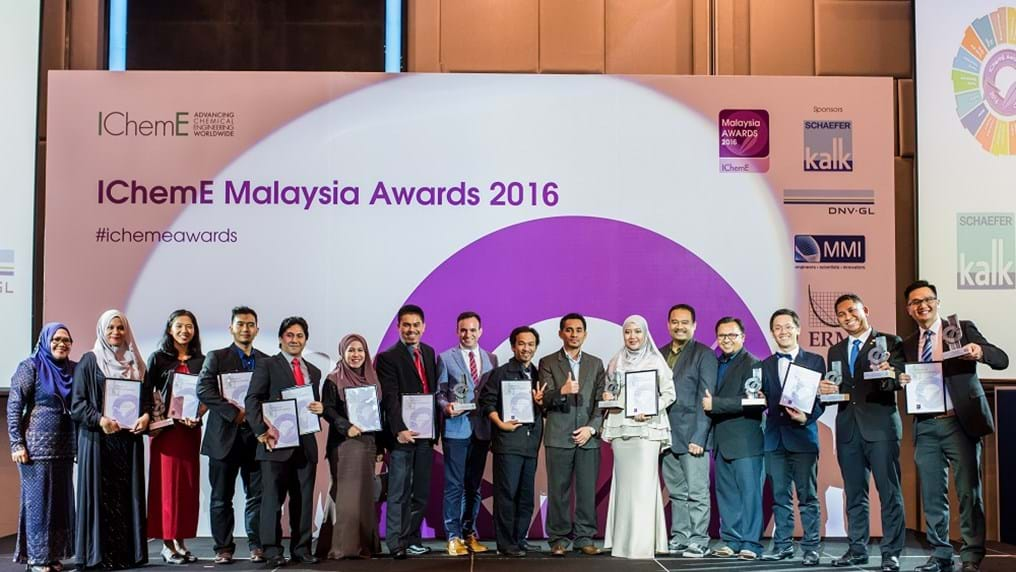 24th October 2016
The Institution of Chemical Engineers' (IChemE) celebrated ten years of successful operation in Malaysia tonight, at its annual Awards dinner held at the Le Meridien Hotel, Kuala Lumpur. Recognising celebrated outstanding achievements in the Malaysian chemical engineering community, the event concluded the second leg of the Institution's Global Awards programme.
IChemE's President Professor Jonathan Seville gave the opening address, and welcomed guests who included IChemE's Royal Patron and Guest of Honour HRH Tuanku Zara Salim.

The first award for Industry Project of the Year, sponsored by Schaefer Kalk, was won by Synthomer, who have developed a methodology for reviewing energy processes and interpreting the data to identify energy saving opportunities.

It was a successful night for Sime Darby Plantation Sdn Bhd, the world's largest producer of sustainable palm oil. They went away with both the highly commended mention and the winning trophy in two categories – the Palm Oil Award, sponsored by IChemE's Palm Oil Special Interest Group, and the Sustainable Technology Award, sponsored by Environmental Resources Management (ERM).

The winning project – 'Re-engineering current palm oil degumming process ' – saw the Sime Darby team improve the current palm oil degumming process by using less acid. This resulted in reduced operational cost, increased throughput and reduced impact on the environment.

PETRONAS also enjoyed a night of accolades and won the Oil and Gas Award, sponsored by IChemE's Energy Centre, in a joint entry with Queens University Belfast. The team have developed a novel technology to extract mercury from steam in a single step.

Anis Zafirah Binti Sipal Anuwar of PETRONAS Chemicals Olefins was named Young Chemical Engineer in Industry winner, with Jeremy Yong of Sarawak Shell Behad as highly commended. Nurzatil Aqmar bt Othman, also from PETRONAS was named highly commended as the Young Chemical Engineer in Research. She was beaten to first place by Pau Loke Show, from University of Nottingham Malaysia. His work in bioprocessing has seen him publish more than 33 journal papers.

PETRONAS narrowly missed out on the Process Safety Award, which was claimed by Asean Bintulu Fertilizer. They have removed the use of chlorine in cooling water treatment, ensuring a safer environment for employees and surrounding communities. The project is an important milestone for the town of Bintulu, which ABF wants to become the next chlorine-free town in Malaysia.

Petrofac Engineering Services also showed a commitment to the next generation of chemical engineers as they triumphed in the Training and Development category. Their two year training programme provides graduates with the skills and knowledge to build 3D plant design management systems in the oil and gas sector.

IChemE's President Jonathan Seville said:

"IChemE's purpose is to advance chemical engineering worldwide for the benefit of society and Malaysia is no exception. Chemical engineering makes a huge contribution to the economy of this nation, and we are delighted to work with a plethora of companies to secure a pipeline of committed, competent and trusted professionals who will make the world a better place. Tonight's ceremony has been a celebration of those trusted professionals, and I am so pleased to see such energy and passion from our Malaysian board, partners and members."

Chair of IChemE Malaysia, Dr Abdul Aziz Bin Abdul Raman said:

"Tonight has been incredibly special, not least because we are marking IChemE Malaysia's 10 year anniversary and we are honoured by the attendance of our Royal Patron HRH Tuanku Zara Salim.

"This celebration is important because it brings unity and positivity to the profession. Tonight's winners should take great pride in their achievements, and I hope they will join me in helping to secure Malaysia as the hub for chemical engineering excellence in South East Asia."

The IChemE Malaysia Awards were held at the Le Meridien Hotel, Kuala Lumpur, on 24 October 2016. The national IChemE Malaysia Awards winners (excluding the Palm Oil Award winner) will automatically be shortlisted for the IChemE Global Awards, which will be held in Manchester, UK on Thursday 3 November.