BOC awarded Bronze Award for professi...
BOC awarded Bronze Award for professional development and mentoring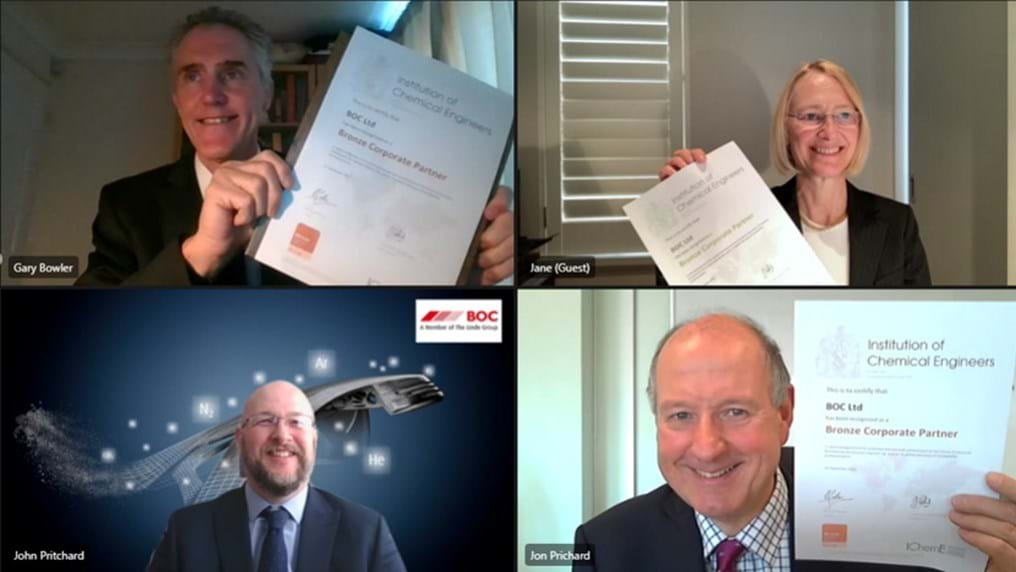 23rd September 2021
BOC, a leading industrial, medical and special gases supplier in the UK and Ireland, has been awarded the Bronze Corporate Partner Award by the Institution of Chemical Engineers (IChemE).  
BOC was awarded for its commitment to its chemical engineers' professional development through its graduate programme, and its unique engagement scheme with school pupils aged between 5 and 16, called the Secret World of Gases Experience.
BOC, which is part of Linde plc that employees 80,000 people across 100 countries, was commended for championing Chartered status and professional development. It currently has 23 Chartered Members and five IChemE Fellows, with 26 others working towards professional qualification.
Each chemical engineering graduate joining BOC receives a personal mentor through the four-year IChemE Accredited Company Training Scheme (ACTS). IChemE's member volunteer assessors, who peer-review the corporate partner award submission, commended the extension of the mentoring relationship beyond graduation from the training scheme until professional qualification of Chartered Chemical Engineer is achieved and further as part of the chemical engineers' continuing professional development, as best practice.
The school programme sees BOC's specially trained engineers connect with and impart knowledge on the properties of industrial gases to the schoolchildren through science experiments, investigating the latest innovations, dispelling myths and exploring how gases can be used for a greener future.
BOC also works closely with the British Compressed Gas Association and the European Industrial Gas Association to share knowledge and good practice within the industry.
IChemE President Jane Cutler said:
"Through its Accredited Company Training Scheme, its extensive mentoring programme, as well as the exciting, interactive programme with school children of all ages, BOC has demonstrated a strong support to the skill and personal development of its chemical engineers, and a keenness to inspire the next generation. I'm delighted to award BOC with the Bronze Corporate Partner Award.
"The Bronze status is the beginning of BOC's journey to gold, IChemE's highest award, which it aims to attain in 2022. This further emphasizes their dedication to professionalism and supporting the wider chemical engineering community through knowledge-sharing."
Jim Mercer, Business President, BOC UK & Ireland said:
"BOC is thrilled to receive the Bronze Corporate Partner Award from IChemE. This is a welcome recognition for our investment in people and the value we place on development of engineering talent especially in the early phases of a career. We are committed to advancing professional development and establishing best practice through engagement within our industry. This also builds on our championing of the STEM agenda within our local communities and for the next generation of engineers."
Links
IChemE Corporate Partner Scheme
Contact
For more information please contact:
Lucy Cook, Communications Manager, IChemE 
t: +44 (0) 1788 534454 
e: lcook@icheme.org 
Rachael Fraser, Communications Executive, IChemE 
t: +44 (0) 1788 534435 
e: rfraser@icheme.org  
BOC Pressroom
e: pressroom@boc.com  
What is chemical engineering?
Chemical, biochemical and process engineering is the application of science, maths and economics in the process of turning raw materials into everyday, and more specialist, products. Professional chemical engineers design, construct and manage process operations all over the world. Oil and gas, pharmaceuticals, food and drink, synthetic fibres and clean drinking water are just some of the products where chemical engineering plays a central role.
IChemE
The Institution of Chemical Engineers (IChemE) advances chemical engineering's contribution worldwide for the benefit of society. We support the development of chemical engineering professionals and provide connections to a powerful network of over 33,000 members in more than 100 countries.
We support our members in applying their expertise and experience to make an influential contribution to solving major global challenges, and are the only organisation permitted to award Chartered Chemical Engineer status and Professional Process Safety Engineer registration
BOC
BOC is an industrial, medical and special gases provider and part of Linde plc, the world's leading industrial gases company. BOC supplies compressed, bulk and pipeline gases, chemicals, engineering solutions and equipment and is pioneering digital and healthcare innovations and clean energy and transport technologies. For more than a century BOC's gases and expertise have contributed to advances in many areas of everyday life and industries including steelmaking, refining, chemical processing, environmental protection, wastewater treatment, welding and cutting, food processing and distribution, glass production, electronics and healthcare.
More information: www.boconline.co.uk