Bradford students scoop SIESO Medal f...
Bradford students scoop SIESO Medal for innovative pop up book analysing disaster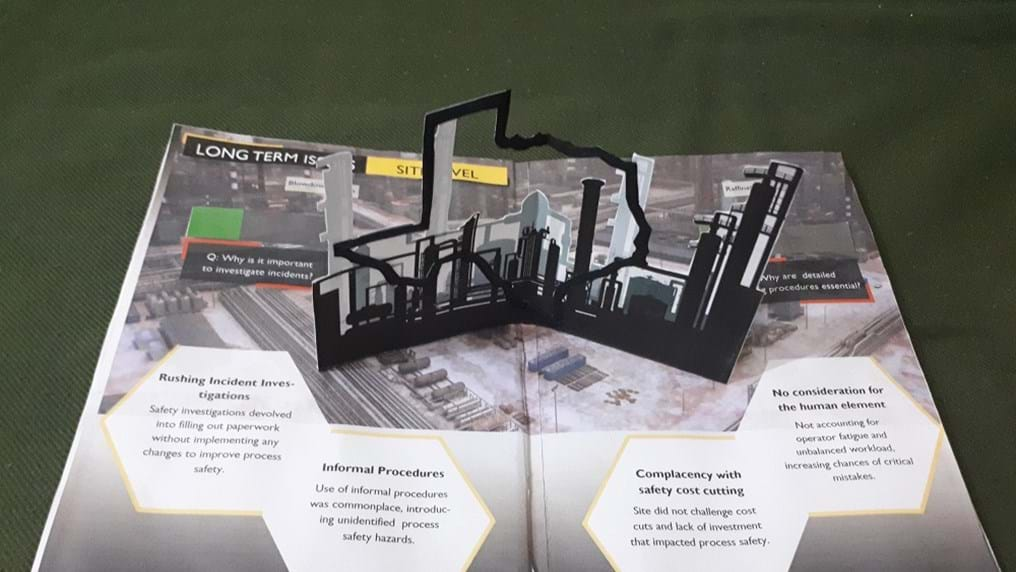 7th October 2020
A team of engineering students at the University of Bradford, UK have been awarded the 2020 SIESO Medal by the Institution of Chemical Engineers (IChemE) for their innovative pop up book depicting the lessons learned in the 2005 Texas City Refinery disaster, which killed 15 people and injured 180 others.
Winners Kalokson Gurung, Laya Jayadeep, Janusz Siwek, Satyam Vora and David Zhou produced a paper analysing the disaster to accompany their pop up book. The paper, Texas City Refinery Explosion – Safety Out of Focus, has been featured in the latest issue of the Loss Prevention Bulletin published today (5 October) and is free to download on IChemE's website.
The SIESO Medal is an annual competition open to all students around the world and awarded the medal and £750 for the most novel and innovative multi-media presentation of a major incident and the learning outcomes. This is the second year the competition has been run and all entries are reviewed by chemical engineers of IChemE's Loss Prevention Bulletin Editorial Panel.
Fiona Macleod, who chairs the editorial panel, which is made up of volunteer members of IChemE, said: 
"Congratulations to the winning team. The panel were impressed with their paper and unique pop up book, which demonstrated a strong understanding of the range of process safety issues in this tragic incident. The team employed considerable ingenuity in constructing an interactive experience to make the lessons all the more memorable.
"Learning from process safety incidents is such an important part of engineering education. That's why at IChemE we work closely with industry and academia to share knowledge of safety incidents, to pass on lessons learned from generation to generation, across engineering disciplines, and recognise achievements in process safety competence and communication."
Laya Jayadeep said:
"My team and I are extremely delighted by this achievement. We are overwhelmed by the whole experience whilst proud to have contributed a whole different aspect of understanding on this incident and lessons learned from it.
"By researching more on the disaster, it showed us the importance of process safety, how everyone is responsible for ensuring safety and the expense of negligence towards even low-risk issues. With this in mind, we decided to have the butterfly effect as the theme for our pop up book to highlight these factors and to grab the reader's attention on the matter.
"We are inspired by safety through our work, and we believe the same for many others for which we are grateful. We would like to thank our safety lecturer, Dr Chakib  Kara-Zaitri for all his support and feedback."
The SIESO Medal is one of many prestigious prizes awarded by IChemE each year. It was launched in 2019 following a donation from SIESO, which ceased operations in 2018, to help raise awareness of process safety among engineering, science and business students.
Nominations for the 2021 SIESO Medal are open until 31 March 2021. Nominations for all other 2021 medals and prizes close on 31 October. For more information and to nominate, visit www.icheme.org/medals
A video showcasing the pop up book outlining the key points of the disaster and the lessons learned can also be viewed on IChemE's YouTube channel.
Links
SIESO Medal winners' video demonstration of pop up book
Contact
For more information please contact:
Rachael Fraser, Communications Executive, IChemE
t: +44 (0) 1788 534435
e: rfraser@icheme.org
Ketna Mistry, Communications Executive, IChemE
t: +44 (0) 1788 534484
e: kmistry@icheme.org
What is chemical engineering?
Chemical, biochemical and process engineering is the application of science, maths and economics in the process of turning raw materials into everyday, and more specialist, products. Professional chemical engineers design, construct and manage process operations all over the world. Oil and gas, pharmaceuticals, food and drink, synthetic fibres and clean drinking water are just some of the products where chemical engineering plays a central role.
IChemE
The Institution of Chemical Engineers (IChemE) advances chemical engineering's contribution worldwide for the benefit of society. We support the development of chemical engineering professionals and provide connections to a powerful network of around 35,000 members in 100 countries.
We support our members in applying their expertise and experience to make an influential contribution to solving major global challenges, and are the only organisation to award Chartered Chemical Engineer status and Professional Process Safety Engineer registration.