Celebrating chemical engineering achi...
Celebrating chemical engineering achievement in Aberdeen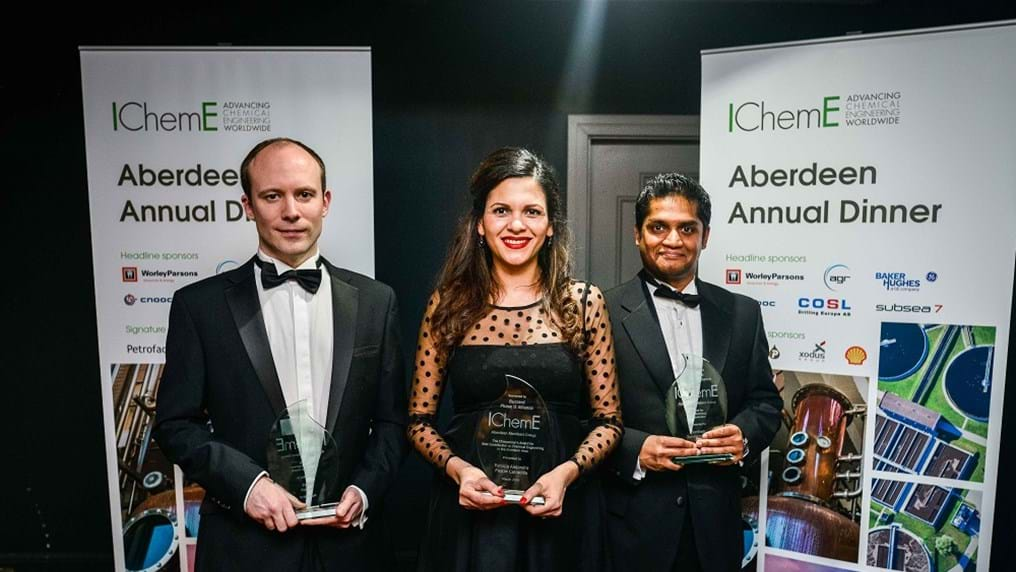 22nd March 2019
Three chemical engineers have been recognised by the Institution of Chemical Engineers (IChemE) Aberdeen Members Group for their contributions to the local community and industry.
Patricia Fleitas, Mark Imlach and Sankesh Sundareshwar were presented with their awards at the Group's 2019 Annual Dinner, held at the Hilton Treetop Hotel Aberdeen, yesterday (21 March).
Fleitas, of ADIL Schlumberger, received the highest accolade of the night, the Chairperson's Award, for her dedication to the process industry and local communities. During her time with ADIL she has worked on more than 17 projects with different levels of complexity across five continents. She is an ambassador for the profession and has helped to inspire ADIL's next generation of engineers.  
Fleitas has also reinvigorated the Aberdeen Member Group's technical events programme, focusing on Continued Professional Development (CPD) and supporting young engineers.
Imlach, a Chartered Chemical Engineer at TAQA, won the Young Chemical Engineer of the Year Award. The former University of Aberdeen student played a key role in the company's Eider Bypass Project to transform and extend the life of its North Sea oil and gas fields. He was also commended for his presentations encouraging school pupils to study chemical engineering.
Sundareshwar, a Senior Process Engineer at Shell, was awarded the Best Technical Presentation. His presentation on Compressor Predictive Analytics focused on how engineers can use extensive amounts of data practically, to predict and prevent trips. He drew from his experience working on a two-year project; using predictive analysis techniques with real data to predict the failure of a compressor days in advance.
Chris Cox, CEO of Spirit Energy, was the guest speaker at the event. His presentation centred around the emerging trends in European oil and gas; new players, new ownership structures, new basins, new reservoirs and new fundamentals. The awards were presented and sponsored by the Buzzard Phase II Alliance and Shell.
Image
(From left to right) Mark Imlach, TAQA, Patricia Fleitas, ADIL Schlumberger, and Sankesh Sundareshwar, Shell were presented with awards by the IChemE Aberdeen Member Group 
Links
Contact
For more information please contact:
Rachael Fraser, Communications Executive, IChemE
t: +44 (0) 1788 534435
e: rfraser@icheme.org
Ketna Mistry, Communications Executive, IChemE
t: +44 (0) 1788 534484
e: kmistry@icheme.org
What is chemical engineering?
Chemical, biochemical and process engineering is the application of science, maths and economics in the process of turning raw materials into everyday, and more specialist, products. Professional chemical engineers design, construct and manage process operations all over the world. Oil and gas, pharmaceuticals, food and drink, synthetic fibres and clean drinking water are just some of the products where chemical engineering plays a central role.
IChemE
The Institution of Chemical Engineers (IChemE) advances chemical engineering's contribution worldwide for the benefit of society. We support the development of chemical engineering professionals and provide connections to a powerful network of around 37,000 members in 100 countries.
We support our members in applying their expertise and experience to make an influential contribution to solving major global challenges, and are the only organisation to award Chartered Chemical Engineer status and Professional Process Safety Engineer registration.
More information: www.icheme.org
IChemE Member Groups
IChemE Member Groups are region-based communities across the UK, where local engineers organise technical and networking events, and coordinate mentorships to support young professionals in their goal to become Chartered Chemical Engineers.
Their activity focuses on sharing ideas and promoting chemical engineering at a regional level, and are tailored to support local needs.
More information: www.icheme.org/membergroups