Dame Judith Hackitt meets Ashok Kumar...
Dame Judith Hackitt meets Ashok Kumar Fellow to discuss fire safety of buildings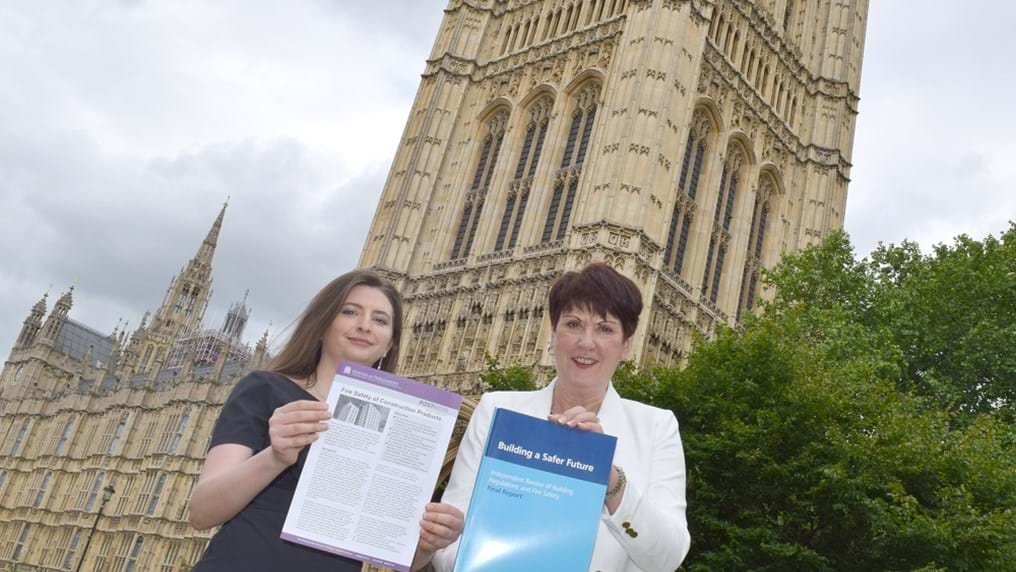 22nd June 2018
Chair of the EEF, Dame Judith Hackitt met with young chemical engineer Erin Johnson this week, to discuss their respective reports for UK government on the fire safety of buildings and building materials.
Hackitt led the review into the safety of UK buildings following the Grenfell tower fire in June 2017. She gave evidence to MPs in May this year, where she criticised the current fire safety regulations for housing construction in the UK – describing them as "overly complicated yet at the same time vague".
Her report, Independent Review of Building Regulations and Fire Safety, recommended several changes to the UK's building regulations, including: creating simple and effective processes that ensure safety requirements are met; making clear roles and responsibilities with incentives for good practice and sanctions for poor performance; and to reassert the roles of residents to create greater reassurance for them with regards to safety.
Johnson is a chemical engineering postgraduate student at Imperial College London. She recently spent three months at the UK Parliamentary Office of Science and Technology (POST). The placement was a result of winning the Ashok Kumar Fellowship in 2017, provided by the Institution of Chemical Engineers (IChemE). 
During her time at POST, Johnson compiled research and produced a briefing note for MPs and policymakers entitled Fire Safety of Construction Products. The note examines how construction products are regulated, tested and classified when exposed to different types of fire (such as combustion, flame spreading, smoke, and resisting fires).
Hackitt, Past President and Fellow of IChemE, joined Johnson to discuss their findings during an afternoon tea held in Westminster, London, UK.
During their meeting, Hackitt and Johnson discussed the radical changes needed to systems, rather than individual building materials. While researching for their respective reports, both used their chemical engineering expertise to apply a systems-thinking and risk-based approach and were surprised to find that this is not used or understood in the construction industry.
Hackitt also explained some of the challenges she faced in her widely publicised review, including emotional conversations with residents and criticism in the media and on social media.
The pair also talked about the importance of chemical engineers becoming Chartered and gaining continuous professional development, as well as the different perceptions of female engineers that they had encountered.
Dame Judith Hackitt FREng FIChemE said:
"Fire safety affects everyone. Everyone is responsible for ensuring robust systems and processes are established, that improve safety and reduce the risk of tragic events such as Grenfell from happening in the future.
"It is imperative that those working in all aspects of safety update their knowledge and skills, to ensure they are competent and committed to best practice.
"IChemE is committed to ensuring its members are supported in their professional development. Giving young chemical engineers the opportunity to use their technical skillset to provide scientific and technical information to MPs making decisions in Parliament, via the Ashok Kumar Fellowship, is a great example. It's a remarkable achievement for Erin at this early stage of her career and stands her in good stead for the future."
Erin Johnson said:
"It's an honour meeting Judith to talk about our reports and fire safety. She was thoroughly interested in my experience and what I'd learned while interviewing MPs, policymakers and health and safety experts.
"She has achieved so much throughout her chemical engineering career and beyond and has had a significant impact on safety in the UK. As a chemical engineer, it's really inspiring.
"Meeting Judith, coupled with my experience in Parliament, has definitely broadened my horizons. The experience will be invaluable as I continue to progress my career."