George Jackson receives first Guggenh...
George Jackson receives first Guggenheim Medal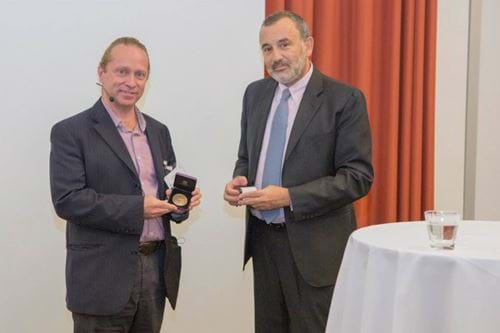 Imperial College's Professor George Jackson is the first winner of the Institution of Chemical Engineers' new Guggenheim Medal. The award is presented in recognition of outstanding research in thermodynamics and complex fluids. Jackson received the medal at the Thermodynamics 2015 conference in Copenhagen earlier this month.

The Institution of Chemical Engineers (IChemE) received a record number of nominations for its medal programme in 2014. The full line up of winners was announced in March 2015.

A professor of chemical physics at Imperial College London, George Jackson was announced as the first Guggenheim Medal winner. His nomination grabbed the attention of the judging panel, which described Jackson's work on thermodynamics as highly acclaimed and industry relevant.

The Guggenheim Medal was created in 2014. It honours the English thermodynamicist Professor Edward Armand Guggenheim, who died in 1970. Guggenheim made a major contribution to the understanding of chemical thermodynamics, and the medal is presented to individuals who have made a significant contribution to the field.

The Guggenheim Medal Lecture was delivered at the Thermodynamics 2015 conference in Copenhagen, Denmark on 16 September 2015. Jackson's lecture, The Legacy of Edward Guggenheim to Statistical Thermodynamics, described how his latest work on statistical associating fluid theory was influenced by the late Professor's ground-breaking research.

The medal was presented by the director of the National Centre for Scientific Research in Greece, and chair of the Guggenheim Medal judging committee, Dr Ioannis G Economou.

Explaining why Jackson had been selected, Dr Economou said; "George's research is fundamental and based on rigorous theory, but it has immediate applications in industry. Starting from statistical mechanics principles, he has developed an elegant set of thermodynamic models, which provide accurate predictions for the properties of complex fluid. George's models account correctly for all different types of intermolecular interactions, of particular interest to the oil, gas, chemical and pharmaceutical industries."

Speaking in Copenhagen, Jackson said: 'I am honoured to have been awarded this medal. Edward Guggenheim's classic texts; Modern Thermodynamics, Statistical Thermodynamics, and Mixtures, were invaluable throughout my postgraduate training. His thinking played a key role in moulding my understanding of thermodynamics."

He went on to describe how Guggenheim's work continues to influence his research today: "His work on the theoretical treatment of association and his classic paper on corresponding states, have been central influences to my research on the statistical thermodynamics of associating fluids, and the description of interfacial properties.'

Nominations are currently being taken for the 2016 Guggenheim Medal. Interested parties should contact medals@icheme.org for more information.