GHD awarded Bronze Corporate Partner...
GHD awarded Bronze Corporate Partner status for commitment to engineering excellence
7th November 2017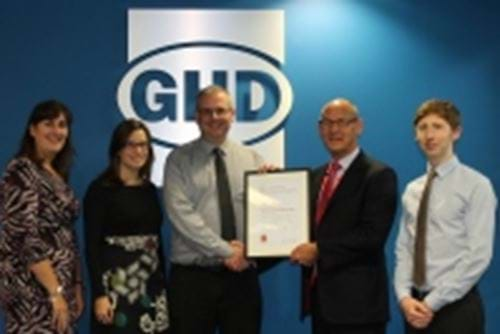 The Institution of Chemical Engineers (IChemE) has presented GHD with Bronze Corporate Partner status. The presentation took place at their headquarters in Chester.

GHD is one of the world's leading professional services companies operating in the global markets of water, energy and resources, environment, property and buildings, and transportation. The company was awarded Bronze Partner status following the support and mentorship they offer young engineers enrolled on their newly developed IChemE Accredited Company Training Scheme (ACTS), emphasising their on going commitment to chemical engineering excellence.

Established in 1928, GHD operates across five continents and the pacific region, and employs more than 9,000 people across 200+ offices to provide engineering, environmental and advisory services across the globe. Its chemical engineers provide design services, right through to project management, across a range of industries including: chemical, water and waste, energy from waste and nuclear.

The recognition from IChemE is evidence of GHD's on going commitment to both encourage and support employees to continually develop personal and technical capabilities throughout their career. The company's successful ACTS programme currently has five mentors to provide trainees with the practical skills required to achieve Chartered Chemical Engineer status.

IChemE's Director of Communications, Andy Furlong said:

"It's a real pleasure to recognise GHD with Bronze Corporate Partnership of IChemE. They're a great company, with a clear commitment to the staff training and development that is integral to achieving Chartered Engineer status.

"The enthusiasm of the process engineering team was unmistakable. Chemical engineering is central to GHD's success story and it was fantastic to hear about the challenging projects that they are working on.

"IChemE looks forward to building on this relationship, and we stand ready to support chemical engineers at GHD as they continue their professional journey."

GHD's Associate Director, Ian Walker, who accepted the Award on the firm's behalf said:

"We're delighted to be awarded the Bronze Corporate Partner status and are enthused by the relationship we continue to build with the IChemE to support and encourage the current and next generation of chemical engineers.

'At GHD, we are committed to providing training and development for all employees, this is critical to the recruitment and retention of qualified engineers that will make a difference to our future. Achieving Chartered Chemical Engineer status is the benchmark for chemical engineers at GHD, it's therefore an honour to have our commitment to supporting and training our young professionals to attain this status recognised by the IChemE."

GHD's commitment to strengthening its relationship with the IChemE has seen the company's senior leaders volunteer to support engineers across the region, chair IChemE member groups, and work as volunteer assessors - on competence and commitment reports as well as Accredited Company Training Schemes. GHD has proactively support IChemE's whynotchemeng' campaign at STEM career fairs; and sponsored the Water category for the IChemE Global Awards 2017.