IChemE announces its Learned Society...
IChemE announces its Learned Society Committee representatives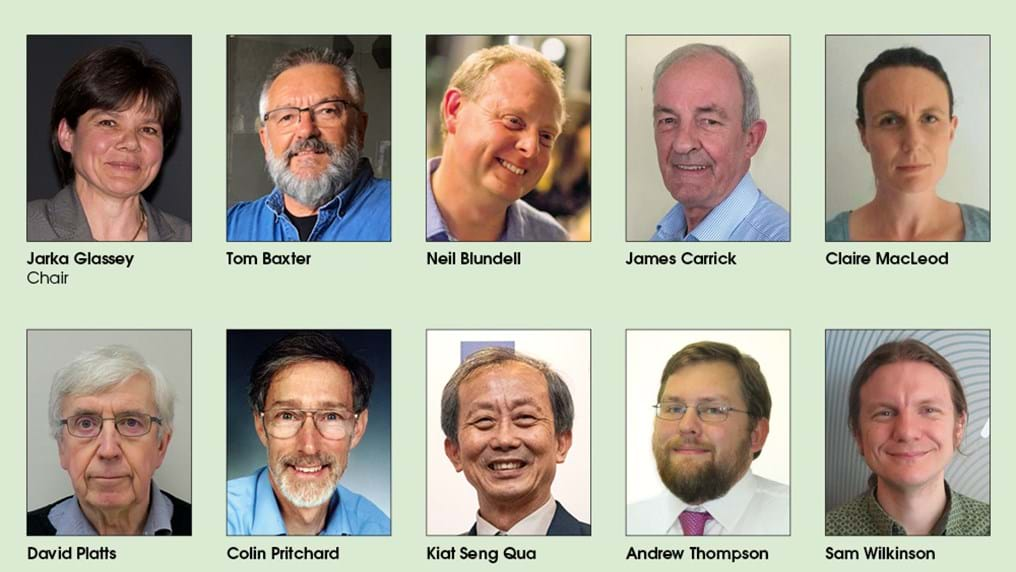 29th July 2019
The Institution of Chemical Engineers (IChemE) has announced the members who will form the inaugural Learned Society Committee. This committee will set the strategic priorities across the breadth of activities that IChemE already undertakes in its role as a learned society.
Nine new committee members have been elected to the new Learned Society Committee, which will be chaired by IChemE Vice President (Technical) Jarka Glassey. The new representatives have a wide range of technical backgrounds and work within a variety of sectors (including nuclear, food and drink, renewable energy, pharmaceuticals and chemicals) meaning together they have a broad spread of knowledge. They are as follows:
Tom Baxter, Oil and Gas Consultant (Aberdeen, UK)
Neil Blundell, Principal Nuclear Inspector, Office for Nuclear Regulation (Wigan, UK)
James Carrick, Retired, formerly Senior Vice President & Regional Executive, URS (Darlington, UK)
Claire MacLeod, Associate Principal Scientist, AstraZeneca (Cheshire, UK)
David Platts, Food Engineering Consultant (Hamilton, New Zealand)
Colin Pritchard, Senior Research Fellow, University of Edinburgh (Edinburgh, UK)
Kiat Seng Qua, Retired, formerly Advisor, ASEAN Oleochemical Manufacturers Group (Selangor, Malaysia)
Andrew Thompson, Mechanical, Electrical and Process Practice Manager, Atkins (Warwickshire, UK)
Sam Wilkinson, Senior Consultant, Process Systems Enterprise (Middlesex, UK)
The committee will provide member leadership and oversight of IChemE's established learned society activities, including the Special Interest Groups and the proposed new Communities of Practice, IChemE's portfolio of publications, its medals and prizes, and its work with policy makers.
It will also determine which technical areas IChemE should focus and how the Institution might deliver in these areas. In addition, the committee will help shape new and developing areas, such as the proposed focus on agile member-led projects, supported by staff and funded by IChemE as appropriate.
Jarka Glassey, Chair of the Learned Society Committee, said:
"Thank you to everyone who put forward a nomination for the inaugural Learned Society Committee and congratulations to all those who were elected. I'm looking forward to working with you all.
"It's clear from the enthusiastic response we received that this committee will play an active role in our learned society activities and will help us achieve our ambition for the Institution to be a peer-group leader for all those undertaking chemical, biochemical and process engineering activities, and work collaboratively with partners to develop knowledge, generate meaning and deliver a positive influence on some of society's major challenges.
"Now that the committee has formed, we encourage the membership to engage with us and look forward to hearing their proposals on new learned society projects and activities we could undertake as an Institution."
The first virtual Learned Society Committee meeting will take place in August, and a physical meeting in the coming months, with the first points of action to agree how the group will operate, and perform a gap analysis of the existing members to guide any potential further co-options (up to three seats can be allocated). The committee will also discuss the reviewing, and updating, of Chemical Engineering Matters, and will lead on this work.
Nineteen nominations were received during the nominations period in June 2019. These were reviewed and voted on by the Learned Society Forum (LSF), a group made up of representatives from Special Interest Groups, Regional Member Groups and other groups contributing to IChemE's activities as a learned society.
The Learned Society Committee members will normally serve a three-year term. However, the members on the inaugural committee will serve either two, three or four years.
Contact
For more information please contact:
Rachael Fraser, Communications Executive, IChemE
t: +44 (0) 1788 534435
e: rfraser@icheme.org
Ketna Mistry, Communications Executive, IChemE
t: +44 (0) 1788 534484
e: kmistry@icheme.org
What is chemical engineering?
Chemical, biochemical and process engineering is the application of science, maths and economics in the process of turning raw materials into everyday, and more specialist, products. Professional chemical engineers design, construct and manage process operations all over the world. Oil and gas, pharmaceuticals, food and drink, synthetic fibres and clean drinking water are just some of the products where chemical engineering plays a central role.
IChemE
The Institution of Chemical Engineers (IChemE) advances chemical engineering's contribution worldwide for the benefit of society. We support the development of chemical engineering professionals and provide connections to a powerful network of around 37,000 members in 100 countries.
We support our members in applying their expertise and experience to make an influential contribution to solving major global challenges, and are the only organisation to award Chartered Chemical Engineer status and Professional Process Safety Engineer registration.
More information: www.icheme.org