IChemE awards highest professional ho...
IChemE awards highest professional honour to Shell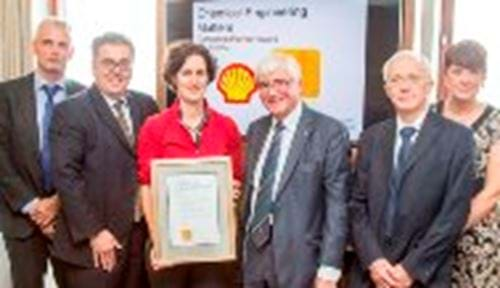 The Institution of Chemical Engineers (IChemE) has awarded its highest honour to Shell in recognition of the energy and petrochemicals company's outstanding worldwide skills and professional development programmes.
Shell was presented with Gold Corporate Partnership by IChemE president and professor of energy engineering at Imperial College London, Geoff Maitland, and IChemE's immediate past president and GB Health and Safety Executive chair, Judith Hackitt CBE, on 9 July 2014 in London, UK.
Shell is only the seventh organisation in the world to meet the rigorous gold standard, which provides an independent assessment of an organisation's professional standards, high-level training programmes, CPD and other initiatives including promoting the chemical engineering profession in schools, universities, communities and beyond.
Shell currently supports professional membership for nearly 500 of its chemical and process engineers and has worked closely with IChemE in recent years to accredit two of its most important global development programmes – Shell Graduate Programme (SGP) and Shell Advanced Technical Programmes (SATP). 
Neil Atkinson, IChemE's director of qualifications and international development, said: "The success of any profession needs organisations like Shell not just to adopt the highest professional standards internally, but also to have a passion and desire to share and promote their knowledge and work more widely, especially to inspire the next generation of chemical engineers.
"They are achieving this to great success in locations like the Netherlands, US, India, Qatar, Australia, Nigeria, Singapore, UK and others. Efforts like this, combined with their world-class training and development programmes, and a long-term commitment to the chemical engineering profession, makes them valued partners and fantastic ambassadors for our profession.
"We congratulate them on their achievements and it is our great honour to present them with our highest organisational accolade – Gold Corporate Partnership," concluded Neil.
"Engineering expertise is key to the growth of Shell's businesses as we seek to reinforce our position as an industry leader while helping to meet the global energy challenge in a responsible way," commented Erik Bonino, executive vice president of Downstream Technology for Shell's Projects & Technology organisation and chairman of Shell UK Ltd. 
"It is of vital importance to grow and develop the technical capability and competence of our engineers - not only to drive forward technology and innovation but also because, in a business such as ours, technical competence is the cornerstone of our licence to operate."
Shell is a global group of energy and petrochemicals companies with around 92,000 employees in more than 70 countries and territories, including more than 2,900 chemical and process engineers, who help create a wide range of products including fuels, oils, lubricants and chemicals used in the manufacture of thousands of industrial and consumer products.