IChemE hails international first
IChemE hails international first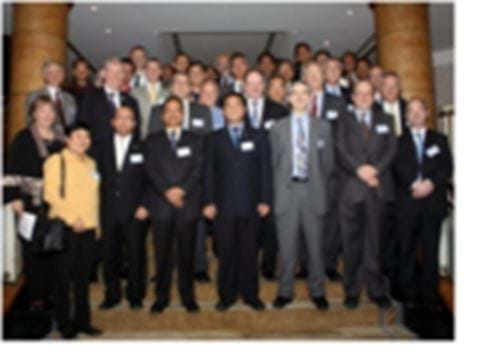 IChemE has held its first-ever Council meeting outside the UK as part of a week of activities and high-level engagements in Asia for the institution's governing body.
The Council meeting – one of six a year – took place in Kuala Lumpur, Malaysia, on 9 February and drew a strong attendance of Council members who'd travelled from Australia, the US, the UK and of course Malaysia. "It underlines the institution's transformation into a multinational organisation," says IChemE president Ian Shott.
Alongside Council business, IChemE's top brass had a full schedule of events, including attending a board meeting of IChemE in Malaysia, visiting key companies and universities in Malaysia and Singapore, conducting half a dozen workshops to gather feedback on the value and relevance of IChemE's services from existing and potential members – not to mention hosting a gala dinner for 55 of the most senior people in the Malaysian process industry.
IChemE also held high-level talks with the Board of Engineers Malaysia, the local regulator of engineering qualifications, to work towards chartered members of IChemE being recognised as being 'professional engineers' – a local accreditation which is often required for chemical engineers in Malaysia to sign off drawings and plant designs.
"We made very encouraging progress in those talks, and I am confident that it will not be long until the gold standard of being a chartered chemical engineer through IChemE is formally recognised as being equivalent to the Malaysian professional engineer standard," says Neil Atkinson, IChemE's director for qualifications and international development.
A meeting with the heads of Malaysia's chemical engineering departments provided a perfect opportunity for Abdul Latif Ahmad, dean of the School of Chemical Engineering at Universiti Sains Malaysia, to illustrate how his school recently became the first in the country to receive a Masters-level accreditation by IChemE.
IChemE is looking to bring a full schedule of events to Asia in the coming years, with plans for training and technical events, in particular, an Asian version of the highly successful Hazards conference on health and safety in the process industry. "We're working with the industry association CICM (Chemical Industries Council of Malaysia) to present Hazards Asia in conjunction with the well-established and very popular Asia Pacific Responsible Care conference, which CICM hopes to host in Malaysia in 2011," says Atkinson.
Where ten years ago, IChemE was an overwhelmingly British institution, today, some 32% of its membership base is from outside the UK. Australia boasts the second-largest contingent with 3030 members but Malaysia is rapidly catching up, with 2333 at the end of 2009. Malaysia is also the fastest-growing area of membership for IChemE, with 32% growth in 2009 and 35% in 2008. The decision by the New Zealand chemical engineering organisation SCENZ to become part of IChemE demonstrates that this trend is set to continue, as are the recently-signed cooperation agreements with sister organisations in South Africa, Canada and India.
Notes to Editors
For further media information, interviews and photography please contact:

Matt Stalker, Media and External Relations, IChemE
tel: 01788 534455
email: mstalker@icheme.org

About chemical engineers

Chemical, biochemical and process engineering is the application of science, maths and economics to the process of turning raw materials into everyday products. Professional chemical engineers design, construct and manage process operations all over the world. Pharmaceuticals, food and drink, synthetic fibres and clean drinking water are just some of the products where chemical engineering plays a central role.

About IChemE

IChemE (Institution of Chemical Engineers) is the hub for chemical, biochemical and process engineering professionals worldwide. With a growing global membership of some 30,000, the Institution is at the heart of the process community, promoting competence and a commitment to best practice, advancing the discipline for the benefit of society, encouraging young people in science and engineering and supporting the professional development of its members. For more information, visit www.icheme.org