IChemE President awards students for...
IChemE President awards students for potato-based face mask in sustainability contest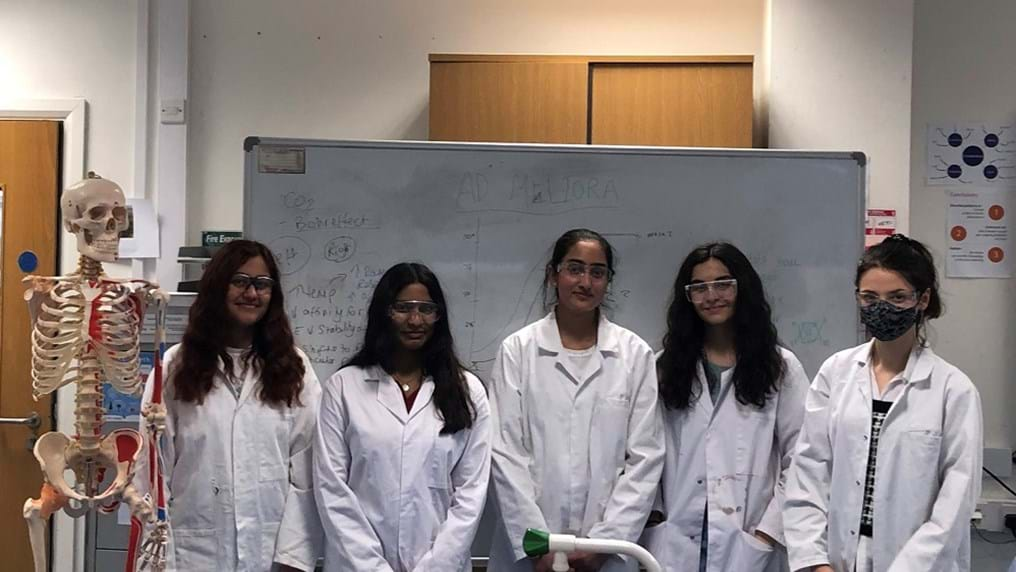 8th June 2021
A Year 12 student team who developed a biodegradable face mask made from potato were crowned the winners of an inaugural sustainability competition by Stephen Richardson, President of the Institution of Chemical Engineers (IChemE).
The University of Cambridge's Davidson Inventors Challenge (DIC) encouraged 14- to 17-year-old UK students to use engineering problem-solving skills to develop an innovative solution that addresses one of the UN Sustainable Development Goals.
The DIC winning team, 'AdMeliora' (Mehakdeep Kaur, Maya Rawat, Vivien Ablay, Niketa Walichchoru Evayage and Akshita Sudhir) from The Tiffin Girls' School in Kingston-upon-Thames, developed a face mask to combat the issue of increasing waste from disposable face masks used during the COVID-19 pandemic.
The competition was held in memory of the university's Emeritus Professor John Davidson who died in December 2019. He was known as 'the founding father of fluidisation' and worked in chemical engineering since 1952, including in process dynamics, gas absorption and fluidisation technology. He was president of IChemE from 1970-1971 and in 2016 IChemE named a medal after him to recognise his inspirational role to young engineers.
Richardson, University of Cambridge alumnus, was part of the judging panel and announced the winners in a virtual presentation ceremony on 28 May. He said:
"On behalf of IChemE, many congratulations to AdMeliora and all the finalists in this inaugural competition. I'm delighted to have been part of this awards ceremony.
"A past president of IChemE and a friend of mine, Professor John Davidson was an active member of the Institution, committed to the profession and passionate about teaching the future leaders of chemical engineering. Through your creative and innovative projects, you have demonstrated the importance of applying chemical engineering skills and thinking to find sustainable solutions to problems that we all face around the world today. I am sure that this would have made him very proud. I hope you will consider this exciting profession as a potential for your future career journey."
Professor Clemens Kaminski, Head of the Department of Chemical Engineering and Biotechnology (CEB) at the University of Cambridge said:
"I am really impressed by the innovative spirit and the quality of the presentations by the students. Their enthusiasm was tangible – clearly the next generation of brilliant scientists is on its way."
As well as presentations from the four finalists, the event featured talks from Professor Davidson's son Peter Davidson, CEB alumnus, on his father's life and legacy; IChemE Fellow Dr Rachel Cooke, CEB alumna and Senior Manager for Reliability Engineering at Amazon, on career opportunities for chemical engineers; and a keynote speech from MP Nadhim Zahawi, Parliamentary Under-Secretary of State for COVID-19 Vaccine Deployment.
Zahawi, who was also a member of the judging panel, said:  
"I am delighted to see the enthusiasm the DIC has generated amongst the scientists of the future, who will be at the forefront of developing new technologies as we look to build a more sustainable world."
The winning student team will receive a certificate, a personalised trophy and a special virtual tour of the Amazon facilities. The winners will also visit the University of Cambridge to meet the academics and students and to understand what studying at the Department of Chemical Engineering and Biotechnology is really like.
The competition saw 54 registrants, involving more than 200 students from 45 schools across the UK. For more details, including on the runners up and their sustainable projects, visit the University of Cambridge's website.
Links
Contact
For more information please contact:
Rachael Fraser, Communications Executive, IChemE
t: +44 (0) 1788 534435
e: rfraser@icheme.org
Ketna Mistry, Communications Executive, IChemE
t: +44 (0) 1788 534484
e: kmistry@icheme.org
Ellie Hall, Communications Manager, University of Cambridge
t: +44 (0) 1223 (3)30155
e: erh68@cam.ac.uk
What is chemical engineering?
Chemical, biochemical and process engineering is the application of science, maths and economics in the process of turning raw materials into everyday, and more specialist, products. Professional chemical engineers design, construct and manage process operations all over the world. Oil and gas, pharmaceuticals, food and drink, synthetic fibres and clean drinking water are just some of the products where chemical engineering plays a central role.
IChemE
The Institution of Chemical Engineers (IChemE) advances chemical engineering's contribution worldwide for the benefit of society. We support the development of chemical engineering professionals and provide connections to a powerful network of over 33,000 members in more than 100 countries.
We support our members in applying their expertise and experience to make an influential contribution to solving major global challenges, and are the only organisation permitted to award Chartered Chemical Engineer status and Professional Process Safety Engineer registration.