IChemE President in first official ov...
IChemE President in first official overseas visit since pandemic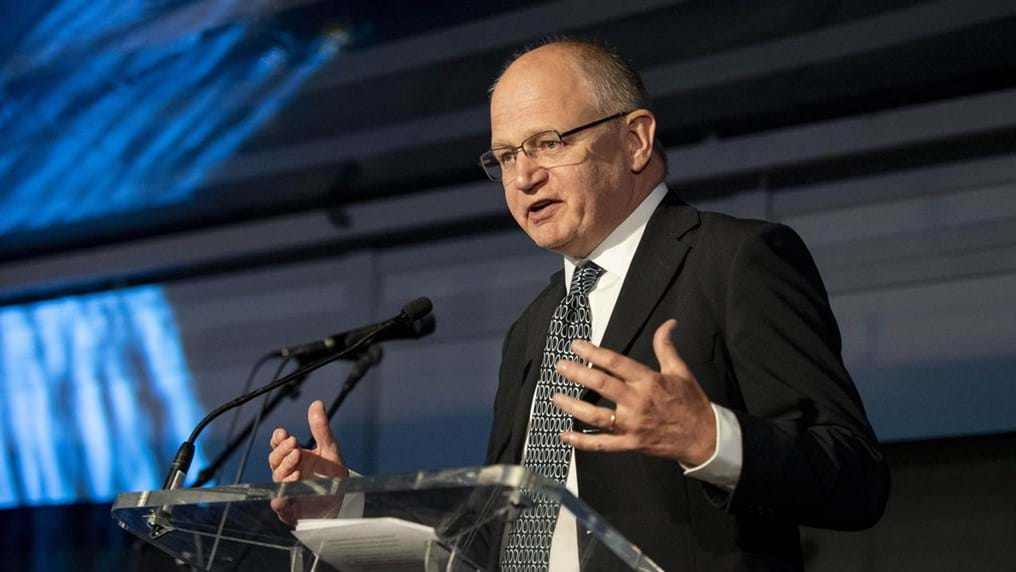 6th October 2022
Following a two-year hiatus in overseas travel due to the Covid-19 pandemic, the President of the Institution of Chemical Engineers (IChemE), Professor David Bogle, has recently visited members and stakeholders in Australia, Malaysia and Singapore.
With over 5,000 IChemE members based in these regions, the purpose of the President's visit was to demonstrate the Institution's continued commitment to members based outside of the UK.
A highlight of the visit was the President's keynote address at Chemeca, the annual Australian and New Zealand conference of chemical and process engineers run by the Australian and New Zealand Federation of Chemical Engineers, an event which IChemE hosted this year.
During Chemeca, David joined a panel discussion on the next 100 years of chemical engineering, and also presented the winners of the Chemeca Future Fuels Cooperative Research Centre (CRC) Student Hackathon competition, the University of Melbourne, with their award, and presented the Jubilee Medal to Paul Taranto at the Chemeca Gala Dinner.
With the visit beginning in Kuala Lumpur, Malaysia, David met with the IChemE Malaysia Board, stakeholders from PETRONAS, and representatives at the Institute of Engineers Malaysia to further cooperation. He also attended a member group event and joined meetings with the University of Nottingham Malaysia and Heriot-Watt University Malaysia. This was followed by a meeting with the IChemE Singapore Board and a visit to the National University of Singapore before heading to Australia.
Whilst in Australia, David also met with the IChemE Australia Board and joined the Head of Chemical Engineering departments of Australasia meeting. He also visited the Liveris Building for chemical engineering at the University of Queensland, Brisbane, and joined meetings with Institute for Social Science Research, Sustainable Minerals Institute and the Queensland division of Australian Academy of Technology and Engineering.
Many topics were discussed during the President's meetings with a recurring theme being the importance of ensuring that ethical thinking is placed at the forefront of chemical engineering professionalism and education. This theme was reinforced during David's Chemeca keynote address with the title of his presentation being 'Ethics in chemical engineering'.
During their terms of office, IChemE Presidents endeavour to meet with as many members and stakeholders as possible. Given the travel restrictions over the last two years, due to the pandemic, in recent times much of this engagement has taken place virtually. The last visit to Australia by an IChemE President was undertaken by Past President Ken Rivers in 2019. Since then, there have been significant changes in the organisation, governance structures and membership subscription arrangements, therefore the opportunity for the President to discuss these topics with members face to face was extremely valuable.
Image
IChemE President David Bogle speaking at the Chemeca Gala Dinner
Links
IChemE President Professor David Bogle biography
Contact
For more information please contact:
Lucy Cook, Communications Manager, IChemE
t: +44 (0) 1788 534454
e: lcook@icheme.org
Rachael Whittles, Communications Executive and PR Lead, IChemE
t: +44 (0) 1788 534435
e: rwhittles@icheme.org
Claire Shepherd, Communications Executive, IChemE  
t: +44 (0) 1788 534457  
e: cshepherd@icheme.org 
What is chemical engineering?
Chemical, biochemical and process engineering is the application of science, maths and economics in the process of turning raw materials into everyday, and more specialist, products. Professional chemical engineers design, construct and manage process operations all over the world. Oil and gas, pharmaceuticals, food and drink, synthetic fibres and clean drinking water are just some of the products where chemical engineering plays a central role.
IChemE
The Institution of Chemical Engineers (IChemE) advances chemical engineering's contribution worldwide for the benefit of society. We support the development of chemical engineering professionals and provide connections to a powerful network of over 30,000 members in more than 100 countries.
We support our members in applying their expertise and experience to make an influential contribution to solving major global challenges, and are the only organisation permitted to award Chartered Chemical Engineer status and Professional Process Safety Engineer registration.