IChemE President opens new University...
IChemE President opens new University of Southampton chemical engineering facilities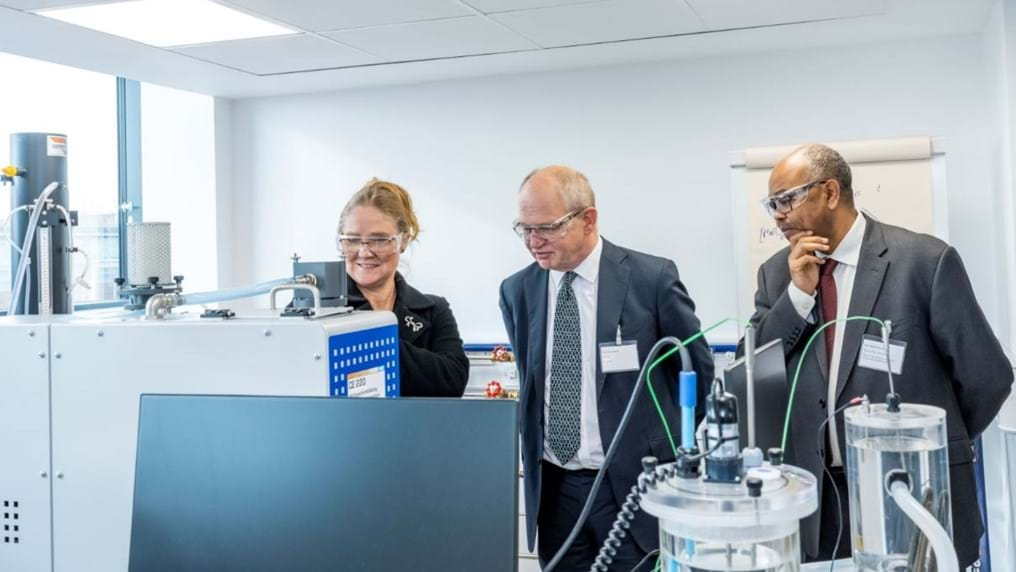 10th November 2022
Enabling the delivery of high-quality chemical engineering education, the President of the Institution of Chemical Engineers (IChemE) has officially opened new state of the art facilities at the University of Southampton.
Thanks to an investment of £5.3million, the new facilities demonstrate the University's strong commitment to the profession. The spaces include a new teaching laboratory, a virtual control room and computing, design and study spaces. This will enable study to support the needs of society with greater emphasis on sustainability, ethics and diversity and contribute to the UN's Sustainable Development Goals.
The event held on 2 November 2022 was also attended by the University's senior leadership team, chemical engineering staff and students, and members of the Chemical Engineering Industrial Advisory Board.
IChemE President, David Bogle, said:
"I am honoured to officially open these fabulous new chemical engineering facilities at the University of Southampton, particularly in the Institution's centenary year.
"Congratulations to everyone involved in delivering such wonderful facilities for chemical engineers at the University which will support world class teaching and research."
President and Vice-Chancellor of the University of Southampton, Professor Mark E. Smith, said:
"The incorporation of sustainability and digitisation to the new chemical engineering courses at the University of Southampton are great achievements that the chemical industries welcome. The innovation, rigour and investment in the course will prepare graduates to make valuable contributions towards a more sustainable future."
The importance of the new facilities to meet the needs of a growing population and an increase in the standard of living across the globe was highlighted.
Professor Allam Ahmed, President of the World Association for Sustainable Development, said:
"In recent times due to the pandemic and the change in attitudes towards sustainability and the environment, I commend the University of Southampton and Dr Mohamad Hassan (course leader) for designing and launching a course in chemical engineering that challenges conventional thinking and helps shape engineers and the landscape of the chemical industries of the future."
Photo
Fluidised beds - Tracy Loughran, Senior Principle Engineer Exxonmobil; Professor David Bogle, President IChemE; Professor Allam Ahmed, Head of World Association for Sustainable Development
Links
Contact
For more information please contact:
Lucy Cook, Communications Manager, IChemE
t: +44 (0) 1788 534454
e: lcook@icheme.org
Claire Shepherd, Communications Executive, IChemE  
t: +44 (0) 1788 534457  
e: cshepherd@icheme.org 
What is chemical engineering?
Chemical, biochemical and process engineering is the application of science, maths and economics in the process of turning raw materials into everyday, and more specialist, products. Professional chemical engineers design, construct and manage process operations all over the world. Oil and gas, pharmaceuticals, food and drink, synthetic fibres and clean drinking water are just some of the products where chemical engineering plays a central role.
IChemE
The Institution of Chemical Engineers (IChemE) advances chemical engineering's contribution worldwide for the benefit of society. We support the development of chemical engineering professionals and provide connections to a powerful network of over 30,000 members in more than 100 countries.
We support our members in applying their expertise and experience to make an influential contribution to solving major global challenges, and are the only organisation permitted to award Chartered Chemical Engineer status and Professional Process Safety Engineer registration.
University of Southampton
The University of Southampton drives original thinking, turns knowledge into action and impact, and creates solutions to the world's challenges. They are among the top 100 institutions globally (QS World University Rankings 2022). Their academics are leaders in their fields, forging links with high-profile international businesses and organisations, and inspiring a 22,000-strong community of exceptional students, from over 135 countries worldwide. Through their high-quality education, the University helps students on a journey of discovery to realise their potential and join a global network of over 200,000 alumni.
More information: www.southampton.ac.uk