IChemE supports Rugby Foodbank with A...
IChemE supports Rugby Foodbank with Alternative Advent Calendar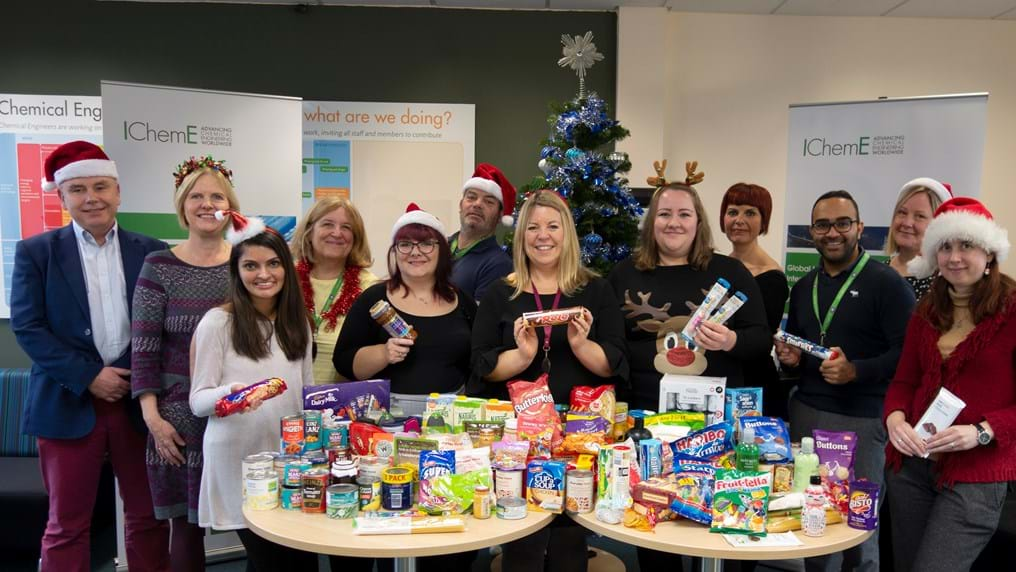 6th December 2018
Employees at the Institution of Chemical Engineers (IChemE) in Rugby, UK, are bringing festive cheer to local families with its 'Alternative Advent Calendar'.
It is the second year the company has ran the initiative.  Instead of opening a door to a festive treat, staff are encouraged to make a Christmas-themed donation to the Rugby foodbank.
Since 1 November, around 80 members of staff at IChemE have made donations at its head office in Railway Terrace. Donations will be delivered to the Rugby Foodbank on Friday 7 December and used to help support struggling families in the lead up to Christmas.
The donations from IChemE include selection boxes, Christmas crackers, biscuits, sweets, tinned vegetables, gravy granules and stuffing. The donations will form part of the foodbank's initiative 'Reverse Advent Calendar', which will give hampers to hundreds of local families in need.
Since it launched in 2012, Rugby Foodbank has helped over 21,500 individuals and families in crisis and given out about 275 tonnes of food packages. In 2017, 4,355 three-day emergency food supplies were given to individuals and families in crisis.
IChemE Chief Executive Jon Prichard said:
"Christmas can be a hard time for many families and individuals on a low income. The majority of our staff live in Rugby, or in the surrounding areas, and feel it's so important to support a charity that's so close to home.
"It's fantastic to see everyone involved and we hope our contribution to the foodbank's initiative will bring a smile to those in our community who need it most."
IChemE supports its local economy by contributing around £1 million annually in wages and by regularly using the services of local contractors and suppliers.
The Institution is a professional body for chemical, biochemical and process engineers and exists to advance the contribution of chemical engineering worldwide for the benefit of society. It has 40,000 members in around 100 countries, and additional offices in Australia, London, New Zealand, Malaysia, and Singapore.
Contact
For more information please contact:
Tara Wilson, Head of Communications, IChemE
t: +44 (0) 1788 534454
e: twilson@icheme.org 
Rachael Fraser, PR and Communications Executive, IChemE
t: +44 (0) 1788 534435
e: rfraser@icheme.org
What is chemical engineering?
Chemical, biochemical and process engineering is the application of science, maths and economics in the process of turning raw materials into everyday, and more specialist, products. Professional chemical engineers design, construct and manage process operations all over the world. Oil and gas, pharmaceuticals, food and drink, synthetic fibres and clean drinking water are just some of the products where chemical engineering plays a central role.
IChemE: www.icheme.org
With an international membership exceeding 40,000 in around 100 countries, the Institution of Chemical Engineers (IChemE) aims to be the organisation of choice for chemical engineers. It promotes competence and a commitment to best practice, advances the discipline for the benefit of society and supports the professional development of its members.
IChemE is the only organisation to award Chartered Chemical Engineer and Professional Process Safety Engineer status.