Pioneering catalysis professor awarde...
Pioneering catalysis professor awarded IChemE medal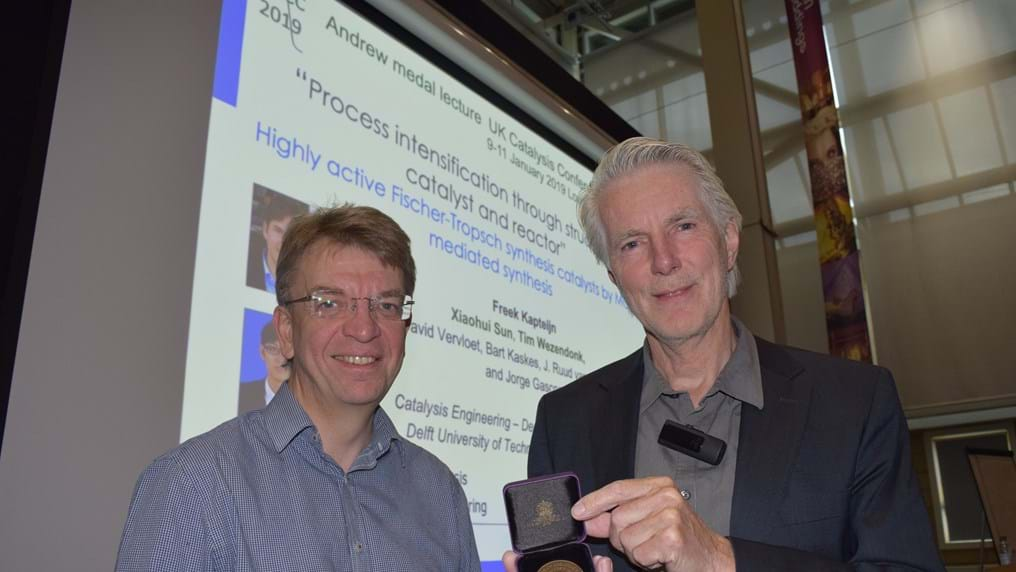 10th January 2019
Professor Freek Kapteijn, Section Head of Catalysis Engineering at Delft University of Technology, The Netherlands, has been awarded the Andrew Medal by the Institution of Chemical Engineers (IChemE).
The Andrew Medal is named after the late Professor Syd Andrew, who was a distinguished expert in the field of catalysis. The medal recognises a major contribution relevant to the science of formulation of heterogeneous catalysts.
Kapteijn is recognised as one of the founding fathers of catalysis engineering. His pioneering work has introduced new concepts in the field, that will help improve the understanding of structure-performance relationships in heterogeneous catalysis and materials science for years to come.
Kapteijn has published more than 600 scientific papers in peer-reviewed journals, and with more than 33,000 citations he is listed in the Global Highly Cited Researchers 2018*. He has also written 25 patents related to catalysis, reactors and separation processes.
The Andrew Medal recognises both Kapteijn's academic prowess, as well as his work in science communication and advocacy. Throughout his career, he has supported more than 60 PhD students and researchers from all over the world.
Kapteijn was presented with the Andrew Medal at the UK Catalysis Conference in Loughborough on 10 January by Professor Chris Hardacre, Head of the School of Chemical Engineering and Analytical Science at the University of Manchester. Kapteijn then presented a lecture, entitled 'Process intensification through structuring catalyst and reactor - Highly active Fischer-Tropsch synthesis catalysts by MOF mediated synthesis'.
He said:
"I consider the Andrew medal as a recognition of the field of Catalysis Engineering. It underlines the importance of the activities of those who combine engineering and catalysis."
Notes to editors
*Freek Kapteijn has been listed in the Global Highly Cited Researchers 2018
Image
Left to right: Professor Chris Hardacre presenting Freek Kapteijn with the Andrew Medal
Links
Contact
For more information please contact:
Tara Wilson, Head of Communications, IChemE
t: +44 (0) 1788 534454
e: twilson@icheme.org 
Rachael Fraser, PR and Communications Executive, IChemE
t: +44 (0) 1788 534435
e: rfraser@icheme.org
What is chemical engineering?
Chemical, biochemical and process engineering is the application of science, maths and economics in the process of turning raw materials into everyday, and more specialist, products. Professional chemical engineers design, construct and manage process operations all over the world. Oil and gas, pharmaceuticals, food and drink, synthetic fibres and clean drinking water are just some of the products where chemical engineering plays a central role.
IChemE: www.icheme.org
The Institution of Chemical Engineers (IChemE) advances chemical engineering's contribution worldwide for the benefit of society. We support the development of chemical engineering professionals and provide connections to a powerful network of around 37,000 members in 100 countries.
We support our members in applying their expertise and experience to make an influential contribution to solving major global challenges, and are the only organisation to award Chartered Chemical Engineer status and Professional Process Safety Engineer registration.