Process engineer recognised with pres...
Process engineer recognised with prestigious Women's Engineering Society Award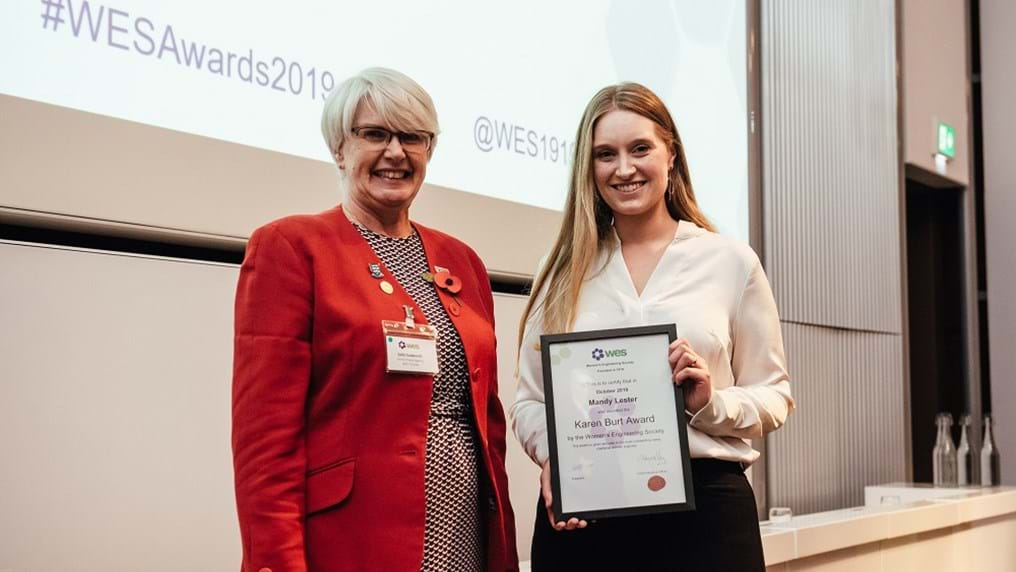 31st October 2019
Mandy Lester, a Chartered Chemical Engineer working at consultancy company Atkins, was recognised with the Karen Burt Award on 30 October 2019 for her commitment to engineering, addressing sustainability in the water industry and inspiring current and future engineers.
Lester, a Senior Process Engineer based in Bristol, was nominated for the award by her professional body the Institution of Chemical Engineers (IChemE). The annual award is presented by the Women's Engineering Society (WES) to the best newly chartered female engineer.
Lester has led numerous water treatment projects since joining Atkins in 2015, including managing seven UK water companies (which between them supply around 60% of water to the UK population) to deliver a successful pilot trial evaluating a novel sustainable adsorbent technology to remove pesticides from drinking water.
This sustainable treatment process reduces the use of energy and chemicals to minimise environmental impact and future costs for companies and consumers, leading to several water companies to invest in the technology.
Currently, she is designing a sustainable process for a water treatment system to supply safe, clean drinking water to a growing population in the water-stressed South East of England. It will be the UK's first new open water supply reservoir in 30 years.
Lester is also providing water treatment consultancy for Heathrow Airport's expansion to help them safely and sustainably use rainwater for non-drinking uses, such as flushing toilets.
The judges commended her commitment to becoming a professionally qualified engineer. With a master's degree in Physics from the University of Manchester, she acquired chemical engineering skills through engineering secondments in the nucleargraduates programme, then as a Lead Process Engineer at nuclear consultancy Nuvia and at Atkins.
They were also impressed by her work inspiring the next generation of chemical engineers by managing junior engineers at Atkins, mentoring students studying engineering and maths at the University of Bristol, and as a STEM Ambassador for the Engineering Education Scheme, organising outreach events for secondary school children and A-level students.
Lester was presented with the award following the WES Caroline Haslett Lecture at the Institution of Mechanical Engineers (IMechE) headquarters in London. She said:
"I am beyond thrilled to receive the Karen Burt Award, which is an unexpected but deeply gratifying endorsement, having transitioned into engineering with a scientific degree. I'm proud to be part of a profession that has the power to effect real, positive solutions to the dual challenges of climate change and growing populations.
"Engineers aren't born, they're made – in my case with the support of the IChemE along with the many individuals who've inspired me to pursue this hugely enriching career and achieve the gold standard of competence, Chartered Chemical Engineer status.
"We need engineers, and those engineers to be from diverse walks of life, now more than ever. So I look forward to working more with IChemE and WES to encourage more women to choose a career in engineering."
IChemE Fellow Helen Fennell, part of the nomination selection committee at IChemE and former recipient of the Award, said:
"Mandy studied Physics prior to her career in engineering and is an excellent example of how STEM skills are transferable. Her dedication and passion makes her a fantastic engineer and a worthy recipient of the Karen Burt Award. I hope this inspires anyone considering the career to take a closer look at what you can achieve."
Sally Sudworth, Chair of the Judges for the Karen Burt Award 2019 said:
"The judges were impressed with Mandy's commitment to engineering, addressing sustainability in the key area of water supply and the valuable support and mentoring in the development of others."
The Karen Burt Award was established to recognise Chartered Engineers' excellence and encourages more women to aim to become Chartered as early in their career as possible.
Image
Mandy Lester is presented with the Karen Burt Award by Sally Sudworth, Chair of the Judging panel
Links
Contact
For more information please contact:
Rachael Fraser, Communications Executive, IChemE
t: +44 (0) 1788 534435
e: rfraser@icheme.org
Ketna Mistry, Communications Executive, IChemE
t: +44 (0) 1788 534484
e: kmistry@icheme.org
What is chemical engineering?
Chemical, biochemical and process engineering is the application of science, maths and economics in the process of turning raw materials into everyday, and more specialist, products. Professional chemical engineers design, construct and manage process operations all over the world. Oil and gas, pharmaceuticals, food and drink, synthetic fibres and clean drinking water are just some of the products where chemical engineering plays a central role.
IChemE
The Institution of Chemical Engineers (IChemE) advances chemical engineering's contribution worldwide for the benefit of society. We support the development of chemical engineering professionals and provide connections to a powerful network of around 37,000 members in 100 countries.
We support our members in applying their expertise and experience to make an influential contribution to solving major global challenges, and are the only organisation to award Chartered Chemical Engineer status and Professional Process Safety Engineer registration.
More information: www.icheme.org
Women's Engineering Society (WES)
professional, not-for-profit network of women engineers, scientists and technologists offering inspiration, support and professional development. Although the world has changed since a group of women decided to band together to create an organisation to support women in engineering after the First World War, the need is still there. WES envisions a nation in which women are as likely as men to study and work in engineering, and one in which there are enough engineers to meet a growing demand. WES works in a number of ways to support women in STEM, to encourage the study and application of engineering, to promote gender equality in the workplace, and to award excellence and encourage achievement through our awards.
More information: www.wes.org.uk