Success for international chemical en...
Success for international chemical engineering exchange programme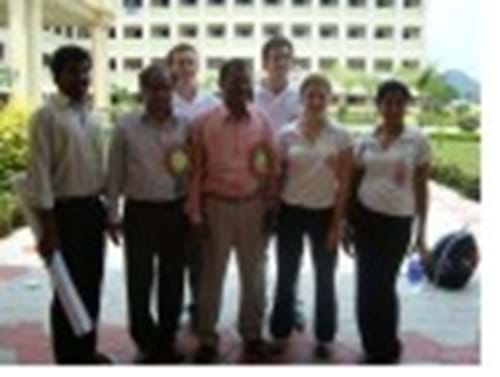 Eight young chemical engineers have been given the opportunity to participate in a free international exchange programme, courtesy of IChemE and the Indian Institute of Chemical Engineers (IIChE).

The biennial scheme, which is jointly funded by both institutions, sees four IChemE student members spend a week in India and four Indian chemical engineering students visit the UK.

Both placements itineraries include industry site visits of leading research and development plants, attendance at a national chemical engineering conference or event, cultural excursions as well as the students each having the opportunity to present their papers to key figures from industry and academia.

gress (SCHEMCON) at RVR College in Chowdavaram where they each presented their work to the audience, attended lectures and participated in a cultural entertainment evening. The students were also given a tour of the Jocil plant which specialises in the manufacture of soap and places strong values on sustainable energy through its biomass cogeneration power plant and wind farm. In addition to the educational and industrial visits the students also had time to take in the culture and visited Charminar, the Birla Temple, Necklace Road and visited various local markets and temples.

Next week will see the UK play host to 4 Indian Chemical Engineering students; the planned itinerary includes site visits to leading companies, including Foster Wheeler and Astra Zeneca alongside cultural excursions, the opportunity to present their own research at London's South Bank University and VIP tickets to IChemE's annual awards dinner in Manchester.

Neil Atkinson, Director of International Development for IChemE welcomed the joint exchange programme and highlighted the impact it will have on their professional development "It is vital for today's young chemical engineers to understand the truly global nature of the process industries. Prospective employers will want new recruits to appreciate the challenges of working for diverse, multi-site companies and the eight students on this exchange programme will get a direct chance to experience this."

Alan Pearson, Process Engineer at Huntsman Polyurethanes and participant in the inaugural exchange programme added:

"I thoroughly enjoyed the debut IChemE / IIChE exchange in 2008. It was fascinating to experience a country so culturally different from the UK and to visit industry in one of the fastest growing economies in the world. I would highly recommend anyone to apply for the scheme and see this amazing place for themselves."

The IChemE student members who visited India were: George Cunningham, currently studying at Edinburgh University, UK, Sheena Garg from the University of Auckland, NZ, Megan Cater who is studying at the University of Sydney, Aus, and Mark Williams-Wynn who is based at the University of KwalaZulu-Natal, SA.

The Indian students who will be visiting the UK next week are: Subadhra Janardhanan, studying at Sri Venkateswara College of Engineering, Srinivasan Aditya and Ratnabali Majumder, both students of National Institute Of Technology and Nilayan Dey, student of Jadavpur University.