Syngenta recognised as IChemE Silver...
Syngenta recognised as IChemE Silver Corporate Partner for growing talent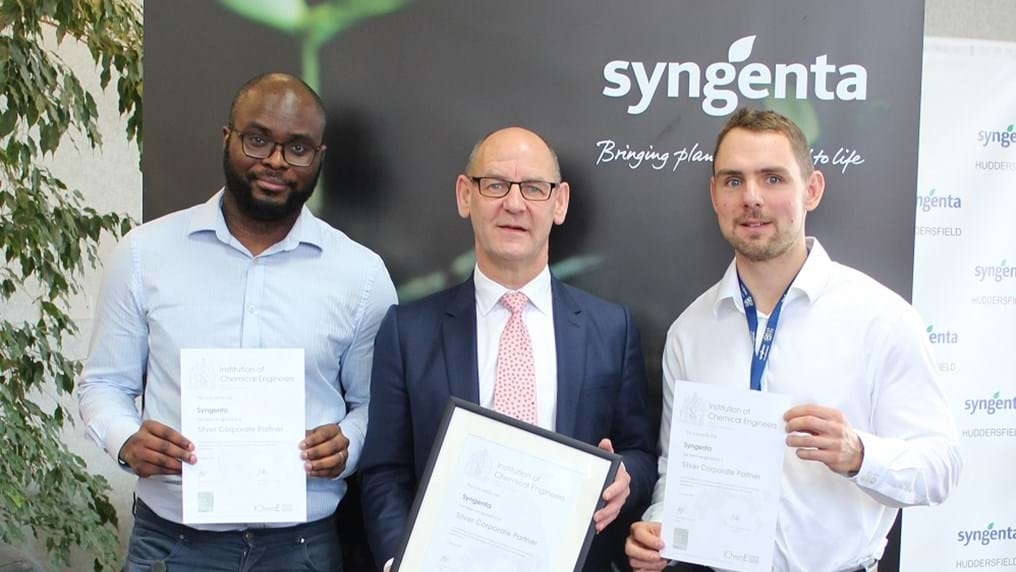 25th January 2018
Leading crop science company, Syngenta, has been confirmed as a Silver Corporate Partner of the Institution of Chemical Engineers (IChemE). The company received the recognition for its commitment to inspiring future chemical engineers and sharing industry best practice.
IChemE Director, Andy Furlong, presented the award to Syngenta's Michael Bryce, Process Engineering Team Leader, and Olu Ajayi-Oyakhire, Senior Process Engineer, at its manufacturing centre in Huddersfield today.
Syngenta employs 28,000 people worldwide, investing more than $1.3bn in R&D each year. Silver Corporate Partnership status covers its UK operations, with sites in Grangemouth, Huddersfield and Jealott's Hill in Berkshire, in recognition of their work in growing the next crop of engineering talent.
Syngenta UK participates in school and community engagement activities through visits to its Jealott's Hill site and at its specially developed Community Science Lab in Huddersfield, which shows young people how science is applied in industry. Chemical engineers across all three UK Sites also give time to community engagement work – through mentoring, assessment, and as whynotchemeng ambassadors (IChemE's school outreach programme).
Chemical engineering students from the University of Huddersfield and University of Edinburgh undertake work placements at Syngenta. The company also hosts site tours for undergraduates, providing insight to career opportunities in the industry.
For employees, the company's internal online learning forum, LEAP provides a platform for its chemical engineers all over the world to share knowledge and participate in collaborative problem-solving; in areas such as process technology, modelling and process management. Those working to become Chartered Chemical Engineers are also supported through the company's training scheme, accredited by IChemE.
In addition, Syngenta's advanced apprenticeship programme provides successful applicants with quality training; securing them a strong grounding in chemistry and process design, equipment selection and plant operations.
IChemE Director, Andy Furlong, said:
"I'm delighted to recognise Syngenta with this certificate of Silver Corporate Partnership. The Company has shown a strong commitment to sharing best practice in chemical engineering, and providing training and development opportunities for its staff - essential for chemical engineers who aspire to become professionally- recognised Chartered Engineers.
"The people I've met at Syngenta show a passion for their work and a genuine enthusiasm for community outreach. They are working to inspire and encourage the next generation of engineers and scientists and helping society to understand why chemical engineering matters."
Head of Process Technology at Syngenta's Huddersfield site, Kay Challis said;
"Syngenta is fast becoming an employer of choice in the communities where we operate, and we are delighted that our commitment to the development of chemical engineers in the UK has been recognised in this way. We value our Corporate Partner status with IChemE, so we can raise the profile of how important chemical engineering is to the UK, retaining skilled engineers and developing the next generation of talent."
Process Engineering Team Leader at Syngenta Huddersfield Michael Bryce, who was involved in the accreditation process, said;
"It's fantastic to receive IChemE recognition of Syngenta's Process Engineering Graduate training scheme, through which I was one of the first cohort to complete. I can say from first-hand experience that through all the work Syngenta does to attract, develop and retain new engineers, there is a positive net effect on skills development in the profession. Achieving Silver Corporate Partner status will help potential future graduates understand the standards that Syngenta operates to as an employer."