Two new interactive process safety ca...
Two new interactive process safety case studies launched at Hazards 29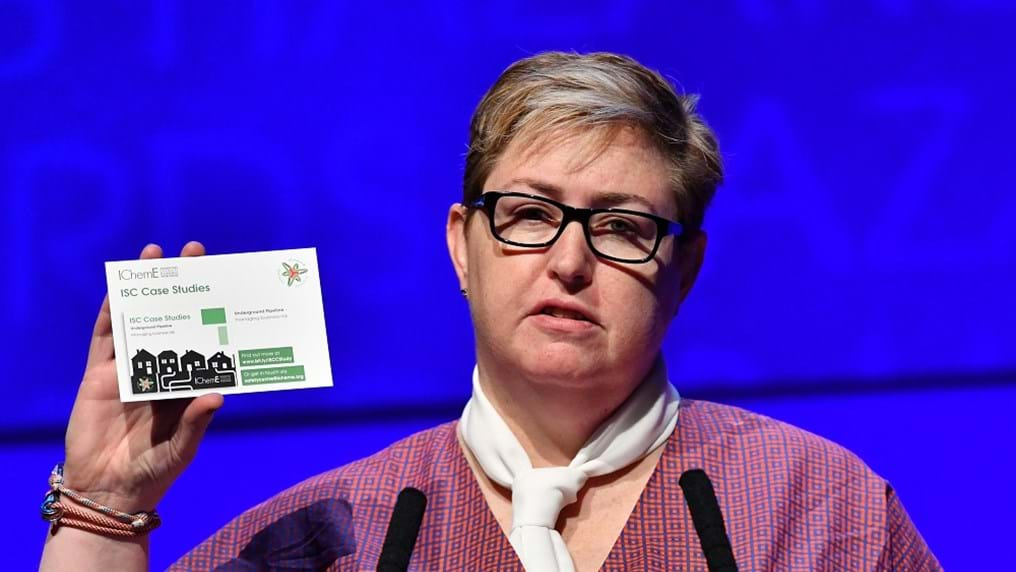 23rd May 2019
Chemical Plant and Underground Pipeline are the two latest interactive safety case studies to be launched by the Institution of Chemical Engineers (IChemE)'s Safety Centre.
IChemE Safety Centre Director, Trish Kerin, announced the launch at Hazards 29, Europe's largest annual process safety conference, held in Birmingham, UK. The conference started yesterday (Wednesday 22 May) with pre-conference workshops and a welcome reception, which included a talk from Disney's Worldwide Safety and Health Manager, Mike Bell.
The interactive case studies are training resources that put process safety professionals in the driving seat. Through the animated video footage, users can experience an incident without prior knowledge of the outcome, and are put through several scenarios where they are asked to make crucial safety decisions. They can then learn how these decisions impact on the outcome of the incident.
Chemical Plant highlights the conflicting pressure of budget and production versus safety, showing the challenges of determining which option is inherently safer.
Underground Pipeline highlights how making assumptions in asset management can impact the overall risk profile and safety performance.
Kerin said:
"When we review the findings of an incident, we do it with the knowledge of what caused it and, as humans, it can be easy to rationalise why the incident wouldn't happen to us because we would make different decisions. These case studies challenge the conventional way in which we learn from incidents and go through the decision-making process, without the actual consequences of an incident.
"Since the case studies launched in 2016, the feedback has been overwhelmingly positive and there has been strong interest in a continued variety of examples. I'm delighted that we've added Chemical Plant and Underground Pipeline to the collection. We'll also soon have a new case study, Laboratory Experiment – so watch this space. Thank you to the generous support from Saudi Aramco on these three projects."
For more information, to watch same sample footage of a case study or to purchase one online visit: www.icheme.org/knowledge/safety-centre
Links
IChemE Safety Centre case studies
Image
Trish Kerin launches two new IChemE Safety Centre interactive case studies
Contact
For more information please contact:
Rachael Fraser, Communications Executive, IChemE
t: +44 (0) 1788 534435
e: rfraser@icheme.org
Ketna Mistry, Communications Executive, IChemE
t: +44 (0) 1788 534484
e: kmistry@icheme.org
What is chemical engineering?
Chemical, biochemical and process engineering is the application of science, maths and economics in the process of turning raw materials into everyday, and more specialist, products. Professional chemical engineers design, construct and manage process operations all over the world. Oil and gas, pharmaceuticals, food and drink, synthetic fibres and clean drinking water are just some of the products where chemical engineering plays a central role.
IChemE
The Institution of Chemical Engineers (IChemE) advances chemical engineering's contribution worldwide for the benefit of society. We support the development of chemical engineering professionals and provide connections to a powerful network of around 37,000 members in 100 countries.
We support our members in applying their expertise and experience to make an influential contribution to solving major global challenges, and are the only organisation to award Chartered Chemical Engineer status and Professional Process Safety Engineer registration.
More information: www.icheme.org
IChemE Safety Centre
Operating out of Melbourne, Australia, the IChemE Safety Centre (ISC) is a trade-led consortium, split into three partner categories. By bringing together industry-wide organisations to share and learn from each other, the ISC is improving process safety by providing new insight and understanding from beyond normal industry circles.
More information: www.icheme.org/knowledge/safety-centre