University of Sheffield chemical engi...
University of Sheffield chemical engineering student awarded Ashok Kumar Fellowship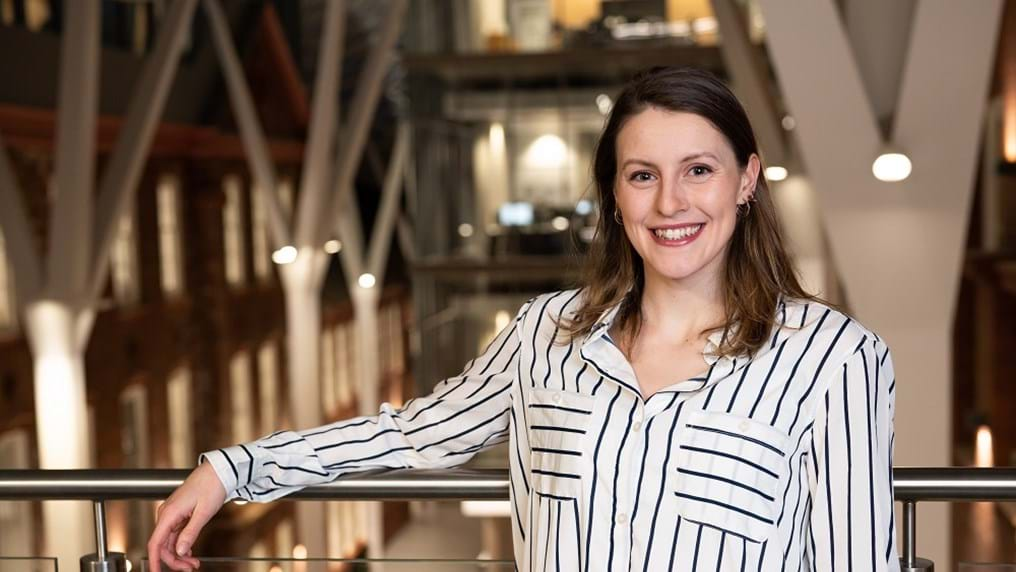 14th December 2021
University of Sheffield chemical engineering postgraduate student Amber Keegan has been awarded this year's Ashok Kumar Fellowship and as part of the scheme, will work alongside advisers in the Houses of Parliament to inform the work of MPs and Peers.
Jointly funded by the Institution of Chemical Engineers (IChemE) and Middlesbrough-based Materials Processing Institute, the fellowship was established in memory of Ashok Kumar, a chemical engineer and former Teesside MP.
Keegan is completing a PhD in Chemical Engineering and Chemistry at the university, where she is researching the formation pathway of bio-inspired silica, a method of producing silica nanomaterial which is more sustainable than current methods of manufacture.
The Fellowship scheme is open to engineers who have completed a degree at undergraduate Masters level or above, or have equivalent industry experience. It funds a three-month placement with the UK Parliamentary Office for Science and Technology (POST), where the post-holder will produce a briefing or contribute to an area of public policy related to science and engineering.
Keegan, 24, said:
"I am so excited to be awarded the Ashok Kumar Fellowship – I literally jumped for joy! My motivation for applying for the Fellowship was the same for pursuing chemical engineering initially; I wanted to use my scientific and engineering research to help solve real-world issues. I was born in Scunthorpe, a steel town, so the dedication Ashok Kumar had for steel research and promotion of chemical engineering makes the award so special.
"Policy, like engineering, is a method by which we can take scientific and engineering advances and use them to improve people's lives. This Fellowship will be a great opportunity to apply skills I have learned from my chemical engineering studies and research, like technical understanding and problem-solving, to a completely new area."
Alexandra Meldrum, IChemE Vice President Learned Society, said:
"Amber really impressed us with her aptitude and experience of effectively, succinctly and impartially communicating complex science and engineering research to different audiences. Her chemical engineering research, skills and her enthusiasm for this Fellowship will stand her in great stead during her time with policy makers and her future career, whether that be in academia, industry, or policy.
"I look forward to learning from her when she shares her knowledge and experience of the Ashok Kumar Fellowship with IChemE members and the wider engineering profession in due course."
Chris McDonald, Chief Executive of the Materials Processing Institute, said:
"Amber is a deserving recipient of the Fellowship, having displayed a passion and an undoubted ability to contribute to the transformation of this country's industrial landscape.
"Historically, STEM careers have been male dominated, so it's fantastic to see Amber setting an example to other women and people from diverse backgrounds that science and engineering is open to all and is a hugely rewarding career." 
Alongside her chemical engineering studies, Keegan has written for Absolute Zero, a Sheffield-based STEM magazine for primary school children and has also volunteered at Kyniska Advocacy, an organisation advocating for progressive policies in women's sport.
She is also committed to pursuing her ambition to swim at international level. In 2018 she was hit by a car while cycling to lectures and suffered a torn hamstring and shoulder injury, resulting in her missing the Commonwealth Games trials.
However, it was a measure of her determination that she quickly returned to training and won multiple golds in the British University and College Sport races for the University of Sheffield.
Dr Kumar, who was Labour MP for Middlesbrough South and East Cleveland, was the only chemical engineer serving in Parliament at the time of his sudden death in 2010 at the age of 53.
The Ashok Kumar Fellowship was launched shortly afterwards. Dr Kumar, who was a Fellow of IChemE, worked as a research scientist for British Steel Corporation, a forerunner of the Materials Processing Institute, from 1985 to 1997.
Image
Amber Keegan
Links
Contact
For more information please contact:
Rachael Fraser, Communications Executive, IChemE
t: +44 (0) 1788 534435
e: rfraser@icheme.org
Andrew Cargill, Marketing Manager, Materials Processing Institute
t: +44 (0) 1642 382047
e: andrew.cargill@mpiuk.com
What is chemical engineering?
Chemical, biochemical and process engineering is the application of science, maths and economics in the process of turning raw materials into everyday, and more specialist, products. Professional chemical engineers design, construct and manage process operations all over the world. Oil and gas, pharmaceuticals, food and drink, synthetic fibres and clean drinking water are just some of the products where chemical engineering plays a central role.
IChemE
The Institution of Chemical Engineers (IChemE) advances chemical engineering's contribution worldwide for the benefit of society. We support the development of chemical engineering professionals and provide connections to a powerful network of over 30,000 members in more than 100 countries. 
We support our members in applying their expertise and experience to make an influential contribution to solving major global challenges, and are the only organisation permitted to award Chartered Chemical Engineer status and Professional Process Safety Engineer registration. 
Materials Processing Institute
The Materials Processing Institute is a research and innovation centre serving global steel and materials organisations that work in advanced materials, industrial decarbonisation, the circular economy and digital technologies.
The Institute has served as the UK's national steel innovation centre since 1944 having been set up by Sir Winston Churchill's wartime government just before D-Day to equip the British steel industry for post-war reconstruction. It celebrated its 75th anniversary in 2019.
Through collaboration with its customers, the Institute provides a range of technology and R&D based services and consultancy. It also has pilot and demonstration facilities and an SME Technology Centre to support supply chain businesses with the development of new technologies and products.
Works with: steel, metals and alloys, chemical processes, aerospace and defence, energy, mining and quarrying, construction, rail, transport, and infrastructure, offshore, subsea, and nuclear.
The Materials Processing Institute includes developments funded through Tees Valley Combined Authority, through the Local Growth Fund (Growth Deal).
More information: https://www.mpiuk.com/
The Parliamentary Office of Science and Technology (POST)
The Parliamentary Office of Science and Technology (POST) sits within the House of Commons Research and Information team, although it works for both Houses of Parliament. It is overseen by a Board of MPs, Peers and external experts and helps Parliament to access research from across the biological, physical and social sciences, and engineering and technology. 
POST provides balanced and accessible overviews of research, mainly in the form of 'POSTnotes'. These POSTnotes are based on reviews of the research literature and interviews with stakeholders from across academia, industry, government and the third sector, and are reviewed by external experts. 
POST runs seminars, receptions and other events on science and technology topics. It also runs several fellowship schemes with Research Councils, learned societies and charities, through which PhD students and other researchers are sponsored to spend three months working at POST. 
POST (and UK Parliament more widely) is committed to increasing diversity and to maintaining an inclusive workplace culture. We welcome and encourage applications from underrepresented groups. 
More information: https://post.parliament.uk/about-us/