New board of IChemE in Malaysia pays...
Malaysia
New board of IChemE in Malaysia pays courtesy visit to its Royal Patron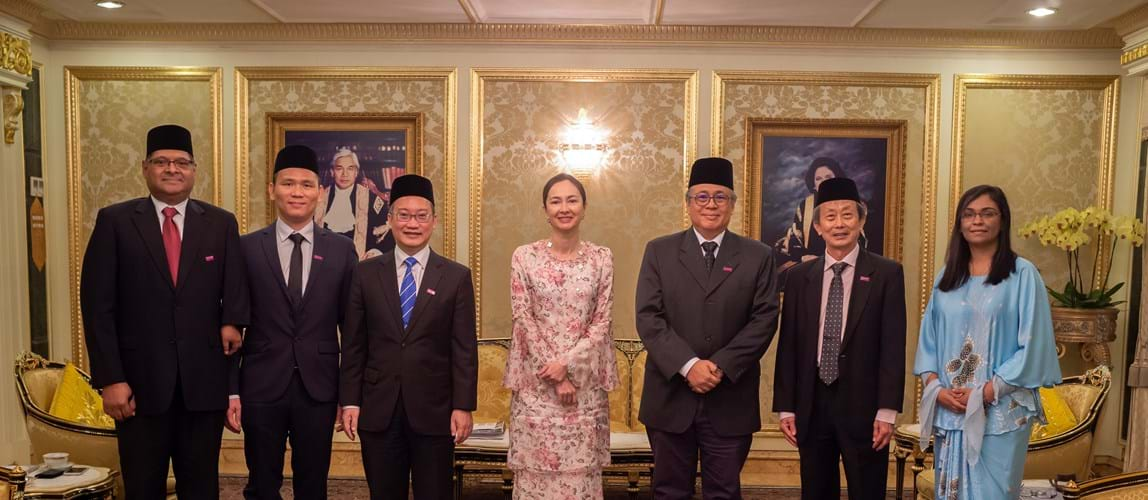 16th March 2020
On Tuesday 10 March 2020, members of the Board (2020—2021) led by its Chair Professor Ir Dr Law Chung Lim paid a courtesy visit to its Royal Patron, the Queen of Perak, DYMM Raja Permaisuri Perak Darul Ridzuan Tuanku Zara Salim at Istana Perak in Kuala Lumpur.
Tuanku Zara Salim is a chemical engineer by training and headed an oil and gas consultancy firm based in Kuala Lumpur before marrying the Sultan of Perak, Sultan Nazrin Muizzuddin Shah.
Discussions covered current headlines such as COVID-19, the crude oil price crash, the new line up of ministers, the challenges facing the palm oil industry and the latest developments at Nottingham University (where she graduated). Law also provided a COVID-19 brief on the actions being taken at campuses in UK, Malaysia and China.
Law provided some information regarding IChemE members in Malaysia. There are:
400 Chartered members, increasing at about 10% annually
a high percentage of female members at 43%
15 student chapters across the universities
24 universities in Malaysia offering chemical engineering degrees.
Working with the student chapters, the Malaysian Palm Oil Council (MPOC) and in conjunction with the Love MY Palm Oil campaign, the Palm Oil Processing Special Interest Group (POPSIG) continues its monthly university roadshow which started in August 2019. The purpose is to tell chemical engineering undergraduates the truth about palm oil and to encourage them to work in the palm oil industry. The roadshow includes a field trip to the industry.
Tuanku questioned what their favourite field trip was, which Qua advised to be Sime Darby Plantation in Carey Island for the Klang Valley universities. The President of IChemE, the Vice President - Regions and the CEO had visited to see firsthand the sustainability of the palm oil industry. The roadshow at UTP in November will head to United Plantations Bhd Jendarata Estate which happens to be Tuanku's favourite place to visit.
When discussing the negative views surrounding the palm oil industry, Tuanku advised to publicise the facts widely to assist. For instance, she had learnt that the yield of palm oil is up to eight times higher than other oil seed crops and this fact is very important in supporting the sustainability story of palm oil.
Tuanku was particularly interested in Law's idea of going to schools in her home state of Perak. An idea was for the student chapter to organise a career fair at UTP and to excite Form 3–5 students with 'explosive' experiments.
Law formally invited Tuanku to attend this year's IChemE Malaysia Awards dinner on Monday 19 October, which we are delighted to announce that Tuanku accepted the invitation.
Image
Centre: Tuanku Zara Salim.
Left to right: Dr Ragunath Bharath; Ir Hong Wai Onn, Honorary Secretary; Professor Ir Dr Law Chung Lim, Chair; Ir Rafil Elyas, Deputy Chair, Ir ChM Qua Kiat Seng and Ms Tharshinye Soomaran, Country Manager.
---
Back to group news