Regional Chemical Engineering Undergr...
Malaysia
Regional Chemical Engineering Undergraduate Conference 2020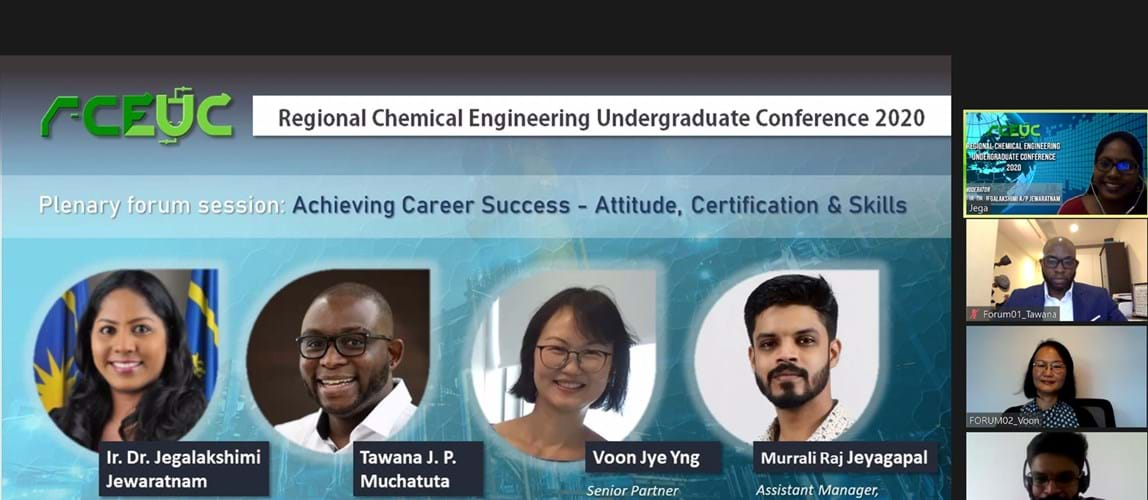 27th October 2020
The Regional Chemical Engineering Undergraduate Conference (RCEUC) is an annual student run conference organised under the Department of Chemical Engineering, University of Malaya and supported by the Institution of Chemical Engineers (IChemE). In light of the COVID-19 pandemic, RCEUC 2020 was successfully organised as a virtual conference beginning in September 2020.
The theme of the conference was 'Connecting Industry with Academia'. RCEUC 2020 recorded a participation of over 90 attendees from six countries including Malaysia, Indonesia, Vietnam and the Philippines. We witnessed international delegates taking part despite the uncertainties. Over 80 papers were presented and submitted under both the online presentation and paper writing competitions.
Being set amidst a chilling pandemic, RCEUC's keynote and forum sessions catered to the needs and worries of young chemical engineers during these challenging times. Peter Godfrey, Managing Director (Asia Pacific) of the Energy Institute delivered the first Keynote Speech about the future of energy and advised graduates on future opportunities in the energy industry. The second Keynote Speaker, Hong Wai Onn, Business Manager of Novozymes, delivered an interactive session regarding the next industrial revolution which is washing over us and how graduates can equip themselves with the skills required to weather the next revolution.
RCEUC's Plenary Forum touched on an apt topic on the minds of many engineers: Achieving Career Success: Attitude, Certification and Skills. The esteemed invited speakers included Tawana J. P. Muchatuta, Founder and CEO of HelloGold; Voon Jye Yng, Senior Partner - Safety Service, ERM; and Murrali Raj Jeyagapal, Assistant Manager (Process & Engineering), Bunge Loders Croklaan. The session was moderated by Ir. Dr. Jegalakshimi Jewaratnam, who was the Conference Chair and a Senior Lecturer at the Department of Chemical Engineering, University of Malaya. The speakers talked at length and advised on always having a positive attitude and a strong will to learn, to constantly brush up on soft skills, and also encouraged young engineers to go for Professional Engineer or Chartered certification if desired.
---
Back to group news