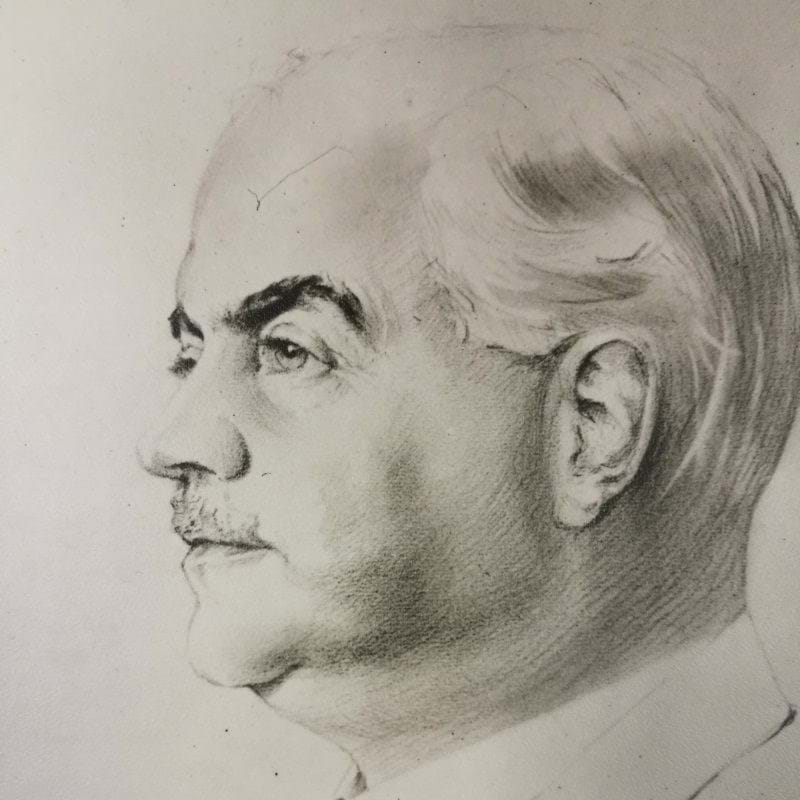 Charles Samuel Garland: 1941—1943
Charles Samuel Garland was born in London on 23 June 1887. He attended Camberwell Grammar School and later went to the Royal College of Science, South Kensington, where he graduated with honours in chemistry. Subsequently he studied electrical engineering at the City and Guilds College, and general and steam engineering at the South Western Polytechnic Institute. After a short spell in academic life as a demonstrator and lecturer at Imperial College, he entered upon an industrial career. 
Following experience in laundry work and general engineering, he joined the Volker Lighting Corporation, makers of incandescent gas mantles, becoming works manager and subsequently managing director. At the same time, he was associated with the establishment of Thorium Ltd for the manufacture of rare earths, and interested himself in the ceramic industry through the managing directorship of the Clay Ring Co Ltd and of W A Ward & Co Ltd of Nottingham, which later transferred into Steatite and Porcelain Products Ltd, manufacturers of H T porcelain insulators.
Charles Garland played a big part, in association with Dr H S Hele-Shaw, in developing the Stream-line Filter from a theoretical idea to a widespread commercial enterprise, by which some hundred million gallons of lubricating oil were treated annually, with a consequent saving of thousands of tons of shipping space.
His industrial activities extended widely and, in addition to the above interests, he directed manufacturing enterprises so varied as electrical insulators, paint, chemical plant, wireless equipment, ozonisers, shipbuilding, collapsible steel doors, water and oil filters, and buttons. At the time of his presidency, he was also Chairman of two Building Societies.
In 1923 he was appointed by the Crown as Governor of his former College, Imperial College of Science & Technology, and was also a member of the Deligacy of the City and Guilds College. He was Chairman of the Students' Finance Committee of the Colleges for many years, in which capacity he gave active support to a wide extension of student activities.
He had a long association with the National Union of Manufacturers and served as both a Vice President and Honorary Treasurer of the organisation. He also had an active interest in political matters, and was a founder of the Junior Imperial League of the South London Division, of which he became President in 1922. He was the first member of the League to enter Parliament when he won the South Islington division as a Conservative in 1922 by a small majority over the Rt Hon R W Pethick-Lawrence. 
Charles Garland was actively engaged in the work of a number of chemical-related organisations, being a founder of the British Association of Chemists and serving as its President in 1925-1926. He was a longserving member of Council and Vice President of the Society of Chemical Industry and was one of the band of enthusiasts who supported Professor J W Hinchley in the demand for organised chemical engineering which led to the formation of the Chemical Engineering Group of the Society of Chemical Industry, of which Group he was Chairman in 1924-1926. In 1925 he became Chairman of the London Section of the Society and was Chairman of the Congress of Chemists organised jointly by the Section and the Chemical Engineering Group in 1926. 
As far as his association with IChemE was concerned, he was one of the signatories to the Memorandum and Articles of Association, and served continuously on the Council in various capacities, including Honorary Registrar (1923-1929) and Vice President (1929-1931) from that time through to his Presidency. He played an important part in arranging the visits of the American Institute of Chemical Engineers to the UK in 1925 and 1936 and, for his many services to the Institution, was awarded the Osborne Reynolds Medal (later known as the Arnold Greene Medal) in 1937.
---
Return to list