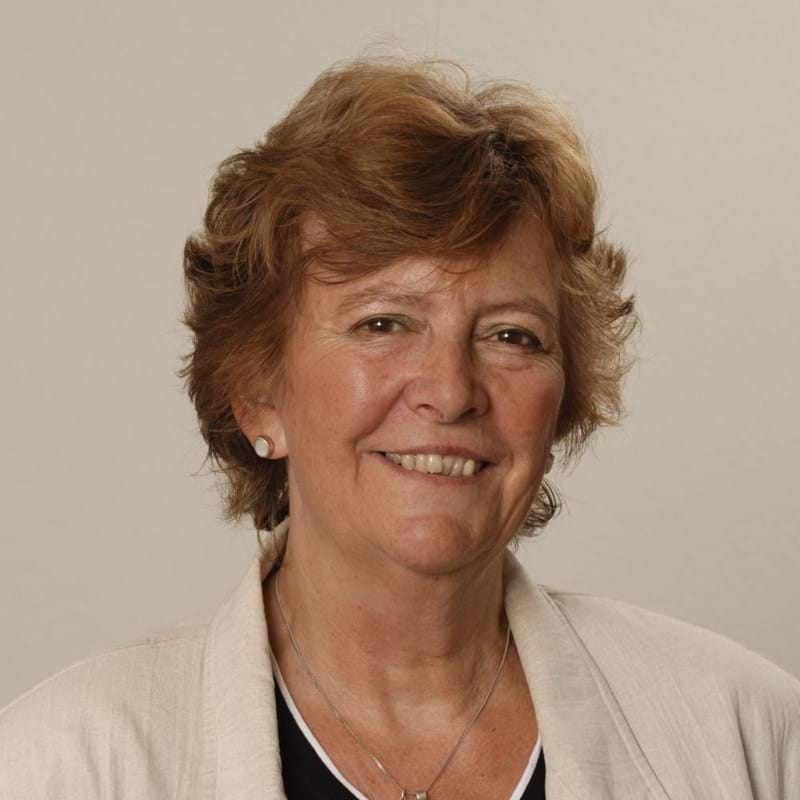 Julia Stretton Higgins DBE: 2002—2003
Julia Higgins was born on 1 July 1942 and having been awarded a state scholarship in physics went to Somerville College, Oxford where she graduated with a BA Honours in physics in 1964. She joined the Physical Chemistry Laboratory at the university on an SRC Research Studentship before joining Mexborough Grammar School and Sixth Form College as a physics teacher for two years in 1966.
Having been awarded a DPhil from the Department of Physical Chemistry at Oxford in 1968 she then moved to the Department of Chemistry at Manchester University on an SRC Research Fellowship.
On leaving Manchester in 1972 she was appointed Research Fellow at the Centre de Recherche Macromoleculaire at CNRS in Strasbourg, and then 12 months later joined the Institut Laue-Langevin in Grenoble as a physicist.
Returning to the UK in 1976, Julia Higgins was appointed Lecturer in the Department of Chemical Engineering at Imperial College, and subsequently Reader in Polymer Science in 1985, before moving to her current role as Professor of Polymer Science in the Department of Chemical Engineering & Chemical Technology in 1989.
Whilst in this latter role, she also took on a part-time appointment as Dean of the City & Guilds College in the Engineering Faculty at Imperial College from 1993 to 1997.
Julia Higgins is highly regarded for her multi-disciplinary research into the understanding of the organisation and motion of polymer molecules and her research explores the boundary between materials chemistry and engineering. In addition to her research achievements, she has pioneered exploration of the responsibilities of being a modern scientist and been instrumental in bringing consideration of gender issues to the political forefront. In 1999 she was appointed Chair of the Athena Project, a UK Government funded partnership charged with reversing the loss of women employed in science and increase the representation of women in senior posts in higher education.
She has associations with a great many professional organisations through Fellowship of the Royal Academy of Engineering, the Royal Society, Royal Society of Chemistry, City & Guilds London Institute, Institute of Materials and Institute of Physics as well as IChemE, and internationally as a member of the American Chemical Society and Foreign Associate of the National Academy of Engineering (USA).
Her external committee memberships and advisory roles have been equally as varied and too numerous to mention them all.
A number of her external activities relate unsurprisingly to education, where she is a member of the HEFCE Research Committee, a member of the HEFCE's Research Assessment Exercise Review and, in particular, a member of the Chemistry Research Assessment Exercise Panel for the 2000 review. In 1997 she joined the Council for Science & Technology, a Government advisory body, and from 1998 to 2000 was chair of their Working Group on Support for Science Teachers. Her expertise in polymer science is not forgotten either through her role as a member of the Polymer Physics Editorial Advisory Board for the Journal of Polymer Science.
Having been awarded a CBE in 1996, she became a Dame Commander of the Order of the British Empire, DBE, in 2001 for service to science. 
---
Return to list