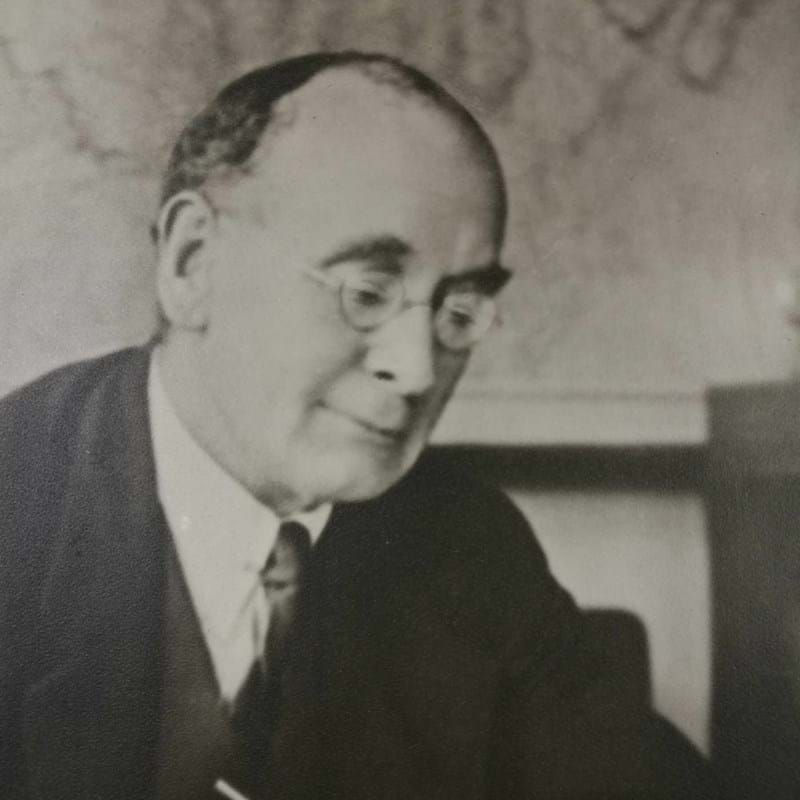 Sir Alexander Gibb GBE CB: 1927—1929
Sir Alexander Gibb was one of the original members of the Institution and was elected Vice President in 1925, and became President in 1927. 
He was born on 12 February 1872 at Broughty Ferry, of a family which had had six generations of engineers in an unbroken line, and he cherished this hereditary connexion with his profession and his Scottish associations. He was educated at Rugby and University College, London, and was later a pupil of Sir John Wolfe Barry KCB FRS and of Mr H M Brunel, an association which was clearly marked in his subsequent career. In 1900 he married Miss Norah Monteith, their family consisting of three sons.
Sir Alexander was the senior member of the firm of Sir Alexander Gibb and Partners, Consulting and Chartered Civil Engineers in Westminster, in which connection he had been responsible for many important engineering works such as Docks, Harbours, River- and Tidal River-works and regulation, Bridges, Tunnels, Railways, Electric Power Stations, and particularly Hydro-Electric development in all its ramifications. 
During the European War he carried out work of the highest importance, being Chief Engineer for Ports Construction to the British Armies in France and Belgium from 1916 to 1918, and Deputy-Director of Docks, BEF, and he held the rank of Brigadier-General in the Royal Marines, as well as that of Colonel in the Royal Engineers. In 1918 he was appointed Civil Engineer-in-Chief to the Admiralty, a post which was then first created, and was a member of the Committee dealing with the Naval terms of Peace. 
His services were widely sought in connexion with many national post-war problems. Among such may be mentioned the following offices: Director-General of Civil Engineering to the Ministry of Transport, 1919-1921, Chairman of the Technical Committee on London Traffic, and of the Committee on Light Railways, both in 1920-21. He served as a member of several other transport committees about the same period. 
An achievement of which Sir Alexander Gibb was justly proud was the construction (as Contractor) of the great Naval Dockyard at Rosyth, before and in the first years of the war. It was still unfinished when the war broke out, but by a tremendous effort was enabled to become the base of the Battle Cruiser Squadron, and finally the most strategic point in the North Sea. It was therefore appropriate that he should be the Admiralty's Consulting Engineer for the great new Naval Base at Singapore. 
Sir Alexander's interests became even more extended and he was at one time a member of the Boards of the Dunlop Rubber Company Ltd, and Pease and Partners Limited, and was also a member of the Council and of the General Purposes Committee of the London Chamber of Commerce. 
His profound interest in higher technical education was expressed in his membership of the University College (London) Committee, and his Vice-Chairmanship of the Managing Committee. 
He was a Freemason of very high degree, being Provincial Grand Master of Ross and Cromarty and Past Substitute Grand Master of Scotland. 
Sir Alexander in his more leisurely moments was a great student of poetry, and naturally was particularly drawn to the great Scottish poet. He was, in fact, Honorary President of the Burns Federation and VicePresident of the Burns Club of London. He was also a member of numerous societies devoted to historical and antiquarian research, in which he was much interested, particularly the Scottish Historical and Record Societies and the Huguenot Society. 
He was created CB in 1918, KBE in 1918, and GBE in 1920. Other decorations included Commander of the Order of the Crown of Belgium and the Naval Distinguished Service Medal (United States).

View the text of Sir Alexander Gibb's 1928 Presidential Address

View the text of Sir Alexander Gibb's 1929 Presidential Address
---
Return to list