IChemE and ITN Productions Industry N...
IChemE and ITN Productions Industry News launch new co-production, Serving Society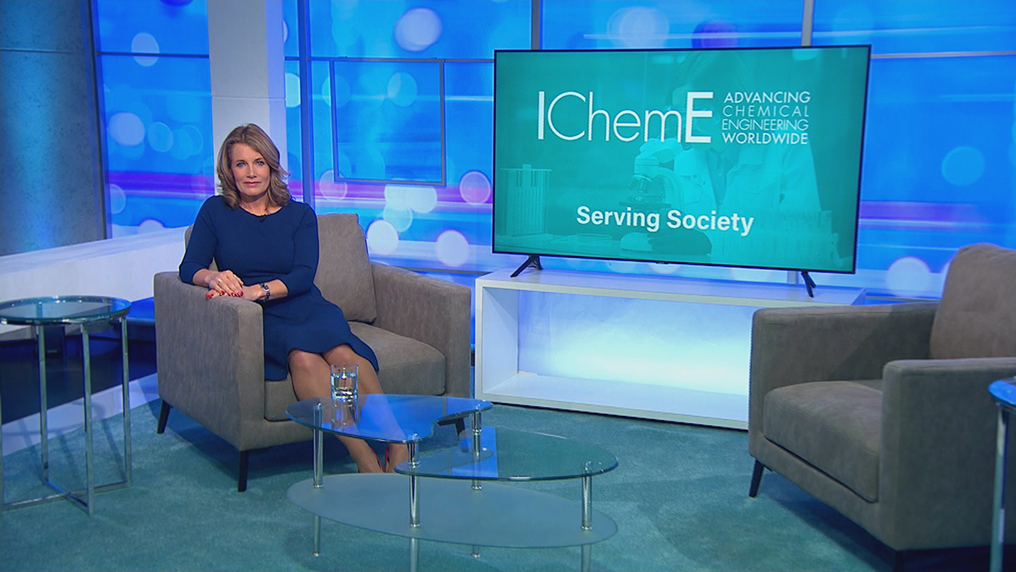 19th January 2022
To mark our centenary year, IChemE has partnered with ITN Productions Industry News to produce Serving Society, a programme looking at the role of the chemical engineer and how the sector is addressing some of the biggest challenges in our society today.
Anchored by presenter Sharon Thomas, Serving Society features industry experts along with informative interviews, news items and sponsored editorial profiles, filmed at the ITN Productions Industry News London studio and around the UK. Jon Prichard, IChemE Chief Executive and Jane Cutler, IChemE President join Sharon Thomas to discuss how chemical engineering is addressing climate change and sustainability, what the future looks like for the sector and how IChemE is encouraging more women into the profession.
The role of the chemical engineer has never been more important, helping to address some of the world's biggest challenges. Serving Society features reports from IChemE exploring the evolution of the chemical engineering profession's place in society today and the incredible work being done to address the future of plastic recycling.
The programme also showcases films from businesses and organisations from across the field of chemical engineering, demonstrating the enormous contributions they are making to our world. Atkins is an engineering and project management consultancy leading water sector sustainability. DEKRA, a global safety, security and sustainability company, demonstrate how they provide technical safety and human reliability solutions to industrial operators to reduce their risk of serious accidents.
'Nucleargraduates' is a graduate development programme led by the people and skills organisation, Energus, in partnership with other nuclear sector employers, enabling engineers and scientists to be the leaders of tomorrow in the nuclear industry.
Students at Imperial College London are getting hands on experience learning how to tackle climate change via a carbon capture plant within the Department of Chemical Engineering. KBC are supporting their clients in their efforts to address climate change and sustainability, and reporter Selina Downes visits KBC's head office to find out more about how decarbonisation is driving industry change.
A reporter-led film with Loughborough University explores how the next generation of chemical engineers will solve emerging challenges around post-covid recovery, net zero and digitalisation, and Penman Consulting highlights how they help businesses with a team of specialist scientists, regulatory experts and IT professionals using innovative approaches.
In a film with global chemical manufacturer Scott Bader, reporter Suzanne Virdee learns more about their 2036 vision and how they are making a positive difference to society, and a film with the Energy Safety Research Institute at Swansea University highlights how they are leading the RICE initiative that is using new and demonstrable technologies that allow for CO2 to be used in an environmentally friendly way - from plant feed to pharmaceuticals.
Biochemical engineers have a critical role in translating life science discoveries into actual products and processes. University College London fully integrates engineering and biotechnology in its programmes, and its graduates were involved in all stages of development and manufacture of the Oxford AstraZeneca vaccine. In a short film, Donna Bernard visits their state-of-the-art research facility in London to learn more.
In a film with The University of Manchester, Suzanne Virdee reports from the University about their unique mission and their commitment to translating research into real world solutions, and the University of Nottingham Malaysia showcase how they are training the chemical engineers of tomorrow and driving cutting edge research.
Wood, a global leader in consulting and engineering across energy and the built environment is helping to unlock solutions to some of the world's most critical challenges and supporting their clients throughout the lifecycle of their projects.
Jon Prichard, IChemE Chief Executive said:
"2022 is a milestone year for chemical engineering as it marks the centenary of the profession whilst also providing a window to look at how chemical engineers are key to delivering a more sustainable future. IChemE is proud to support its members, today's chemical, biochemical and process engineers, as they serve society and address the global challenges of today and tomorrow.
We are delighted to have the opportunity in this programme to showcase the significant contribution that chemical engineers make to society."
Nina Harrison-Bell, Head of ITN Productions Industry News, said:
"We are delighted to be working with IChemE to make this programme revealing the strides the profession is making in serving society. The programme shows the opportunities for change and the impact companies are making by bringing innovative technology-based services and solutions, world-leading research and training to the next generation, businesses and consumers."
The programme will premiere on the IChemE YouTube channel at 09:00 GMT on 25 January 2022 and will be supported by an extensive communications campaign spearheaded by IChemE and supported by ITN Productions. The full programme can be viewed here: www.icheme.org after the premiere.
Links
Contact
Lucy Cook, Communications Manager, IChemE 
t: +44 (0) 1788 534454 
e: lcook@icheme.org 
Rachael Fraser, Communications Executive, IChemE 
t: +44 (0) 1788 534435 
e: rfraser@icheme.org  
Claire Shepherd, Communications Executive, IChemE  
t: +44 (0) 1788 534457  
e: cshepherd@icheme.org 
What is chemical engineering?
Chemical, biochemical and process engineering is the application of science, maths and economics in the process of turning raw materials into everyday, and more specialist, products. Professional chemical engineers design, construct and manage process operations all over the world. Oil and gas, pharmaceuticals, food and drink, synthetic fibres and clean drinking water are just some of the products where chemical engineering plays a central role. 
IChemE
The Institution of Chemical Engineers (IChemE) advances chemical engineering's contribution worldwide for the benefit of society. We support the development of chemical engineering professionals and provide connections to a powerful network of over 30,000 members in more than 100 countries. 
We support our members in applying their expertise and experience to make an influential contribution to solving major global challenges, and are the only organisation permitted to award Chartered Chemical Engineer status and Professional Process Safety Engineer registration. 
ITN Productions Industry News
ITN Productions produces bespoke creative and commercial content for broadcasters, businesses, brands, rights holders and digital channels. Industry News forms part of this offering and is a communications tool for leading industry bodies and national associations produced in a broadcast news-style programme format, including interviews, news items and sponsored editorial profiles.
More information: www.itnproductions.co.uk