IChemE Fellows elected to the Royal A...
IChemE Fellows elected to the Royal Academy of Engineering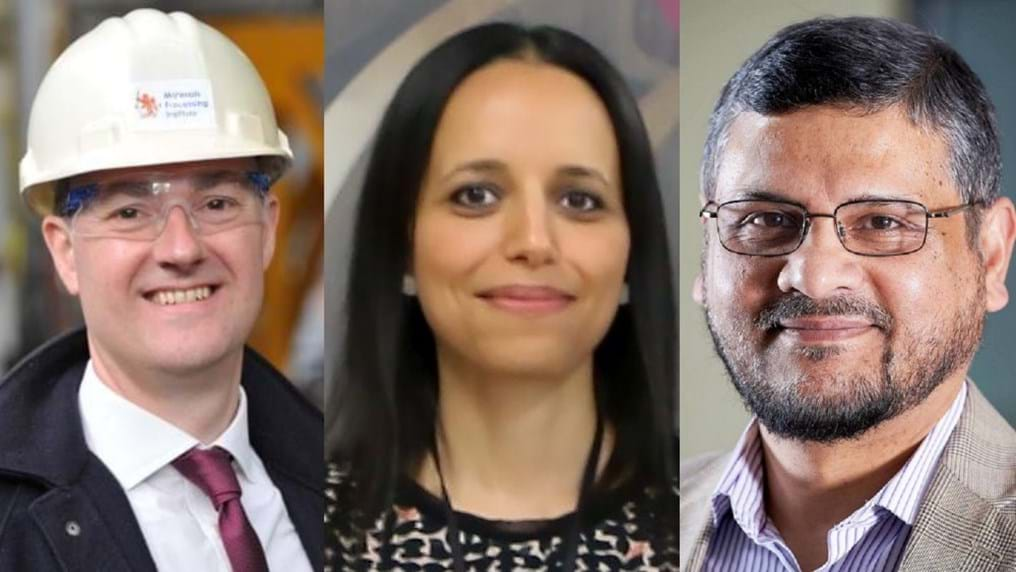 27th September 2022
Professor Iqbal Mujtaba, Chris McDonald and Professor Suzanne Farid – Fellows of the Institution of Chemical Engineers (IChemE) - have been elected as Fellows of the Royal Academy of Engineering (RAEng) for their outstanding contributions to engineering.
The University of Bradford's Iqbal Mujtaba is Professor of Computational Process Engineering and Associate Dean for Learning, Teaching and Quality.
He is a world leading researcher into dynamic modelling, simulation, optimisation and control of batch and continuous chemical processes with interests including distillation, refinery processes, desalination, wastewater treatment and crude oil hydrotreating focusing on energy and water. He has also managed many international research collaborations and consultancy projects, and has had more than 380 technical papers published.
An active volunteer, he was on the organising committee of IChemE's European Symposium on Computer Aided Process Engineering (ESCAPE) conference in 2012, while chair of IChemE's Computer Aided Process Engineering Special Interest Group – which he remained as until 2019. He was also the Chair of the European Committee for Computers in Chemical Engineering Education from 2010–2013.
Professor Mujtaba said:
"I am truly humbled, honoured and delighted to be elected as a Fellow of the Royal Academy of Engineering. I am grateful to my family, research students, friends, colleagues, and collaborators from around the world, including my alma mater Bangladesh University of Engineering & Technology, Imperial College London and the University of Bradford for their continued support to my mission over several decades. I look forward to working with the Academy and the IChemE towards building a sustainable society in the world."
Chris McDonald is a leader in engineering in the foundation industries and the Chief Executive Officer at the Materials Processing Institute in Teesside, UK, supporting those in materials and steel processing. He has developed technologies for steel processing, reducing carbon emissions and improving reliability.
He also advocates for excellence, participation and diversity in UK manufacturing through advising government on industry policy, upon advisory boards such as Chair of the UK Metals Council, as well as through the media.
McDonald has been highly supportive of IChemE's Ashok Kumar Fellowship and worked with IChemE and the Parliamentary Office for Science and Technology to re-establish the Fellowship in 2021, which enables one early career engineering researcher each year to work alongside policymakers in UK Parliament to produce a briefing note for MPs on a science and engineering topic.
He said:
"Being elected a Fellow of the Royal Academy of Engineering is a tremendous personal honour and it reflects the work of national significance at the Institute. These range from hydrogen innovation in green steelmaking and developing the world's first zero emission cement, to improving waste heat recovery in industrial processes.
"I have long advocated the need for a much stronger UK manufacturing base, to build a resilient UK economy that provides good jobs and helps us to pay our way as a nation. As a Fellow of the Royal Academy of Engineering, I will continue to champion this cause."
Suzanne Farid is Professor of Bioprocess Systems Engineering at University College London (UCL), UK. She is also Co-Director of the EPSRC Future Targeted Healthcare Manufacturing Hub and Director of the UCL-AstraZeneca Bioprocessing Centre of Excellence.
She is an internationally recognised leader for her research that uses digital and data-driven "decisional tools" to enable cost-effective biopharmaceutical production, such as for monoclonal antibodies and cell and gene therapies. Her pioneering research has helped biotechnology companies make smarter decisions about process development and manufacturing, allowing therapeutics to be brought to market faster, at a lower cost, and enabling a wider access to these innovative medicines.
She said:
"I am extremely honoured to have been elected as a Fellow of the Royal Academy of Engineering. I am very grateful to all those I have worked and collaborated with on engineering innovations to enable successful commercialisation of novel biotherapeutics. Recent events have highlighted the critical role that biochemical engineers play in bringing innovative medicines to market and creating greener processes for improved sustainability. I am excited to support the next generation of engineers and their impact on society."
The three IChemE members were among 72 leading figures elected to the Fellowship this year. Nominated and elected by existing Fellows, they join a community of almost 1,700 eminent engineers.
Image
L-R: Chris McDonald, Dr Suzanne Farid, and Professor Iqbal Mujtaba
Contact
For more information please contact:
Rachael Whittles, Communications Executive and PR Lead, IChemE
t: +44 (0) 1788 534435
e: rwhittles@icheme.org
Claire Shepherd, Communications Executive, IChemE
t: +44 (0) 1788 534457
e: cshepherd@icheme.org
What is chemical engineering?
Chemical, biochemical and process engineering is the application of science, maths and economics in the process of turning raw materials into everyday, and more specialist, products. Professional chemical engineers design, construct and manage process operations all over the world. Oil and gas, pharmaceuticals, food and drink, synthetic fibres and clean drinking water are just some of the products where chemical engineering plays a central role.
IChemE
The Institution of Chemical Engineers (IChemE) advances chemical engineering's contribution worldwide for the benefit of society. We support the development of chemical engineering professionals and provide connections to a powerful network of over 30,000 members in more than 100 countries.
We support our members in applying their expertise and experience to make an influential contribution to solving major global challenges, and are the only organisation permitted to award Chartered Chemical Engineer status and Professional Process Safety Engineer registration.