IChemE Fellows elected to the Royal A...
IChemE Fellows elected to the Royal Academy of Engineering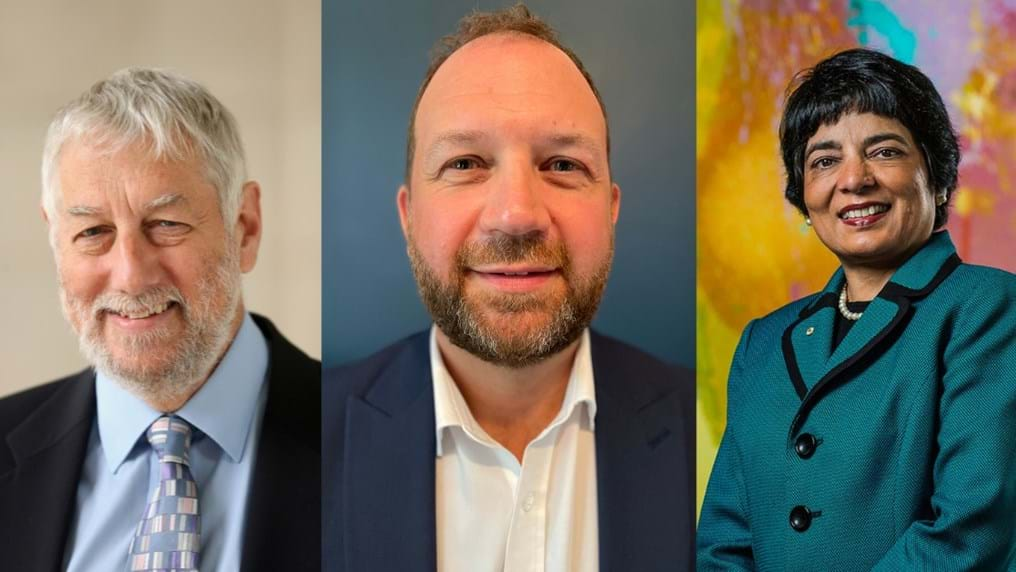 20th September 2023
Professor Graham Hutchings and Dr Jon-Paul Sherlock, both Fellows of the Institution of Chemical Engineers (IChemE), have been elected as Fellows of the Royal Academy of Engineering (RAEng) for their outstanding contributions to engineering. In addition, IChemE Honorary Fellow and Chair of the IChemE Safety Centre, Dr Marlene Kanga, has been elected as an International Fellow of the Academy.
Cardiff University's Professor Graham Hutchings CBE is Regius Professor of Chemistry, distinguished for his work pioneering the use of gold catalysts. He was the first to predict and subsequently demonstrate that gold would be a highly effective catalyst for acetylene hydrochlorination to produce vinyl chloride monomer (VCM), which is now commercialised extensively in Asia. This discovery led to a new field of applied catalysis, and he has subsequently pioneered the use of metal catalysts for several demanding applications that are undergoing commercialisation today. His early work as a researcher and plant manager at ICI made discoveries with oxidation catalysts that are still commercially operated.
He said: "I am both deeply honoured and delighted to be elected to the Fellowship of the Royal Academy of Engineering. I am looking forward to working within the Fellowship addressing key aspects of sustainability that will be important for the future."
Dr Jon-Paul Sherlock is a highly influential chemical engineer and Executive Director, Manufacturing Technology Strategy at AstraZeneca. He has played a major role in the transformation of medicines manufacturing both within AstraZeneca and across the sector, through introducing continuous processes and digital technology. His management and leadership of major projects as well as his personal innovative ideas have led to significant new products, processes and practices.
Instrumental in creating, growing and nurturing a strong engineering community within AstraZeneca, Dr Sherlock has also provided leadership and influence across the UK research and innovation ecosystem by creating impactful precompetitive industry–academia collaborations.
He said: "I am honoured and humbled to be recognised in this way by fellow engineers and leaders from industry and academia. I have been fortunate through my career to be provided opportunities to lead transformational projects with brilliant people and am consistently inspired by the impact engineers have. I look forward to supporting the Academy's mission to harness the power of engineering to create a sustainable society and an inclusive economy, and am proud to represent AstraZeneca in this effort. Thank you to the Academy and CEO Dr Hayaatun Sillem."
Dr Marlene Kanga, an Officer of the Order of Australia for distinguished service to engineering, is an inspiring leader, listed among Australia's top women engineers. She was the National President of Engineers Australia (2013) and President of the World Federation of Engineering Organizations (2017-2019). Leading organisations involving artificial intelligence, hydrogen software, utilities, and aviation, she contributed to hazardous industry safety regulations in Australia, now chairing the international IChemE Safety Centre (ISC).
Dr Kanga successfully proposed UNESCO's declaration of 4 March as World Engineering Day, led the transformation of international engineering education benchmarks, and leads international programmes for diversity, inclusion and capacity building, especially in Africa.
She said: "I am deeply honoured to be elected as an International Fellow of the Royal Academy of Engineering. As an Honorary Fellow of IChemE and Chair of the ISC and Major Hazards Committee, I look forward to engaging with the Academy on matters that are priorities to both organisations – on advancing the UN Sustainable Development Goals and advancing systematic approaches and best practices in process safety, and leading collaboration between the work of the ISC and the Academy Engineering X Programme, for a better safer world."
In joining the Fellowship, the new Fellows will lend their unique capabilities to achieving the Academy's overarching strategic goal to harness the power of engineering to create a sustainable society and an inclusive economy for all.
The three IChemE members were among 73 leading figures in the field of engineering and technology elected to the Fellowship this year. Nominated and elected by existing Fellows, they join a community of almost 1,700 eminent engineers.
Links
Royal Academy of Engineering welcomes 73 new Fellows
Image
Left to right: Professor Graham Hutchings, Dr Jon-Paul Sherlock and Dr Marlene Kanga.
Contact
For more information please contact: 
Lucy Cook, Communications Manager, IChemE
t: +44 (0) 1788 534454
e: lcook@icheme.org   
Ann Baylis, Communications Executive & PR Lead, IChemE 
t: +44 (0) 1788 534477
e: abaylis@icheme.org
What is chemical engineering?
Chemical, biochemical and process engineering is the application of science, mathematics and economics in the process of turning raw materials into everyday, and more specialist, products. Professional chemical engineers design, construct and manage process operations all over the world. Energy, pharmaceuticals, food and drink, synthetic fibres and clean drinking water are just some of the industry sectors and products where chemical engineering plays a central role.
IChemE
The Institution of Chemical Engineers (IChemE) advances chemical engineering's contribution for the benefit of society. We facilitate the development of chemical engineering professionals and provide connections to a powerful network of around 30,000 members in more than 100 countries.
We support our members in applying their expertise and experience to make an influential contribution to solving major global challenges, and are the only organisation permitted to award Chartered Chemical Engineer status and Professional Process Safety Engineer registration.