IChemE launches new online Knowledge Hub
IChemE launches new online Knowledge Hub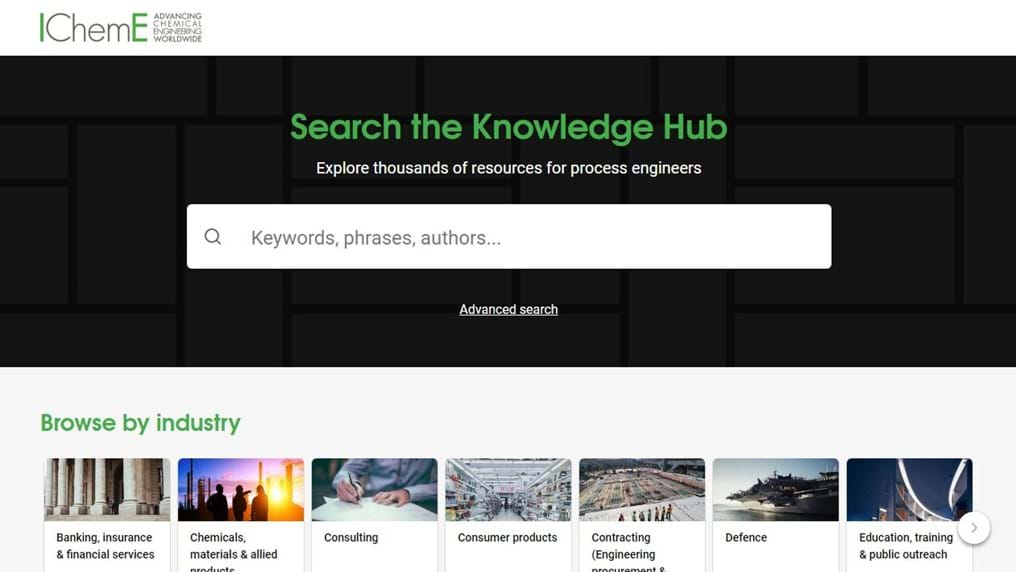 20th August 2020
The Institution of Chemical Engineers (IChemE) has today formally launched its Knowledge Hub, a virtual library for process engineers to access thousands of resources developed across IChemE.
The Knowledge Hub brings together over 9,000 pieces of technical content in one central location, accessible through a single searchable index.
Featuring information from a broad range of sources, content on the Knowledge Hub includes historic journal papers, incident reports, good practice guides from the IChemE Safety Centre as well as articles from The Chemical Engineer and the Loss Prevention Bulletin.
Also included are selected online training courses, proceedings from previous Hazards events as well as IChemE submissions to policy consultations.
Viewers can browse by industry, topic, author or date, or alternatively use the handy search bar. With the comprehensive search functionality, this extensive library of IChemE technical information is now available at the click of a button.
Jarka Glassey, Vice President Learned Society said:
"IChemE has historically produced and continues to produce an exceptional amount of technical content helping to inform, advise and provide guidance to chemical and process engineers around the world. The Knowledge Hub is a fantastic resource that enables members and others involved in the chemical engineering profession to access the full extent of this information with just a few clicks of the mouse.
"Over time we will continue to add more and more content to the Knowledge Hub, ensuring that all of IChemE's technical information and guidance is easily accessible in one place."
Search the Knowledge Hub now.
Please note that access to some information may require an additional subscription.
Links
Contact
For more information please contact:
Lucy Cook, Communications Manager, IChemE
t: +44 (0) 1788 534454
e: lcook@icheme.org
Rachael Fraser, Communications Executive, IChemE
t: +44 (0) 1788 534435
e: rfraser@icheme.org
Ketna Mistry, Communications Executive, IChemE
t: +44 (0) 1788 534484
e: kmistry@icheme.org
What is chemical engineering?
Chemical, biochemical and process engineering is the application of science, maths and economics in the process of turning raw materials into everyday, and more specialist, products. Professional chemical engineers design, construct and manage process operations all over the world. Oil and gas, pharmaceuticals, food and drink, synthetic fibres and clean drinking water are just some of the products where chemical engineering plays a central role.
IChemE
The Institution of Chemical Engineers (IChemE) advances chemical engineering's contribution worldwide for the benefit of society. We support the development of chemical engineering professionals and provide connections to a powerful network of around 35,000 members in 100 countries.
We support our members in applying their expertise and experience to make an influential contribution to solving major global challenges, and are the only organisation to award Chartered Chemical Engineer status and Professional Process Safety Engineer registration.
More information: www.icheme.org