IChemE Trustee awarded prestigious Ch...
IChemE Trustee awarded prestigious Chemeca Medal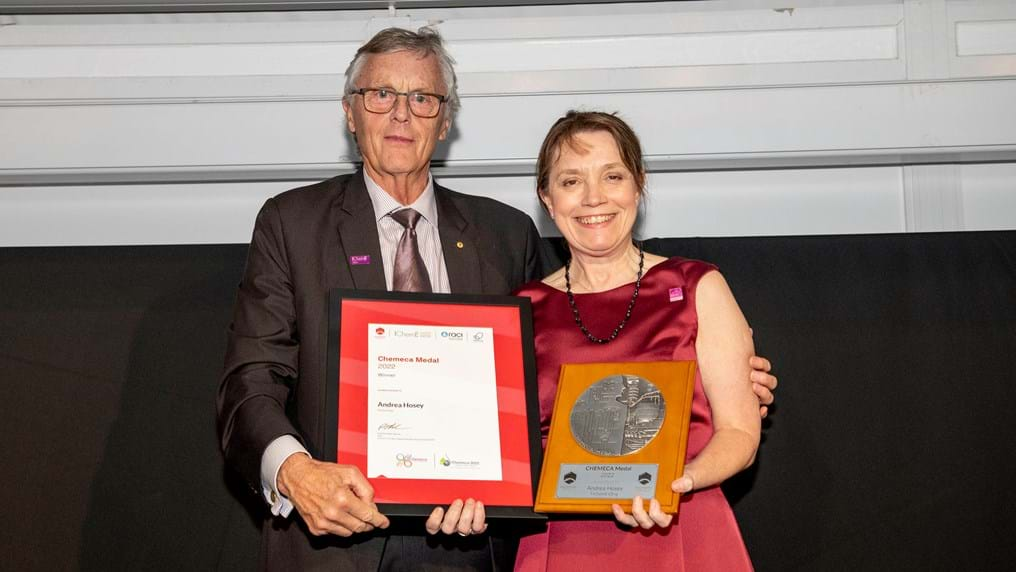 14th October 2022
Andrea Hosey, Vice President Member Engagement at the Institution of Chemical Engineers (IChemE), has been awarded the prestigious Chemeca Medal for outstanding contributions and leadership in chemical engineering.
Hosey, an IChemE Fellow, has more than 30 years' experience in process design and project delivery in the energy, chemicals and water market sectors through numerous senior technical and management positions in Australia, Southeast Asia and the UK.
She was presented with the highest honour from the Australian and New Zealand Federation of Chemical Engineers (ANZFChE) at the Awards of Excellence ceremony during the Chemeca conference on 26 September in Melbourne, Australia. As part of her award, she presented a plenary lecture entitled, 'How many chemical engineers does it take to save the planet? The power of our profession to achieve change for good.' In this she explained her route into chemical engineering and the importance of volunteering and student engagement.
Many other chemical engineers were awarded during the Awards of Excellence at the conference.
Among them was Paul Taranto who received the Jubilee Medal for more than 25 years of voluntary contributions to IChemE in Australia. This includes as Treasurer to IChemE's Australian Board, being a longstanding member of the Joint Chemical Engineering Committee (JCEC) of IChemE and Engineers Australia, and his extensive participation in IChemE's accreditation and qualifications activities as a member of the Education Accreditation Forum.
A joint submission from dairy company Fonterra and engineering consultant Beca for their collaboration on process safety improvements in ammonia and organisational safety won them the IChemE Safety Centre Prize. Winners of this prize are also automatically entered as a finalist in the Process Safety category of the IChemE Global Awards to be held in Manchester UK in November 2022.
The Woodside Energy Australia and New Zealand Student Design Prize was awarded to Isaac Tiney, Simon Jupp, Helen Ho, Isabella Newman, Ruby Thomas, and Ziying Li of the University of Adelaide. They won the prize because of their final year project, a design for a lithium recovery plant. The judges commended their design, including the calculations and realistic commercial analysis of supply and demand considerations.
Plus, the University of Melbourne's student team, The Future Shapers (made up of Neil Acuna, Yuji Chichibu, Michael Fasulakis, Quang Huy Pham, Sin Sieng Sim, and Jacqueline Zhu), won the first-ever Student Hackathon competition during the Chemeca conference.
They won the contest with their net zero carbon fuel infrastructure solution of a power to liquid technology that converts hydrogen produced using renewable electricity and waste carbon dioxide to diesel, which they pitched to a panel of energy industry experts at the conference.
Image
Andrea Hosey (right) being awarded the Chemeca Medal by former IChemE President Russell Scott
Contact
For more information please contact:
Rachael Whittles, Communications Executive and PR Lead, IChemE
t: +44 (0) 1788 534435
e: rwhittles@icheme.org
Claire Shepherd, Communications Executive, IChemE
t: +44 (0) 1788 534457
e: cshepherd@icheme.org
What is chemical engineering?
Chemical, biochemical and process engineering is the application of science, maths and economics in the process of turning raw materials into everyday, and more specialist, products. Professional chemical engineers design, construct and manage process operations all over the world. Oil and gas, pharmaceuticals, food and drink, synthetic fibres and clean drinking water are just some of the products where chemical engineering plays a central role.
IChemE
The Institution of Chemical Engineers (IChemE) advances chemical engineering's contribution worldwide for the benefit of society. We support the development of chemical engineering professionals and provide connections to a powerful network of over 30,000 members in more than 100 countries.
We support our members in applying their expertise and experience to make an influential contribution to solving major global challenges, and are the only organisation permitted to award Chartered Chemical Engineer status and Professional Process Safety Engineer registration.