PPE could be safely decontaminated an...
PPE could be safely decontaminated and reused to conserve supplies and save waste, say engineers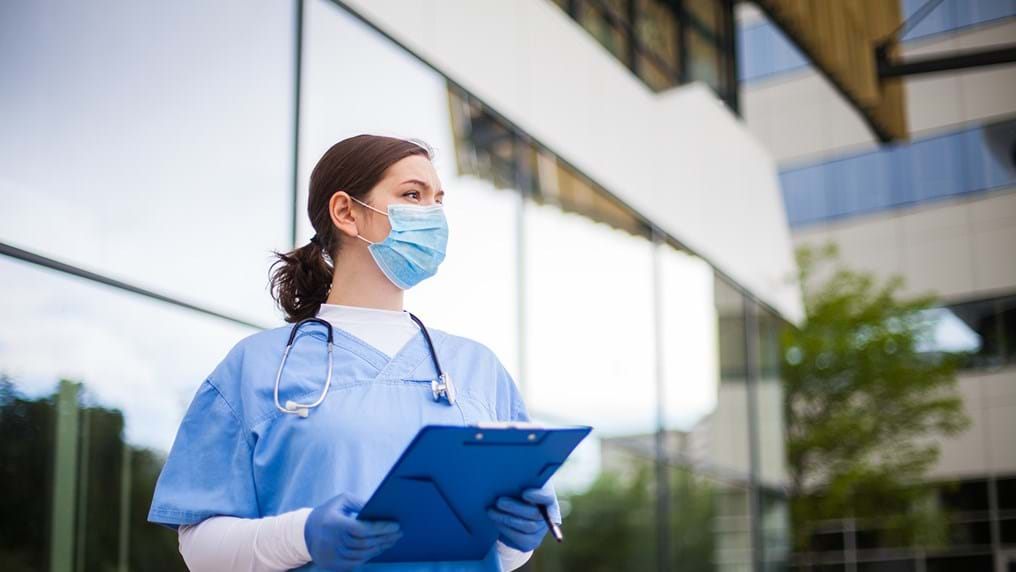 6th October 2020
Advice published on critical issues for reprocessing of single-use PPE for critical shortages as second wave of COVID-19 infection looms and UK government publishes its PPE strategy
Government encouraged to pursue more sustainable use of PPE as pandemic continues
Serious consideration should be given to decontaminating and reusing some types of personal protective equipment (PPE) in order to maintain supplies and reduce waste, provided it can be safely reprocessed and suitable quality assurance procedures established, according to a paper published by the UK's National Engineering Policy Centre (NEPC).
The joint paper responds to the recently-published PPE Strategy for England. It was compiled by industry experts mobilised through the NEPC, including the Institution of Chemical Engineers (IChemE) and the International Society for Pharmaceutical Engineering UK Affiliate (ISPE UK), following an international consultation with engineers and manufacturers in other countries where various methods of reprocessing have been tested and evaluated.
With a winter surge in COVID-19 cases looming across the UK, the NHS should consider developing appropriate reprocessing facilities, the paper says. This would need to be done in consultation with experts across the delivery pipeline to ensure all the component parts including validated reprocessing facilities, logistics, and the provision of skilled personnel can scale simultaneously to meet potential demand.
IChemE has been supporting solutions to decontaminate PPE throughout the pandemic including engagement with the NHS in May as soon as the problems with supply became apparent. The Institution's COVID-19 Response Team was initially focused on the sanitisation and reuse of single-use PPE to avert a countrywide shortage. By identifying appropriate technology and processes required to implement PPE decontamination schemes in the UK, as well as supporting the development of a manufacturing consortium to supply PPE sanitisation units, the volume of PPE available increased rapidly. Although this ensured the original objective was achieved, two additional benefits swiftly emerged. Firstly, sanitisation was more cost effective than manufacturing new PPE, and secondly, from a sustainability perspective, reuse drastically reduces waste.
Over 2 billion items of PPE were delivered to the health and social care system in England alone between March and July 2020, including over 400 million masks, 300 million aprons, 4 million gowns and half a billion pairs of gloves. The UK has rapidly scaled domestic PPE manufacturing capability, with UK-based supply anticipated to meet 70% of forecasted demand in December for all categories of PPE, excluding gloves – by far the biggest component of PPE by number. However, this may be tested by the challenges of winter if there are sustained periods of high transmission rates and increased hospital admissions or supply disruptions due to adverse weather events and the end of the EU transition period. The paper outlines how reprocessing could help to reduce pressure on supplies.
The potential decontamination methods detailed in the paper have been studied and trialled in the US, China, Finland, Japan and Germany, including treatment with hydrogen peroxide vapour, ultraviolet light, moist heat, dry heat and irradiation. The method of decontamination chosen would determine which items of PPE were applicable, necessary validations, potential risks and how many times the PPE could be reprocessed. Adopting a standardised approach across the UK would be beneficial.
Quality management records for any decontamination methods adopted would be critical to ensure good practice, traceability, and auditability alongside robust health and safety protocols to assess and manage risk assessments. Rigorous validation and verification would be required of any approach to the reprocessing of single use PPE to ensure that the PPE decontamination process was effective and did not introduce other risks. This would include assessments to ensure the elimination of Sars-CoV-2 and other micro-organisms, quantitative fit tests and performance tests.  Any soiled or damaged PPE has to be disposed of appropriately and reprocessed PPE must be tracked to ensure that that reuse does not exceed the recommended number of cycles.
Healthcare professionals would need to be consulted to ensure that the risks of reprocessing PPE are fully understood and any process deployed should be validated locally but remain under review as scientific evidence continues to emerge.
Dr Nick Geary, member of the IChemE COVID-19 Response Team said:
"On such a critical issue, my colleagues in the IChemE COVID-19 Response Team and I were delighted to be able to assist the Royal Academy of Engineering with their submission to the UK government through the NEPC. Recognising that the development, scale-up and application of the processes needed to implement PPE decontamination requires the specialist knowledge of chemical engineers, biochemical engineers and process engineers, we were pleased to be able provide the expertise necessary and look forward to working with the team in the future.
"Understanding the benefits of decontaminating PPE from a volume, cost and sustainability perspective, this programme could help to drive a revolution from single-use to multi-use PPE. This epitomises IChemE's vision to serve society on a worldwide scale, both technically and practically."
Professor David Delpy, a Fellow of the Royal Academy of Engineering, said:
"We welcome the government's PPE strategy, which outlines how it aims to move away from disposable by default and assess new types of PPE that are designed for reuse from the outset. Some UK pilot studies are now in progress.
"However, as the pandemic continues, we think there should be more emphasis on decontamination methods, which if properly used could enable more sustainable use of PPE that is specifically designed for reuse and reprocessing. We need to be conscious of the environmental impact of using and disposing of so much plastic waste, particularly when much of it has to be incinerated after use.
"It is vital to ensure that critical care workers have access to PPE if there is another sustained period of high COVID-19 transmission and emergency reprocessing of single-use PPE should not be seen as an alternative to increasing the supply of vital protective clothing and equipment for our frontline staff."
Links
National Engineering Policy Centre
National Engineering Policy Centre paper 'Considerations for PPE reprocessing based on international practices'
Contact
For more information please contact:
Lucy Cook, Communications Manager, IChemE
t: +44 (0) 1788 534454
e: lcook@icheme.org
Rachael Fraser, Communications Executive, IChemE
t: +44 (0) 1788 534435
e: rfraser@icheme.org
Ketna Mistry, Communications Executive, IChemE
t: +44 (0) 1788 534484
e: kmistry@icheme.org
What is chemical engineering?
Chemical, biochemical and process engineering is the application of science, maths and economics in the process of turning raw materials into everyday, and more specialist, products. Professional chemical engineers design, construct and manage process operations all over the world. Oil and gas, pharmaceuticals, food and drink, synthetic fibres and clean drinking water are just some of the products where chemical engineering plays a central role.
IChemE
The Institution of Chemical Engineers (IChemE) advances chemical engineering's contribution worldwide for the benefit of society. We support the development of chemical engineering professionals and provide connections to a powerful network of around 35,000 members in 100 countries.
We support our members in applying their expertise and experience to make an influential contribution to solving major global challenges, and are the only organisation to award Chartered Chemical Engineer status and Professional Process Safety Engineer registration.