Responsible production, major hazards...
Responsible production, major hazards and digitalisation focus for IChemE Learned Society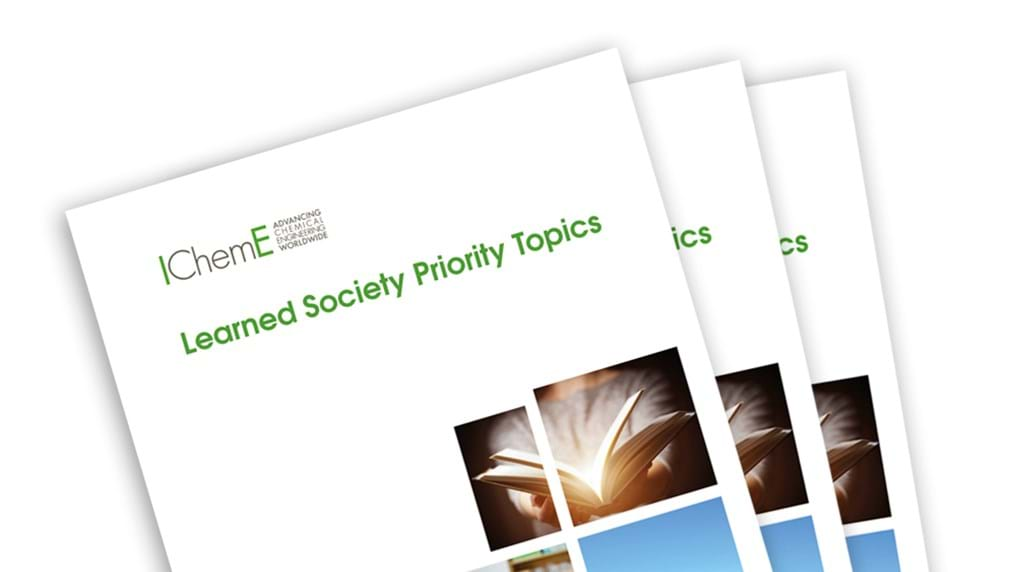 27th April 2021
Following the identification of three priority topics, the Institution of Chemical Engineers (IChemE) has published Learned Society Priority Topics to 2024, setting out how the institution aims to address these areas of focus over the coming years.
The three priority topics were chosen by IChemE's Learned Society Committee (LSC), which was formed in 2019 with responsibility for the strategic direction of the institution's technical priorities. The LSC collaborated with IChemE's volunteer special interest groups to develop three topics on which to prioritise activity within the learned society.
The three priority topics identified were as follows:
responsible production
major hazards management, and
digitalisation
Learned Society Priority Topics to 2024 opens with the vision of the learned society and goes on to detail the scope of each of the priority areas, followed by the initiatives planned to meet the targets specified by key milestones including the end of this year and by the close of 2024.
Following the launch of IChemE's position on climate change in 2020, a key deliverable highlighted within the priority topics document for 2021 include climate change action plans for specific industry sectors and technologies. The plans are being developed by the institution's special interest groups and coordinated by the LSC.
As set out in Strategy 2024, IChemE's ambition is to be recognised as a vibrant learned society that materially impacts on the Global Grand Challenges. Chemical engineers already play a key role in addressing many of the United Nations Sustainable Development Goals (SDGs) which makes IChemE uniquely well placed to contribute to the debate and to effect change. Delivering on the priority topics, as set out in the document is a key part of this ambition.
IChemE Vice President Learned Society, Jarka Glassey said:
"Establishing a clear set of focus topics, a shared vision of where we want to be, and a clear plan for how we will get there allows IChemE to bring together the diversity and expert capabilities of our members to deliver a more united, focused response to these societal challenges.
"IChemE is already a vibrant learned society with 19 special interest groups and 35 member groups spanning 11 countries. Volunteers across the institution work hard to deliver a broad and stimulating programme of activities across a huge range of topics with activities taking place almost every day, many of which already align with the priority topics.
"We hope that this document will sharpen the focus of our delivery and inspire more people – members and external partners alike – to engage in IChemE's learned society work."
View Learned Society Priority Topics to 2024 to find out more about the vision of IChemE's learned society and for more details on the priority topics. Members are encouraged to contribute to the work of the learned society and interested members can either join one of the special interest groups via the MyIChemE members' area, or email lsc@icheme.org.
Links
Learned Society Priority Topics to 2024
Contact
For more information please contact:
Lucy Cook, Communications Manager, IChemE
t: +44 (0) 1788 534454
e: lcook@icheme.org
Rachael Fraser, Communications Executive, IChemE
t: +44 (0) 1788 534435
e: rfraser@icheme.org
Ketna Mistry, Communications Executive, IChemE
t: +44 (0) 1788 534484
e: kmistry@icheme.org
What is chemical engineering?
Chemical, biochemical and process engineering is the application of science, maths and economics in the process of turning raw materials into everyday, and more specialist, products. Professional chemical engineers design, construct and manage process operations all over the world. Oil and gas, pharmaceuticals, food and drink, synthetic fibres and clean drinking water are just some of the products where chemical engineering plays a central role.
IChemE
The Institution of Chemical Engineers (IChemE) advances chemical engineering's contribution worldwide for the benefit of society. We support the development of chemical engineering professionals and provide connections to a powerful network of around 35,000 members in 100 countries.
We support our members in applying their expertise and experience to make an influential contribution to solving major global challenges, and are the only organisation to award Chartered Chemical Engineer status and Professional Process Safety Engineer registration.