University of Canterbury student wins...
University of Canterbury student wins New Zealand chemical engineering competition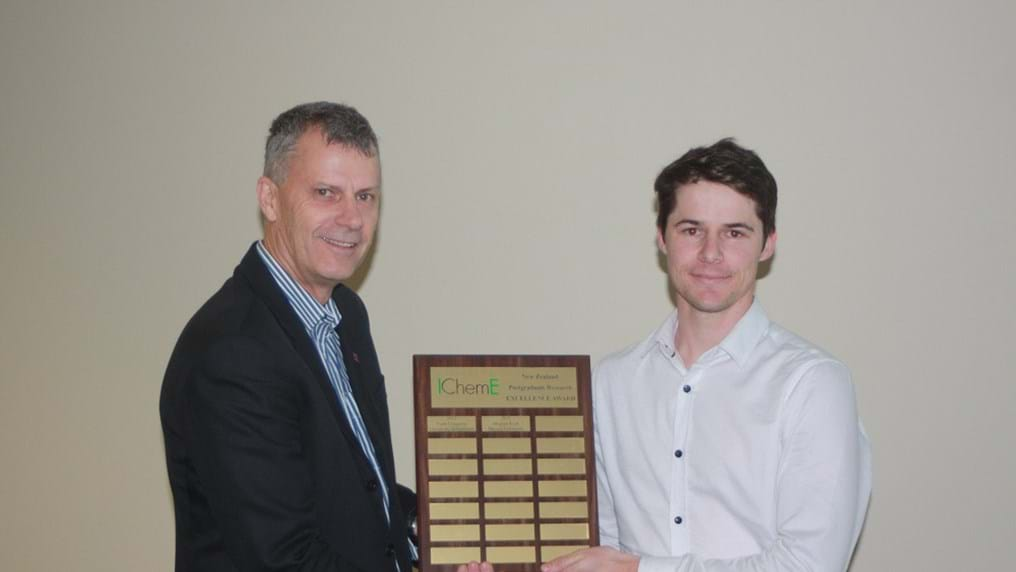 12th June 2019
Leatham Landon-Lane, a postgraduate student in chemical engineering at the University of Canterbury, has won the Institution of Chemical Engineers (IChemE) 2019 New Zealand Postgraduate Researcher of the Year prize.
The competition showcases outstanding chemical engineering research at universities in New Zealand.
Landon-Lane won the prize for his presentation, Improving Vanadium Redox Flow Batteries for Long Duration Energy Storage.
Presentations were also given by the other two finalists:
Nathan Lal, University of Waikato – Using Monte Carlo Techniques to Analyse Heat Exchanger Network Retrofits
Sebastian Linnenkuge, Massey University – Drying of Fruit Juices
Peter Slane, IChemE Director, Regions, said:
"Leatham Landon-Lane's research showed ingenuity, creativity and a lateral way of thinking. He clearly knew his subject. 
"It was a close competition and a tough decision for the judges. This competition demonstrates just how advanced chemical engineering research has come. Every day, researchers across New Zealand and the world are continuing to push the boundaries to find positive, impactful solutions to challenges we face as a society."
This was the third year of the competition, in which students from four New Zealand universities compete for a chance to win NZ$500. It was held at the University of Waikato, Hamilton, prior to the IChemE AGM in New Zealand on 29 May.
Image
New Zealand post graduate Researcher of the Year winner Leatham Landon-Lane from the University of Canterbury (right) presented with his award by Peter Slane, IChemE Director, Regions
Contact
For more information please contact:
Rachael Fraser, Communications Executive, IChemE
t: +44 (0) 1788 534435
e: rfraser@icheme.org
Ketna Mistry, Communications Executive, IChemE
t: +44 (0) 1788 534484
e: kmistry@icheme.org
What is chemical engineering?
Chemical, biochemical and process engineering is the application of science, maths and economics in the process of turning raw materials into everyday, and more specialist, products. Professional chemical engineers design, construct and manage process operations all over the world. Oil and gas, pharmaceuticals, food and drink, synthetic fibres and clean drinking water are just some of the products where chemical engineering plays a central role.
IChemE
The Institution of Chemical Engineers (IChemE) advances chemical engineering's contribution worldwide for the benefit of society. We support the development of chemical engineering professionals and provide connections to a powerful network of around 37,000 members in 100 countries.
We support our members in applying their expertise and experience to make an influential contribution to solving major global challenges, and are the only organisation to award Chartered Chemical Engineer status and Professional Process Safety Engineer registration.
More information: www.icheme.org