Young Chemical Engineer of the Year 19
Hull and Humber (UK)
Young Chemical Engineer of the Year 2019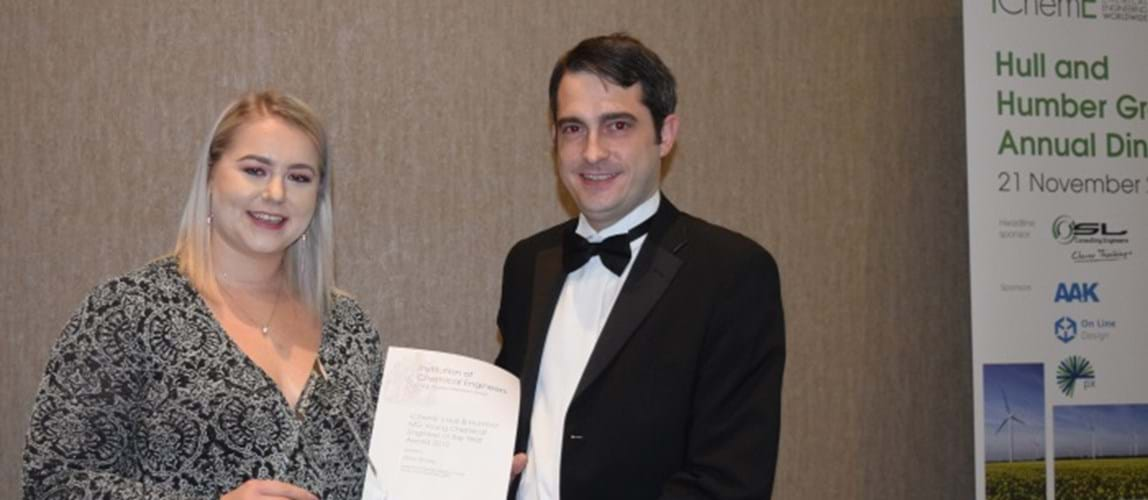 3rd December 2019
Three chemical engineers and one organisation have been recognised by the Institution of Chemical Engineers (IChemE) Hull & Humber Members Group for their contributions to the local community and industry.
Laura Castley, Philip Rubini, Elicia Bones and BP Chemicals were presented with their awards at the Group's 2019 Annual Dinner, held at the Doubletree by Hilton Hull Thursday (21 November).
Bones, Senior Process Engineer at ENGIE Fabricom, was awarded the Young Chemical Engineer of the Year Award. Joining ENGIE Fabricom graduate programme in 2017, very quickly she established herself not just as someone with great technical aptitude, but with the interpersonal skills necessary to be successful in a business environment. Elicia has now completed her graduate assignments and progressed into a substantive post of Project Engineer working on a multi-million pound project to carry out the detailed engineering and design of a speciality chemicals plant. This will bring together Elicia's technical capability and structured, disciplined and well-managed approach to task management making her a key player in the success of this project.
Bones said "It was an honour to be nominated for the Young Chemical Engineer of the Year Award 2019 and winning came as a total shock. I have really enjoyed the work I have done since graduating from university and I would like to thank Engie Fabricom for all of their support. This year I joined the Hull and Humber Members Group Committee which has been rewarding and a pleasure to work which such a wonderful team. I look forward to the future development of my skills as a Process Engineer and continuing my role as an active committee member."
Sander van den Ban, Head of Formulation Sciences at RB, was the guest speaker at the event and the awards were presented and sponsored by px group and On Line Design Engineering.
---
Back to group news