IChemE announces 2022 Global Awards f...
IChemE announces 2022 Global Awards finalists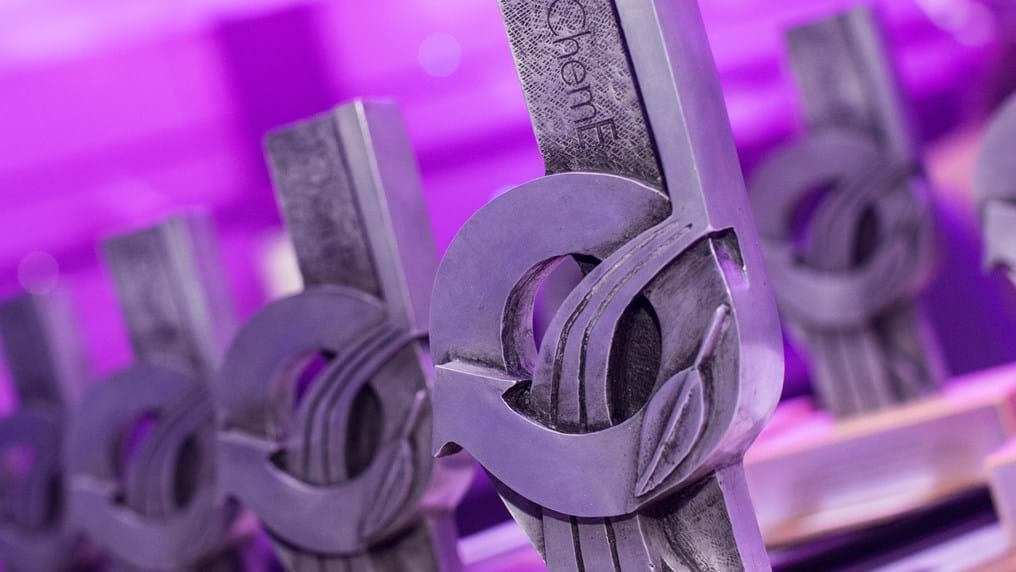 6th September 2022
The Institution of Chemical Engineers (IChemE) has announced more than 100 finalist projects in the running for the 2022 Global Awards, with entries demonstrating excellence in chemical, biochemical and process engineering.
The winners in 15 team categories and two individual award categories (Young Industrialist and Young Researcher) from 15 countries will be announced at the first in-person awards ceremony since 2019 at the Mercure Manchester Piccadilly Hotel, Manchester, UK, on 17 November 2022.
The prize will be a coveted trophy in the most prestigious awards in the profession and the event is expected to be one of the largest gatherings of chemical and process engineers in the UK since before the pandemic.
The evening will be hosted by television and radio host Reverend Richard Coles who is a co-presenter of BBC Radio 4's Saturday Live, and has been a regular panellist on TV shows such as Would I Lie To You?, Have I Got News For You and QI.
The categories for the awards are:
Best Consultancy
Business Start-up sponsored by Sellafield Ltd
Diversity and Inclusion sponsored by Bouygues Energies & Services
Energy sponsored by Rolls-Royce
Industry Project sponsored by WSP
Innovative Product
Oil & Gas
Process Automation and Digitalisation Award sponsored by PM Group
Process Safety sponsored by PM Group
Public Engagement
Research Project
Sustainability
Team Award sponsored by BakerHicks
Training & Development
Water Award
Young Industrialist sponsored by BES
Young Researcher sponsored by Johnson Matthey
Successful finalists include: BP International and Baker Hughes, UK; Descon Oxychem, Pakistan; Dow, USA; EPOC Enviro, Australia and Envytech Solutions, Sweden; Gexcon, Norway; Harbour Energy, UK; Kagera AI, Serbia; Loughborough University, UK; Metcelerate, UK; Optimal Systems Engineering, Malaysia; Reactor Technology Research Group; University of KwaZulu-Natal, South Africa; Saudi Aramco, Saudi Arabia; TRU-MK7, New Zealand; and University of Waterloo, Canada.
Keith Batchelor, Chair of the IChemE Global Awards volunteer judging panel, said: 
"We are so thrilled to be hosting the awards dinner in person this year after two years of virtual celebrations. There will be a great atmosphere as we recognise some of the highest standards and achievements in chemical engineering around the globe - our peer-reviewed awards are a real accolade within the profession.
"We received a significant number of outstanding entries this year, with many focussing on the use of digital technologies and sustainability across different sectors, both of which are highlighted in IChemE's Priority Topics. It has also been gratifying to see a concern to ensure that diversity is now embedded across our discipline.
"Congratulations to all of this year's finalists and thank you to everyone who submitted an entry."
Winners of the IChemE Malaysia Awards (to be announced on 10 October) will qualify as finalists in their respective categories at the IChemE Global Awards.
Each team category winner at the IChemE Global Awards will also be in with a chance to be crowned the overall winner and receive the Outstanding Achievement in Chemical and Process Engineering Award, sponsored by ExxonMobil.
View the full list of finalists and read more about the Global Awards at www.icheme.org/globalawards.
Image
IChemE Global Awards trophies
Contact
For more information please contact:
Claire Shepherd, Communications Executive, IChemE
t: +44 (0) 1788 534457
e: cshepherd@icheme.org
Rachael Whittles, Communications Executive and PR Lead, IChemE
t: +44 (0) 1788 534435
e: rwhittles@icheme.org
What is chemical engineering?
Chemical, biochemical and process engineering is the application of science, maths and economics in the process of turning raw materials into everyday, and more specialist, products. Professional chemical engineers design, construct and manage process operations all over the world. Oil and gas, pharmaceuticals, food and drink, synthetic fibres and clean drinking water are just some of the products where chemical engineering plays a central role.
IChemE
The Institution of Chemical Engineers (IChemE) advances chemical engineering's contribution worldwide for the benefit of society. We support the development of chemical engineering professionals and provide connections to a powerful network of over 30,000 members in more than 100 countries.
We support our members in applying their expertise and experience to make an influential contribution to solving major global challenges, and are the only organisation permitted to award Chartered Chemical Engineer status and Professional Process Safety Engineer registration.